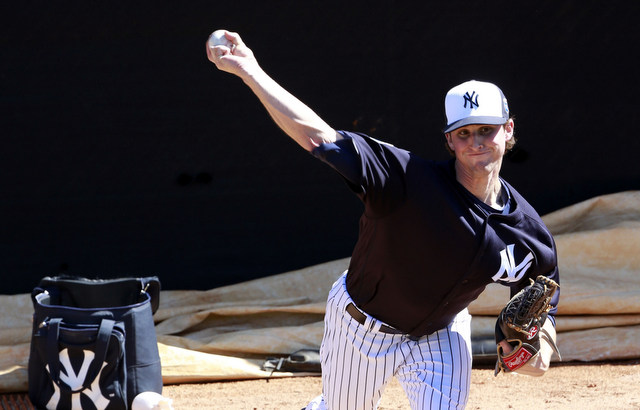 No surprise here: Joe Girardi officially announced this afternoon that Bryan Mitchell will be on the Opening Day roster, according to the various reporters in Tampa. He did not specify a role, but we all know Mitchell will be in the bullpen. Girardi has been talking about Mitchell as a potential Adam Warren replacement since Spring Training opened.
Mitchell, 24, has allowed one run on six hits and one walk in 14.2 innings so far this spring. He's struck out eleven. The Yankees said they were holding a fifth starter competition, but apparently Mitchell was not included, because he would have won it with those numbers. He threw the ball very well in Grapefruit League play.
Last season Mitchell had a 6.37 ERA (4.75 FIP) in 29.2 big league innings spread across two starts and 18 relief appearances. It really was a tale of two seasons though. He was very good (3.86 ERA and 3.28 FIP) in 21 innings before being hit in the nose with a line drive, then terrible (12.46 ERA and 8.33 FIP) in 8.2 innings thereafter.
Mitchell is a fastball/curveball/cutter pitcher with shaky command. The lack of command and the lack of a changeup — he uses the cutter against lefties — holds him back from a no-doubt future as a starter. PitchFX clocked Mitchell's fastball at 96.7 mph on average last year (99.3 mph max), and the curve is a hammer, so he could be a real weapon his short relief. I'm looking forward to seeing what he does.
Mitchell will join Andrew Miller, Dellin Betances, Chasen Shreve, and Ivan Nova in the bullpen, so two spots are still up for grabs. (One will eventually be filled by Aroldis Chapman.) My money is on Kirby Yates and Johnny Barbato getting those spots, but we'll see. They're going to be shuttle spots anyway.