There are 13 questions in this week's mailbag. Remember to use the RABmailbag (at) gmail (dot) com email address to send us any questions throughout the week.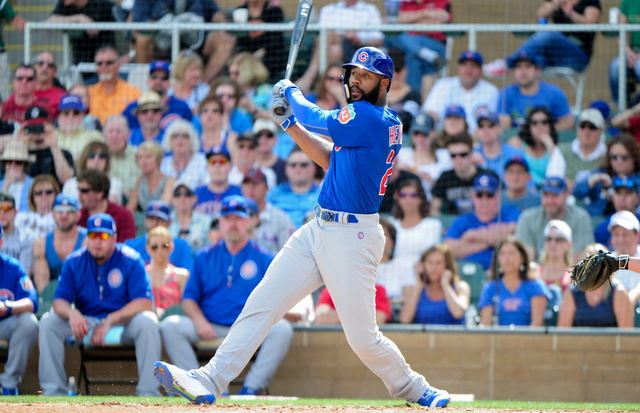 Troy asks: What would you think of a proposal where you had different levels of qualifying offers? Perhaps something as simple as to get a first round draft pick the Qualifying Offer has to be a two or even three year offer at an AAV equal to the current requirement. A one year contract could result in a second or even third round pick. This would seem to distinguish between the top players and the middle of the road guys that get really hurt by the current system.
I like the idea. It certainly seems like it would work better than the current system. How's this quick two tier proposal sound?
Tier One: Three-year contract with the average annual value set at the average of the top 75 salaries in MLB ($18.3M in 2015). Signing team gives up a first rounder and the losing team gets a supplemental first rounder.
Tier Two: One-year contract with the average annual value set at the average of the top 200 salaries in MLB ($13.1M in 2015). Signing team doesn't give up a pick and losing team gets a supplemental second rounder.
That sound good? It's similar to the old Type-A and Type-B system in that there's two ways to get a draft pick but only one requires the signing team to surrender a pick. Only a handful of Tier One qualifying offers would be made each offseason. The elite guys would get them. That's it.
I like this idea. Why should Ian Kennedy and Daniel Murphy get the same qualified offer as David Price and Jason Heyward? With this system the mid-range free agents wouldn't having their market depressed by draft pick compensation, and their former teams would still get a pick, albeit one a round later. This could work.
Andrew asks: Do we have any stats on which Yankee position players (so everyone besides A-Rod and the pitchers basically) fare better when given a "1/2 day off" at DH? And does this, or if not should it, impact Girardi's decision making when it comes to allocating which players to give these 1/2 days off.
We have stats for almost everything these days. Here are how the Yankees' non-Alex Rodriguez hitters have performed as a DH over the last three seasons:
Starlin Castro, Didi Gregorius, and Aaron Hicks have not played a game as the DH at all over the last three years. Aside from Beltran, we're talking about only a handful of plate appearances spread across several years, so I would just ignore the stats all together. Teixeira hitting .219 in his last 38 plate appearances as a DH doesn't tell us much of anything.
Most of Beltran's DH plate appearances came in 2014 (312 of the 359, to be exact), when he couldn't throw because of the bone spur in his elbow. He's on the record saying he doesn't like to DH, and while the numbers back that up, we have to remember he was playing with the bone spur most of those plate appearances. The numbers are skewed because he wasn't healthy.
When it comes to giving players a half-day off as the DH, I'm not sure looking at these numbers is all that helpful. The pitcher on the mound is going to impact things in any individual game more than the player's DH history. I wouldn't think about it too much. The sample sizes are too small to tell us anything useful.
Manuel asks: I think it is a bad idea to put young players in a lefty-righty-platoon. In my opinion they have to face their weaker split situation so they can improve. What do you think?
This is a decision that should be made on a case by case basis. You can't have a blanket policy that covers all players because each player is different. Gregorius, for example, is someone you'd like to develop into a complete all-around player, so giving him reps against lefty pitching makes sense. On the other hand, if you have a corner outfielder who is no great shakes defensively, it might not be worth the effort to give them the at-bats against pitchers of the same hand. The reward's just not that great. Take Tyler Austin for example. If he shows he can contribute as a platoon bat, that's a good outcome at this point. It all depends on the player.
Dave asks: After Greg Bird went down, I was wondering if it might make sense to give Aaron Judge a shot at 1B. Given the backlog of outfield talent, if he starts mashing AAA early in the season, wouldn't he be a valuable platoon at 1B? It seems he's pretty athletic for his size, and would be a huge target with a ton of range. Seems like a fair number of OF (a la Nick Swisher) have done it. Any thoughts?
I don't think you can change Judge's development path — or any top prospect's development path for that matter — because of an injury to another player. He's physically enormous but he's a surprisingly good athlete for his size, so he's a solid outfielder defensively. Judge is no liability in the field. There's no reason to make this move just yet. I'm sure it'll happen in time though, as he gets older and slows down. It sucks Bird is going to lose a year to injury. It would suck even more if the Yankees moved Judge to less valuable position as a result.
(Also, Swisher was a first baseman in college who moved to the outfield in pro ball. He moved to the more valuable position, not the other way around.)
Patrick asks (short version): Mike, on Saturday I saw Teixeira hitting right-handed against a right-handed pitcher. I don't know if it was discussed here or on TV, but is there a reason for this?
Steven Wright was pitching for the Red Sox that day and Teixeira hits from the same side of the plate against knuckleball pitchers. Teixeira also bats righty against R.A. Dickey and he actually hit a home run against Wright from the right side of the plate last year:
A few switch-hitters bat from the same side of the plate against knuckleball pitchers for whatever reason. I guess they see the ball better from that angle. Not every switch-hitter does it — Beltran hit a home run against Wright left-handed last year (
video
) — but some do. There was nothing special about Saturday. Teixeira's not working on his righty swing or abandoning the left side of the plate. Nothing like that. He just always bats from the same side against knuckleball pitchers.
James asks: Have you heard any updates on people being able to purchase MLB.tv for only a single team at a reduced price?
Yes, you can buy single-team MLB.tv packages this year. Here's the link. It's $84.99 for the season, which is just high enough to get you to say "might as well buy the full package for $109.99." The single-team subscriptions are still subject to local blackouts, so you can't buy it in New York and expect to watch the Yankees or Mets. It's for out-of-market fans only.
Sam asks (short version): Every Met starter but Thor has already had TJS … I'd be leery of long-term deals with these guys. If I were the Mets, I'd wait until each is 2 years from free agency, then begin negotiations. Even if you pay more year-to-year that way, you lessen the risk of big money tied to a blown-out elbow. Your thoughts?
I understand that sentiment and ultimately it comes down to the contract size and the team's comfort in the player's medicals. Risk vs. reward. All pitchers are an injury risk and some are riskier than others, including guys who have already had Tommy John surgery. Is the extra risk worth it for a pitcher of Matt Harvey's caliber? Maybe! The Mets know his elbow better than anyone, remember. Given the team's situation, I think it's important for the Mets to gain cost certainty over their rotation for the next few seasons so their salaries don't explode through arbitration. Buying out free agent years is a bonus. Guys who have Tommy John surgery do scare me. At the same time, if Nathan Eovaldi went to the Yankees tomorrow and said he's take four years at $10M per season, would I want them to sign him? Hell yes.
Dan asks: Small Sample Size alert – last year Mateo hit 2 HRs total, and so far this spring he's already hit one and another that just missed in 2 games. Was wondering if you have noticed any material changes to his swing or build? Wasn't sure if there were any reports about him tweaking anything in the off-season.
He almost hit another homer Wednesday too, but it sailed foul. Jorge Mateo hit two home runs in exactly 500 plate appearances last year, and one of them was an inside-the-park homer (video), so he really only hit one ball out of the park. I haven't heard anything about changes to his swing this spring, but he is a 20-year-old kid, so could have gotten stronger in the offseason. Also, Mateo has shown power in batting price — Baseball America (subs. req'd) said he has "above-average raw power evaluators see" in BP — so it's in there. He just needs to refine his approach to tap into it. I haven't heard anything about swing changes and I would tend to ignore the outcome of two random spring at-bats. Needless to say though, Mateo's power output is worth monitoring going forward. If he starts mashing taters, good gravy.
Leah asks (short version): With infield shifts becoming much more prevalent in the game, it seems to me that the ability to play out of position is becoming a much more important skill. Going forward, will this sea-change impact prospect development and assessment in any significant way?

Teams have always looked at athleticism and the potential for a player to play elsewhere on the field, so I don't think evaluation will change much. I do think it will impact development strategies though. The Yankees had Mateo work out at second base in Instructional League last year just so he could become familiar with the right side of the infield for shifts. A guy like Rob Refsnyder, who is learning third but has experience on the right side of the infield, could take to the shift well and that's valuable. The Blue Jays used to put third baseman Brett Lawrie in short right field when using a shift because he was a former second baseman and familiar with that territory. The ability to play all over the field is more valuable than ever, and I think teams will begin putting in more time to teach players how to handle different parts of the field because of the shift.
Jason asks (short version): Assuming Didi keeps playing well or at least doesn't regress over the next few years and Mateo progresses as he's expected to, is there a scenario where Didi moves to third to make way for Mateo?
Sure, it could happen. I'd be more inclined to keep both Gregorius and Mateo on the middle infield to take advantage of their athleticism and defense, but if second base is not available, third is another option. Didi's bat is probably a little light compared to what you would normally want from a third baseman, so I'm not sure if the Yankees will go for that. This is a question for another time, really. We're a long way away from figuring out how Gregorius and Mateo can co-exist on the same roster.
Marc asks: Would it make the most sense to let Refsnyder begin the season in AAA where he can play regularly at 3B and 2B, with a little OF sprinkled in, for a month or so until he hits his way onto the ML roster? He could get some seasoning and develop into pretty valuable utility guy.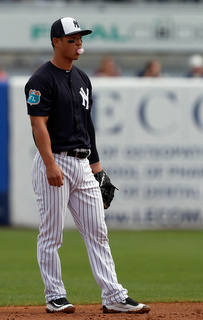 I don't think Refsnyder has anything left to prove at Triple-A from an offensive standpoint. We know he can hit Triple-A pitching and it's time to find out if he can hit MLB pitching. The third base experiment has thrown a wrinkle into this because you'd like to give him a few weeks of regular play at the position. That said, I think he's ready to help the Yankees right now. It's not like he's going to play third base often anyway. I could go either way with this. I would understand if the Yankees wanted to send him to Triple-A for more third base work, and I would understand if they took him north and made him learn on the fly.
Eric asks: So I agree with your post saying the Yankees should go with Romine as the back up catcher and leave Gary Sanchez in AAA for 35 days for the sake of service time manipulation. I think it's also fair to assume since Romine can become a free agent and catching depth in the league is so hard to come by that the Yankees will try and trade him. So without throwing any names out there (My Trade Proposal Sucks) what teams make sense for him, and what does the potential return look like?
The potential return would be close to nothing. The best case scenario seems like a George Kontos type — the Yankees traded Kontos to the Giants for Chris Stewart in 2012 — and I do mean the best case. In all likelihood it would be much less. Teams know Romine can elect free agency and they may decide to wait it out. As for teams that could need catching help, the Cardinals (if Yadier Molina's thumb isn't ready for Opening Day), Mets (if they decide to let Kevin Plawecki play regularly in Triple-A), and Brewers (if Jonathan Lucroy is traded) jump to mind pending those ifs. Catcher is a brutal position and it's possible an injury will open up another landing spot for Romine, and that includes staying with the Yankees.
Sandeep asks (short version): If you could change the result of one play in Yankees history, what would it be?
Three plays immediately jumped to mind. One, Edgar Martinez's double in 1995. Two, Luis Gonzalez's single in 2001. And three, Dave Roberts' steal in 2004. Those all happened in my lifetime, so they hit closer to home than, say, Bill Mazeroski's home run in the 1960 World Series. Let's talk those three plays out one at a time really quick.
Martinez double: If Edgar makes an out there, the Mariners are still down one run with runners on the corners and one out in the 11th inning. The next batter (A-Rod!) could have still tied the game with a fly ball. And even if the Yankees win that game, they only would have advanced to the ALCS, where they might get steamrolled by the Albert Belle led 100-44 (!) Indians. The Edgar double was the first time baseball crushed my soul.
Gonzalez single: The game was already tied at this point, so best case scenario is Mariano Rivera gets out of the inning — the D'Backs would have still had the bases loaded with two outs had Gonzalez struck out or popped out or whatever — and the game goes to extras with Randy Johnson on the mound and Rivera having already thrown two innings. (Mike Stanton pitched earlier in the game. I think Mike Mussina, who started Game Five three days earlier, would have been next out of the bullpen.) Maybe Mo's error on Damien Miller's bunt earlier in the inning is the play to change since it had all the look of a potential 1-6-3 double play:
Instead of having runners at first and second with no outs, Arizona would have had the bases empty with two outs. Even if Rivera only gets the force out at second — Miller was a 31-year-old catcher at the time, so he wasn't flying down the line, a double play was a very real possibility — it's still runner on first with one out instead of first and second with no outs.
Roberts steal: If Jorge Posada throws out Roberts, the Red Sox would have been down by one with the bases empty and one out in the ninth. Bill Mueller and Doug Mientkiewicz were due up. Rivera likely closes it out, the Yankees go to the World Series, and who knows what happens against the Cardinals.
Out of those plays, I have to go with Mo's error in 2001. That's the one I would change. Turn that error into a 1-6-3 double play and the Yankees are one out away — with the bases empty and the best reliever in the history of the universe on the mound, remember — from their fourth straight World Series title and fifth in six years. Yep, that's the play. Someone go back in time and change that.