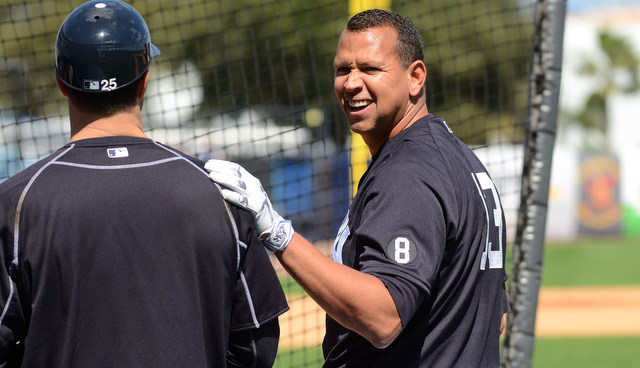 The Yankees are playing their second televised (and fourth overall) Grapefruit League game this afternoon, and for the first time in 2016, we'll get to see Alex Rodriguez in action. Rod homered on his first swing of the spring the other day, which of course means he's going to hit about 40 dingers this year, his age 40 season. 40 at 40? Sign me up.
The Red Sox made the two hour drive up from Fort Myers — rivalry renewed, y'all! — so we're not going to see many of their regulars today. They're not putting guys on long bus trips yet. No one is, really. Anywhere, here is the Boston lineup and here is the Yankees lineup, for at least the first few innings before the mass substitutions begin:
CF Jacoby Ellsbury
RF Carlos Beltran
DH Alex Rodriguez
1B Mark Teixeira
C Brian McCann
3B Chase Headley
2B Dustin Ackley
LF Ben Gamel
SS Jorge Mateo
RHP Tyler Cloyd
Available Pitchers: LHP Richard Bleier, RHP Johnny Barbato, RHP Mark Montgomery, RHP Nick Rumbelow, RHP Nick Goody, LHP Chasen Shreve, and RHP Kyle Haynes are all scheduled to pitch. Shreve will be making his spring debut. He was hit by a line drive in the back during live batting practice the other day, but everything's good now.
Available Position Players: C Eddy Rodriguez, 1B Chris Parmelee, 2B Rob Refsnyder, SS Ronald Torreyes, 3B Jonathan Diaz, LF Cesar Puello, CF Dustin Fowler, RF Aaron Judge, and DH Santiago Nessy will replace the starters.
It's a pretty great day for baseball in Tampa. A little on the cool side, but it's sunny and there are only a few clouds in the sky. Spring Training weather, it is. This afternoon's game will begin at 1pm ET and you can watch on YES locally, MLB Network nationally, and MLB.tv anywhere. There are no MLB.tv blackouts in Spring Training. Enjoy the game, folks.