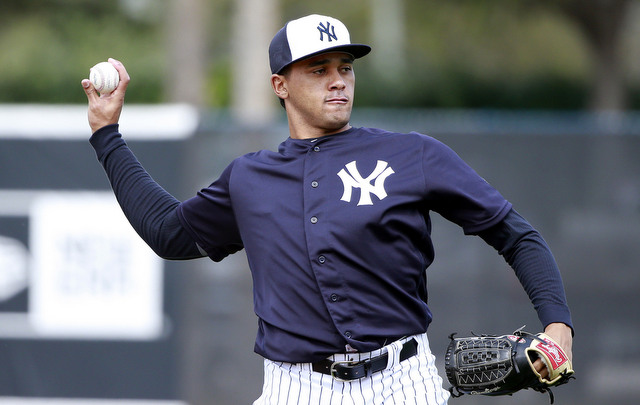 The Yankees continue the Grapefruit League season later today and there will be a television (and online) broadcast, so hooray for that. We'll have a regular game thread when the time comes. Here are some miscellaneous minor league notes to hold you over until first pitch.
Campos to work as a starter in 2016
Earlier this week Brian Cashman told Chad Jennings that RHP Vicente Campos will indeed continue to work as a starting pitcher this season. Campos, who came over from the Mariners in the Jesus Montero-Michael Pineda trade, missed the entire 2014 season due to Tommy John surgery. The 23-year-old had a 6.29 ERA (3.58 FIP) in 54.1 innings across 13 starts with mostly High-A Tampa after returning last year. The Yankees re-added him to the 40-man roster over the winter to prevent him from becoming a minor league free agent.
The ERA was ugly but Campos showed good control following surgery last summer (18.9 K% and 4.2 BB%) and his stuff reportedly returned to its pre-surgery levels, meaning a mid-90s heater and a hard upper-70s curveball. Campos, who used to go by Jose, has thrown only 166 innings over the last three years due to injuries, so he hasn't had much time to work on his changeup. I think he's likely to end up in the bullpen long-term because of that, but it makes sense to keep him in the rotation for the time being, if only to build up innings. There are a ton of guys ahead of him on the bullpen depth chart, though I wouldn't rule out Campos making his MLB debut at some point in 2016.
Heathcott studying the swings of MLB's best
In an effort to fine tune his swing, OF Slade Heathcott told Ryan Hatch he has been studying video of the game's best hitters, such as Mike Trout, Bryce Harper, and Josh Donaldson. "Just their approach, the load, the path to the ball," he said. "Hitting the ball on a plane. That's what works for me. Not trying to hit home runs, but get the ball in the air."
Heathcott, now 25, had a 38.1% ground ball rate during his limited big league time last season. It was 51.6% in Triple-A last year and 51.5% with Double-A Trenton in 2013. (Injuries limited him to only nine games in 2014.) Heathcott has speed, so he can leg out some infield hits, but he's going to have to get the ball in the air more often to really have an impact offensively. If watching videos of guys like Trout and Harper helps, great.
No Yankees among Law's top 25 impact prospects for 2016
Keith Law (subs. req'd) recently put together a list of the top 25 impact prospects for the 2016 season, which is different than a general top 25 prospect list. Not everyone in a general top 25 list is big league ready. Dodgers SS Corey Seager predictably tops the top 25 impact prospects list, which features no Yankees. In his weekly chat, Law said C Gary Sanchez wasn't really considered for the list because of a lack of playing time. Even if Sanchez makes the Opening Day roster, Brian McCann is going to get the lion's share of the playing time behind the plate. Understandable.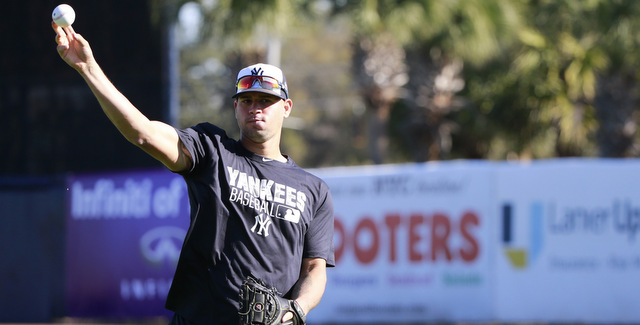 Baseball America's position rankings
The crew at Baseball America finished posting their prospect position rankings this week. They released the catcher, right-handed pitcher, and left-handed pitcher lists two weeks ago. Here's a quick recap with all of the relevant Yankees:
Keep in mind the No. X prospect at one position is not necessarily of equal caliber to the No. X prospect at another position. Talent isn't linear across positions. Baseball America's top ten Yankees' prospects list had Refsnyder one spot behind Wade, for example. Add in Sanchez, who ranked No. 1 on the catcher list, and the Yankees had a top ten prospect at five of the nine positions. That's pretty good.
Misc. Links
Here are a bunch of miscellaneous links that are worth checking out and come with RAB's highest level of recommendation.
Sweeny Murti has a must read interview with farm system head Gary Denbo (part one, part two). Denbo confirmed Judge made some adjustments with his lower half over the winter, which we noticed the other day.
Joel Sherman profiled OF Estevan Florial, who is the shiny new toy in the farm system. Florial, 18, signed for $200,000 last March after being suspended for a year by MLB for falsified documents, which he used to enroll in school a few years back. Lots of folks are talking about Florial as the next great Yankees prospect.
Mark Feinsand wrote about RHP James Kaprielian, who lost his mother to breast cancer two years ago. Kaprielian explained how the experience shaped him as a man and helps him deal with adversity on the field.
As a reminder, the four full season minor league affiliates begin their regular season on Thursday, April 7th this year. That's three days after the big league Yankees behind their season.