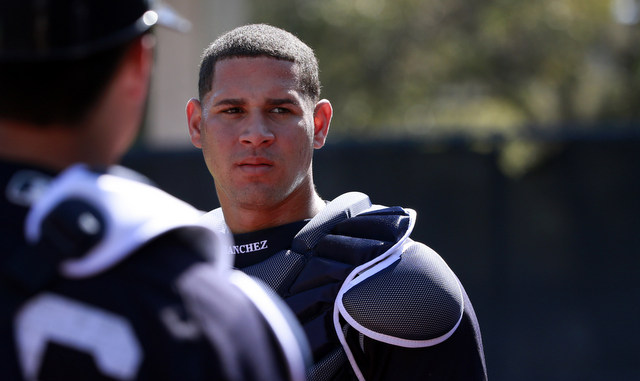 Earlier tonight, the Yankees optioned catcher Gary Sanchez to Triple-A Scranton, the team announced. That clears the way for Austin Romine to open the regular season as the backup catcher. The team hasn't confirmed the job is Romine's — there's still a week and a half in Spring Training and things can change — but right now it's shaping up that way.
Sanchez, 23, is arguably the best catching prospect in baseball, and he's coming off a season in which he hit .276/.336/.503 (137 wRC+) with 25 home runs in 119 total minor league games. He's had a brutal showing in Grapefruit League play (1-for-21), and Joe Girardi recently said he thought Sanchez was pressing.
By sending Sanchez down, he'll be able to play everyday with Triple-A Scranton and work on his defense. His bat is pretty close to MLB ready. As an added bonus, 35 days in the minors will delay Sanchez's free agency another year. That's not insignificant. Five weeks in 2016 equals control of Sanchez's age 29 season in 2022. Could be huge.
Romine, 27, has been decent in camp, going 6-for-22 (.273) with four doubles. He's a career .201/.244/.278 (41 wRC+) hitter in 183 big league plate appearances, most coming in 2013. Romine's a defense first catcher who was designated for assignment last spring. Now he's in line to make the Opening Day roster. What a world.
Keep in mind that just because Romine figures to be the backup catcher at the start of the season, it doesn't mean he'll hold the job all year. Sanchez could force the issue with his bat at some point. In fact, I would be surprised if Sanchez didn't finish the season as the backup catcher. The Yankees are just holding off on giving him the job.
Romine is out of options, meaning he can't go to the minors without first passing through waivers. And since he's already been outrighted off the 40-man roster once before, he'll be able to elect free agency if he clears waivers. Whenever the time comes to give Sanchez the job, Romine's stint in the organization will likely come to an end.