Now that's more like it. The Yankees snapped their four-game, RISPFAIL filled losing streak Sunday afternoon with a 4-3 win over the Mariners. It followed the blueprint perfectly: hit a dinger or two, scratch out some runs, then turn it over to the bullpen. Textbook.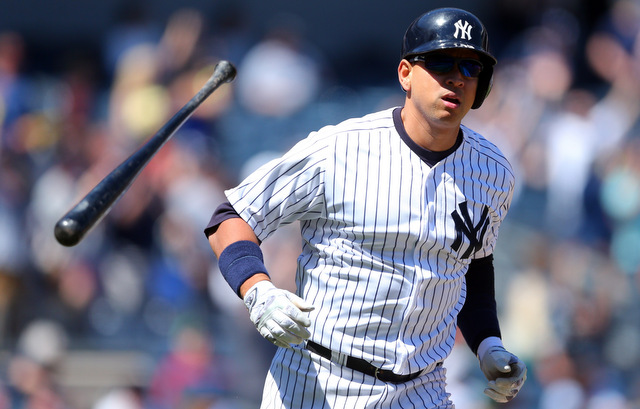 End The Streaks
Two notable hitless streaks ended Sunday. First and foremost, Alex Rodriguez snapped his 0-for-19 skid with a two-run home run in the second inning. Joe Girardi understandably dropped Alex to the sixth spot in the lineup, and in his first at-bat he yanked an 87 mph fastball from Hisashi Iwakuma into the left field seats. Pretty great way to respond to the lineup demotion.
Then, in the third inning, Brett Gardner put an end to the club's hideous 0-for-30 streak with runners in scoring position. He did it with a long double to left-center field that I thought was a routine fly ball off the bat. It looked like Gardner popped the ball up, but it just kept carrying and carrying and carrying. I was pleasantly surprised to see that ball fall in for a base hit.
Like I said, that was their first hit with runners in scoring position in 30 at-bats. Furthermore, it was their first hit with runners in scoring position that actually scored a run in 41 at-bats. They had two hits that didn't score runs because some of the Yankees are pretty slow, man. The last hit with runners in scoring position that scored a run prior to Gardner's double was Jacoby Ellsbury's go-ahead bloop single in the seventh inning of the series opener in Toronto. Yeesh.
When Three Runs Could Have Been One Or Two
Masahiro Tanaka's final pitching line is pretty strong (7 IP, 6 H, 3 R, 2 ER, 0 BB, 6 K, 12/3 GB/FB) and it could have been even better. The Mariners didn't exactly score their ball by ripping the ball all over the park. They strung together four ground balls in the first inning to score their first run. The inning went:
Nori Aoki ground out to second.
Seth Smith ground ball single against the shift.
Robinson Cano infield single to third.
Nelson Cruz ground ball single through the right side of the infield to load the bases.
Kyle Seager fielder's choice on a ground ball to second base to score a run.
Five ground balls, two outs, one run. Blah. Baseball can be so dumb sometimes. Tanaka got the desired results (grounders) and still allowed three hits and a run. So finally he took matters into his own hands and struck out Adam Lind to escape the inning with just the one run allowed.
Seattle's second and third runs were partly the result of defensive miscues by the usually sure-handed Mark Teixeira and Ellsbury. Seager pulled a hard ground ball right through Teixeira's legs for a two-base error in the fourth inning, then Steve Clevenger dunked a softly hit single into shallow left to score the run. Hate getting burned by the light-hitting backup catcher. That cut New York's lead to 3-2.
The Mariners scored their third run when Ellsbury made an ill-advised attempt at a diving catch on Aoki's line drive with one out in the fifth. He should have held up and played the hop, holding Aoki to a double or maybe even a single. Instead he missed the dive, the ball rolled to the wall, and Aoki landed on third. Smith drove him in with a ground ball single through the drawn in infield.
Tanaka retired seven straight batters to end his outing after the Smith single, making him the first Yankees starter to complete seven innings this season. He did it on 93 pitches and he probably could have gone back out for the eighth, but there was no need to push it with the guys Girardi had waiting in the bullpen. Here is Tanaka's pitch selection, per Brooks Baseball: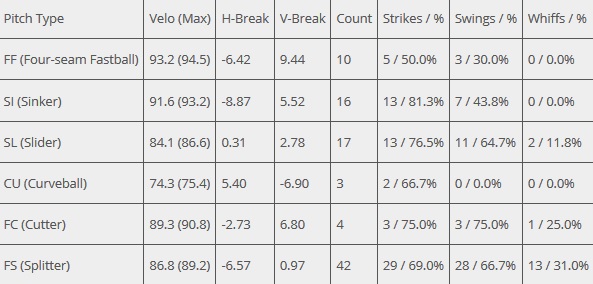 We saw much more velocity out of Tanaka on Sunday than we did in his first two starts of the year, and that could be the product of getting closer to midseason form or getting further away from offseason elbow surgery. Or both. Also, I'm guessing some of those 89 mph splitters were actually sinkers PitchFX misclassified based on the movement.
All those ground balls — 16 total out of 21 balls in play — were the result of Tanaka's new sinker heavy approach. I think this new approach is an adjustment made to combat last season's home run issues. Tanaka allowed a lot of dingers, so, in an effort to keep the ball in the park, he's now using a sinker as his primary fastball. The result is a 65.3% ground ball rate through three starts, which is excellent. Tanaka was pretty good Sunday. With some more help from his defense, it could have been one or two runs in seven innings instead of three.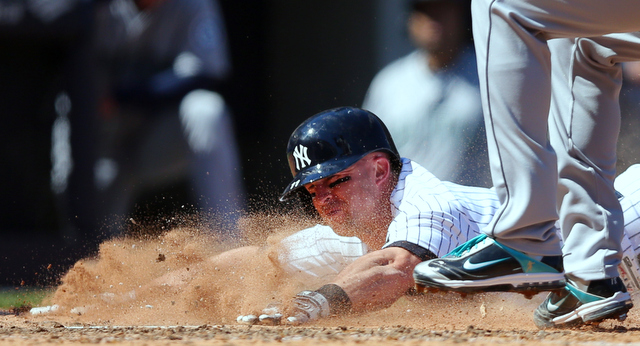 And The Yankees Take The Lead
The Yankees did manage to go 1-for-11 with runners in scoring position Sunday, so Gardner's double was their only hit in those situations. To score that go-ahead fourth run in the fifth inning, the team needed a little help from Iwakuma and Clevenger.
Gardner and new No. 3 hitter Carlos Beltran strung together back-to-back singles with one out to put men on the corners. Iwakuma then spiked a splitter in front of the plate and Clevenger let it scoot through his legs, allowing Gardner to trot in from third base. Well, not trot, he had to hustle and slide in just ahead of the tag. Once again, the Yankees had the lead.
Tanaka cruised through the sixth and seventh innings with that 4-3 lead before turning the game over to the bullpen, and holy crap, Dellin Betances and Andrew Miller were unreal. They each struck out the side on 13 pitches and there was no fight from the Mariners. It's incredible to big league players be so overmatched like that. Betances and Miller mowed them right down, Dellin the 1-2-3 hitters in the eighth and Miller the 4-5-6 hitters in the ninth.
On the season, Betances has struck out 15 of 24 batters faced (62.5%) — he has 15 strikeouts in six innings! — and Miller has struck out 12 of 17 batters faced (70.6%), so that a combined 65.9% strikeout rate. The league average is 21.7%. Betances has fanned 14 of the last 17 batters he's faced …
… and Miller has struck out the last seven men he's faced. Those two have record 33 outs this season and 27 have been strikeouts. This is absurd. In three weeks Aroldis Chapman, who had the highest strikeout rate in baseball each of the last three seasons, will join the bullpen.
Leftovers
Gardner had three of the team's eight hits to raise his season batting line to .314/.442/.429 (159 wRC+) with seven walks and five strikeouts. Remember when the Yankees tried to trade him over the winter? What was that about? Beltran went 1-for-4 and Teixeira went 1-for-2 with two walks. Teixeira is hitting .216/.383/.459 (146 wRC+) with ten walks and ten strikeouts so far.
On the other side of the coin, Ronald Torreyes went 0-for-3 and saw five pitches Sunday. His batting average dropped 167 points in an afternoon. Of course, he's still hitting .500, so who are we to complain. Didi Gregorius went 0-for-4 and is in the middle of a 3-for-25 (.120) slump.
Gardner and Ellsbury each stole a base against the Iwakuma-Clevenger battery. The Yankees have stolen 13 bases and been caught only two times this year. They were 6-for-10 in steal attempts through the first eleven games of last season.
Box Score, WPA Graph & Standings
Head on over to ESPN for the box score and MLB.com for the video highlights. Here are the updated standings. We also have Bullpen Workload and Announcer Standings pages that are worth checking out. Here's the win probability graph:

Source: FanGraphs
Up Next
The Yankees have an off-day Monday, then they'll welcome the Athletics to the Bronx for a three-game series. Michael Pineda and lefty Eric Surkamp, who I'm pretty sure is a made up MLB: The Show player, will be the pitching matchup Tuesday night. If you're looking to go to that game or any of the other five games left on the homestand, RAB Tickets can get you in the door.