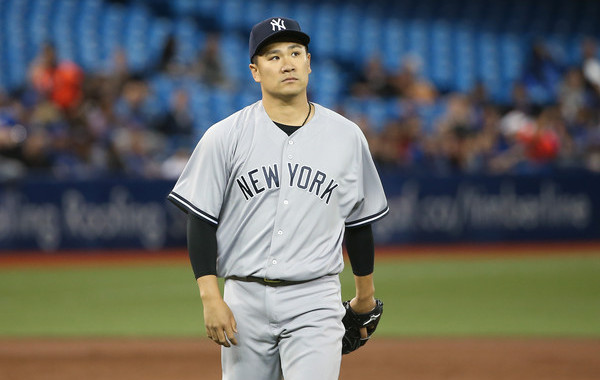 All things considered, last night's start was neither great nor terrible for Masahiro Tanaka. He could not get the Blue Jays to chase his offspeed stuff out of the zone — his 38.2% chase rate from 2014-15 was the best in baseball — which led to a ton of pitches early. Tanaka was able to grind it out and finish the night having allowed two runs in five innings.
Two things are clear now that Tanaka is two starts into the new season. One, he is not throwing as hard as last year. His velocity is down across the board compared to last April, both on average and at the high end.
April 2014: 93.5 mph average, 96.7 mph max
April 2015: 91.4 mph average, 94.1 mph max
April 2016: 90.6 mph average, 92.0 mph max
There was a lot of talk last season about Tanaka's velocity being down following his elbow injury, but PitchFX shows his average fastball was identical both years (92.7 mph) and his maximum velocity was pretty close as well (96.7 mph to 96.3 mph). His fastball was down last April. By the end of the season, it was right where it was supposed to be.
This year his velocity is down even more. Tanaka figures to add velocity as the season progresses because pretty much every pitcher adds velocity as the weather warms up, so we just have to wait to see whether he can get his fastball back to where it was the last two years. For now, Tanaka is not throwing as hard as he did last two years.
The other thing we've seen out of Tanaka in his two starts so far is a heck of a lot of moving two-seam fastballs. I said I couldn't remember him ever throwing that many two-seamers following his first start, and he was at it again last night. Look at his pitch selection (via Brooks Baseball):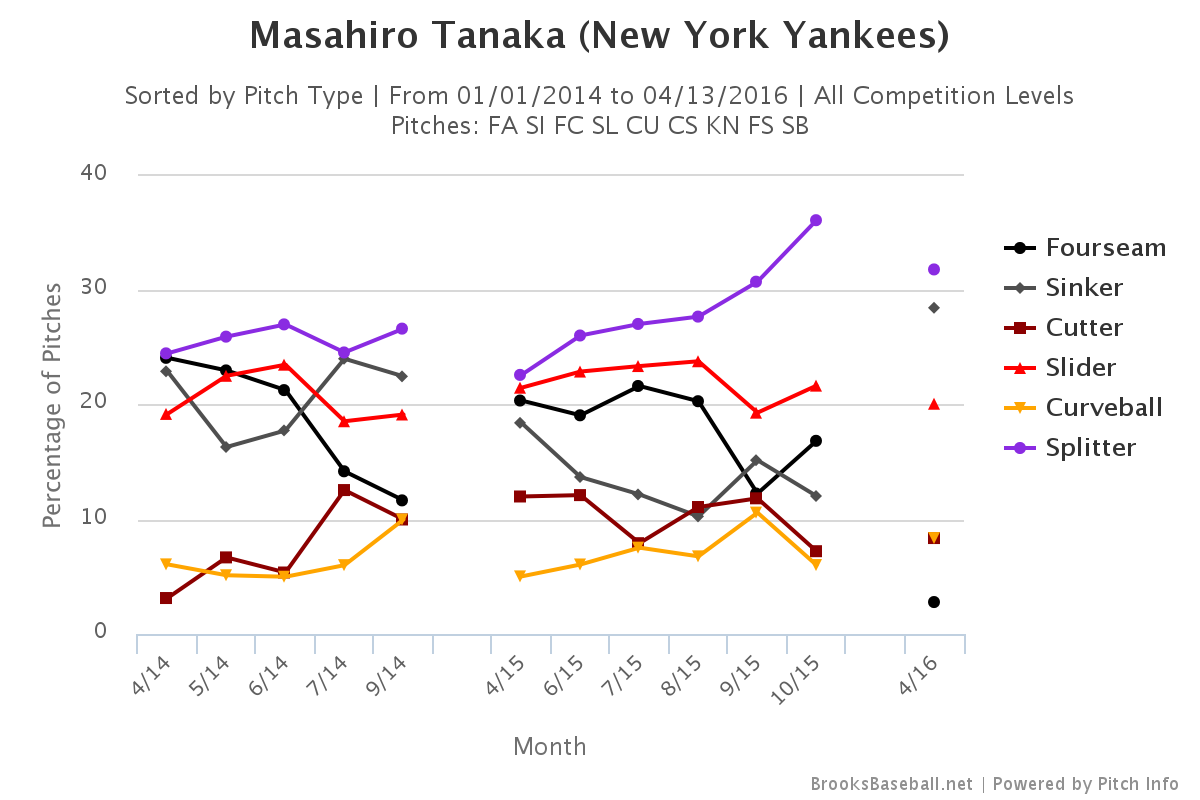 Tanaka threw his four-seamer and sinker (two-seamer) both roughly 20% of the time back in 2014. Last year it was 19% and 14% in favor of the four-seamer. This year? Tanaka has thrown 30% sinkers and only 3% four-seamers. He's thrown five four-seam fastballs in his two starts. Five. Tanaka has clearly put the straight four-seamer in his pocket and is emphasizing his sinker so far.
As a result of all those sinking two-seamers, Tanaka's ground ball rate is up to 57.1% in the super early going. His grounder rate was 47% the last two seasons. Two starts is nothing. It's just neat to see this all making sense. Tanaka appears to be throwing more moving fastballs, the PitchFX data confirms what our eyes are telling us, and the result is more grounders, which is exactly what you'd expect.
Now, why is Tanaka throwing more two-seamers? That's a different question. He was very home run prone last season (1.46 HR/9) and may have made the adjustment in an effort to keep the ball in the park. Also, let's not forget Tanaka had a bone spur taken out of his elbow in October. He may feel more comfortable throwing the sinker than cutting loose with the four-seamer right now.
The Tanaka we've seen these first two starts is quite a bit different than the Tanaka we saw the last two years. His velocity is down relative to the last two Aprils and he's sinking his fastball much more often, presumably intentionally. These changes are not necessarily a bad thing. He does have a 3.38 ERA and a 1.13 WHIP after two starts, after all. I think we'd all take those numbers across a full season.
Tanaka's two seasons and two starts as a Yankee have been eventful, if nothing else. He's rarely been bad — like bad bad, not last night bad — and yet he has not been truly dominant since before the elbow injury in 2014. Tanaka is not throwing as hard as he did last year and he is throwing way more sinking two-seamers. Is this is a two-start blip, or simply the latest new version of Tanaka?