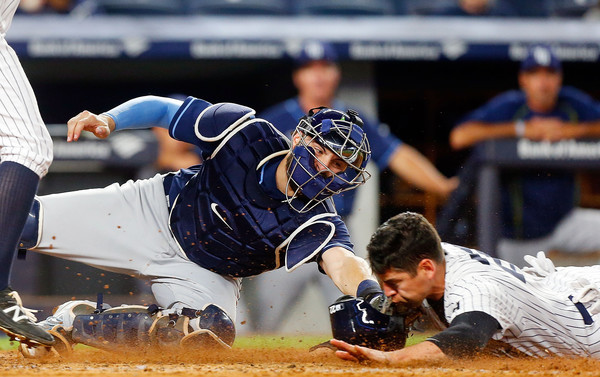 The steal of home that turned the season around! The offense finally snapped out of its funk Friday night, as Brian McCann and Jacoby Ellsbury led the Yankees to a 6-3 win over the Rays in the series opener. After losing seven of their last eight, the Yankees have won one of their last one. Feels good. Love this team, you guys.
I unfortunately did not see much of this game at all. I saw the last two outs of the ninth inning. That's about it. I did catch most of the game on the radio though, which was better than nothing. Figures the offense would break out and the Yankees would put together their best win of the season (to date!) on the night I couldn't watch. So it goes. Here are some thoughts on what I heard but did not see:
1. Ivan Nova is the unsung hero. He came out of the bullpen with two on and two outs in the fifth inning — a wholly unfamiliar experience for the career starter — and he was able to escape the jam, then toss in two more scoreless innings. Nova gave the Yankees a chance to stay in the game. He was huge. Well done, Ivan.
2. Ellsbury picked a good time for his Signature Yankee Moment™, I'd say. The Yankees were dangerously close to stranding two more runners in scoring position when he made that mad dash for home. Here's the play:
Stealing home down a run with two outs in the inning, a full count, and a left-handed hitter at the plate takes some gumption. Ellsbury is a true game-changer when he is at his best, and we haven't really seen that version of Ellsbury since his knee injury last year. He came back on that play. Gutsy as hell.
3. Don't forget McCann either. He hit the big two-run home run in the second inning after the Rays took the lead in the previous half-inning, then he drove in the go-ahead run with a nice single filleted to left in a two-strike count. Mark Teixeira and McCann have been slumping big time of late. The two went 5-for-7 (.714) with a walk Friday. Huge. And how about Tex creating a run with his legs in the ninth? Hey man, whatever it takes.
4. CC Sabathia was not very good. Three runs on nine hits and three walks in 4.2 innings — it could have easily been more if not for Nova's bailout job in the fifth — is no bueno, but props to Joe Girardi for having a short leash. Hopefully Sabathia can get through the fifth inning a little more consistently going forward. Luckily for him and the Yankees, the bullpen did this: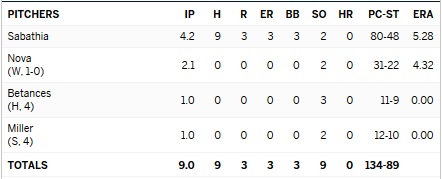 That is the good stuff right there. Just wait until Aroldis Chapman comes back in two and a half weeks. When you have a lead and really need to stop a losing streak, it's awfully comforting to know Dellin Betances and Andrew Miller are back there for the eighth and ninth.
5. Aaron Hicks left the game with a sore shoulder after attempting a diving catch, and that's unfortunate. No tests are scheduled or anything, but the Yankees are going to see a whole bunch of left-handed starters in the coming days, and this was an opportunity to get Hicks some playing time. Hopefully it's nothing serious and he'll be back out there tomorrow or the next day.
Here are the box score, video highlights, and updated standings. Also check out our Bullpen Workload and Announcer Standings pages. This was only one win, it doesn't erase the mess of baseball we watched the last week, but it was very nice to see the offense break out. This is a win the Yankees can build on. Masahiro Tanaka and rookie Blake Snell will be the pitching matchup Saturday afternoon.

Source: FanGraphs
Minor League Update: I've got some family stuff going on tonight and this weekend, so I don't have time for a full blown DotF. Sorry. Here are the box scores. Aaron Judge had two hits, Gary Sanchez had four hits, and Nick Swisher whacked his second homer with Triple-A Scranton. Vicente Campos and Dietrich Enns were the stars on the mound. Campos chucked eight scoreless innings and Enns fanned eleven in six one-hit innings.