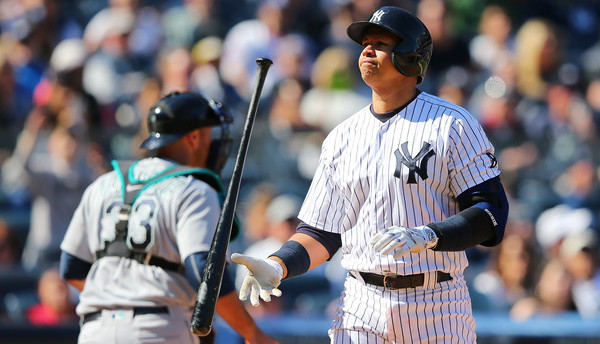 While we were fortunate to get a mostly mild winter here in the northeast, spring–let alone summer–has been slow to fully reveal itself, with temperatures hovering in the 50's, bringing plenty of those damned April showers. Despite that, things have been rather hot for Alex Rodriguez in the batter's box. No, that doesn't mean he's been hitting well. Rather, he's been getting blown away by the heat, as Mark Simon noted over at ESPN. Ironically enough, this comes on the heels of an article at FiveThirtyEight.com positing that older hitters aren't adversely affected by rising velocity. For at least one hitter this year, that general trend doesn't apply.
Generally, I agree with Mike that it's (probably) too early too worry about Rodriguez and his struggles; still, it's worth looking into his performance this year, especially considering Rodriguez fared well against fastballs in 2015. Last season, Rodriguez slugged .725 against fastballs, good for a .409 ISO per Brooks. In the early going this year, things are quite the opposite: low average, low slugging, .000 ISO. Arguably more important than those results, though, is the 'process' with which Rodriguez is going through with old number one.
In 2015, Rodriguez had a relatively low 23.55% whiff/swing rate against fastballs. 2016, however, has been a different story, with a 50% whiff/swing rate on heaters. That swinging-and-missing has led to a 31.4% strikeout rate for Rodriguez, which is not only ugly, but would be a career high. Luckily, he's only had 35 plate appearances in eight games this season, and strikeout rates don't quite stabilize until 60 PA, per FanGraphs. There's time to turn things around–it's only April 17–but there is still cause for concern.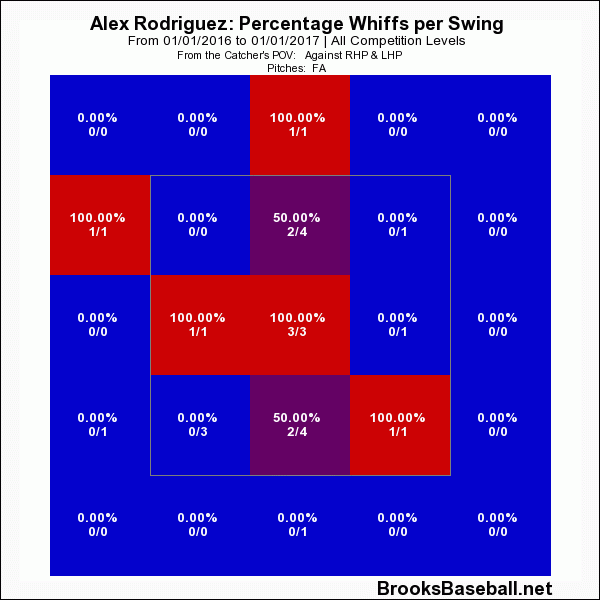 The above image is A-Rod's whiff/swing chart against fastballs for this year so far. Take a look at that middle-middle box in the strike zone. Whether they were challenge pitches or mistakes, Rodriguez has seen three fastballs that have been, quite literally, right down the middle; he's whiffed three times on three swings on those pitches. Last season, he only whiffed seven total times on pitches in that location.
Short story even shorter, Alex is struggling to catch up to fastballs right now. Maybe it's just early. Maybe it's just a slump. Maybe it isn't. Given his age, it's right to be a little fearful, especially since this comes after he struggled against breaking pitches last season. There is plenty of time to right the ship and when a player is as talented as Rodriguez is, it's wise to bet on him. But the end of the line comes for everyone and Rodriguez's is fast approaching. This fastball-based negative trend is one to keep an eye on going forward.