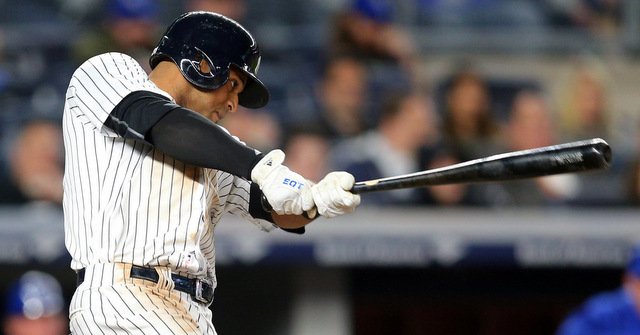 Thanks in large part to bench players Dustin Ackley and Aaron Hicks, the Yankees beat the Royals last night and won for the fifth time in seven games. Ackley and Hicks went a combined 3-for-6 with two walks, three runs scored, and three runs driven in. Ackley drove in the game tying run in the seventh and Hicks followed by plating what was temporarily the go-ahead run.
Last night was Ackley's fourth straight start and fifth in the last six games. Hicks started for the seventh straight game and eighth time in nine games. They're in the lineup because of injuries, obviously. Alex Rodriguez pulled his hamstring last week, allowing the Yankees to slide Carlos Beltran into the DH spot and play Hicks everyday. Ackley is in there because Jacoby Ellsbury is day-to-day with a hip issue.
Mark Teixeira entered the infirmary yesterday with neck spasms, clearing the way for Ben Gamel to make his first career start. The Teixeira and Ellsbury injuries mean the Yankees had a two-man bench last night: Ronald Torreyes and Austin Romine. It almost came back to bite them when they couldn't pinch run for Brian McCann in the seventh. Luckily it didn't matter.
In all likelihood the Yankees will again have a two-man bench tonight. Ellsbury has not yet tested his hip with full sprints and Teixeira is one day into an injury that is expected to require two or three days. This is a messy situation. The veteran players are hurting, but not hurting enough to require a DL stint, so the Yankees are playing short-handed. They have a 23-man roster while their opponent has a full 25-man unit.
"I think Torreyes gives you a ton of options. I can put him almost anywhere. (The bench is) short, but I think we have options that should make it okay," said Joe Girardi to Chad Jennings yesterday. And he's right. Torreyes gives them an option pretty much everywhere, so they're not going to be forced into playing someone out of position. (You could argue Ackley in right field is out of position given his arm.)
That said, thanks to the makeup of that rained out game in Detroit, the Yankees are eight games into a stretch of 40 games in 41 days. Their next off-day is 12 days away and the short bench means they can't rest people in addition to not pinch-hitting and pinch-running. Girardi's options are really limited for the time being and it is absolutely a disadvantage.
The Yankees don't really have a timetable for Ellsbury's return — "If you're in a week and you don't feel he's going to be ready anytime soon, you might as well backdate (the DL stint)," said Girardi — and let's face it, he's not exactly the quickest healer in the world. It's already been four days and he's not sprinting yet, so it's not like Ellsbury will be back in the lineup tonight.
I get why the Yankees are hesitant to put him Ellsbury on the DL, but stuff like this can't happen all season. They can't slowly nurse players back to health and play short-handed, especially when multiple players are banged up like Ellsbury and Teixeira right now. The Yankees are playing much better of late but they still have to dig themselves out of this early season hole. That will be tough as it is. Imagine trying to do it short-handed?
Avoiding injuries just isn't realistic. Players are going to get hurt. That's baseball. The Yankees should be a little more liberal with their DL usage going forward, especially when it's a situation like Ellsbury, where he might miss a week anyway before being ready to play again. The Yankees have some depth in the minors. It's okay to use it. They're already made things hard enough on themselves this year.