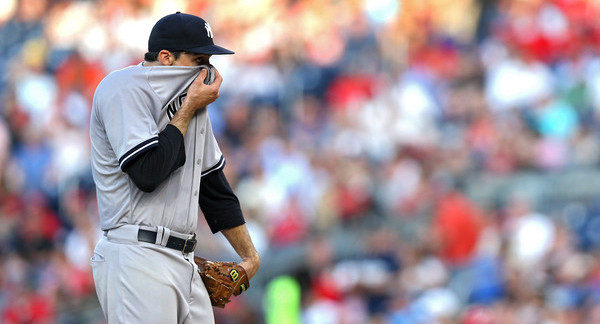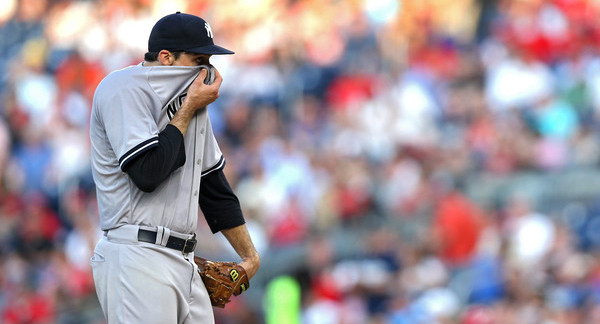 Far be it from me to criticize Nathan Eovaldi after the start he turned in yesterday. He twirled eight great innings, giving up just two runs on only six hits while striking out six and walking no one. One of those runs, however, came via a Jackie Bradley homer, which caused our very own Sunny to make an observation:
Eovaldi seems to be giving up dingers in a very alarming rate compared to how well he kept the balls in the park last year
A quick glance at the numbers shows us that Sunny's hunch is, indeed, correct. In terms of raw dingers, Eovaldi's already given up six this year; he surrendered just ten all of last season. His career high is an acceptable 14, set the year before last with the Marlins. In terms of HR/FB%, Nate's clocking in at a whopping 19.4%, well above his previous career high of 8.1 (2012) and career norm of 7.7. His mark so far is good for fifth worse in the AL. The season's still fairly young, so he has plenty of time to bring this number back down. That doesn't mean, though, that it's not a problem worth examining.
Let's start on a positive note: Eovaldi's blistering fastball has not left the yard much during his Yankee tenure. In 2015, it turned into a homer on only 0.48% of the time it was thrown; so far this year, it's even better at a whopping 0.00%. We can attribute this trend to the fact that he's allowing fewer fly balls per ball in play this year at 13.46 percent, compared to 21.33% last year. Fewer fly balls, fewer home runs. Pretty simple. His other pitches, though have seen spikes in fly ball rates, and in turn, spikes in home run rates.
The fly ball rates on his slider, curve, and splitter have risen by 21.3%, 7.74%, and 1.73% respectively. Not surprisingly, his homer rates–measured by HR/(FB+LD)–have risen big time as well, including a humongous number with his curveball: 50%. 50% of the fly balls and line drives Eovaldi's given up via the curveball have gone for home runs. Yikes! But, his curveball is the pitch he utilizes the least. The narrative around Eovaldi–aside from his high-octane fastball–has focused on his ability to develop his splitter. Though improved, it's still a work in progress. This year, it has an 18.18% HR/(FB+LD) mark, which is more damaging than the gaudy mark on the curve, since he throws the splitter so much more often. Take a look below at batters' (both LHB and RHB) ISO against the split: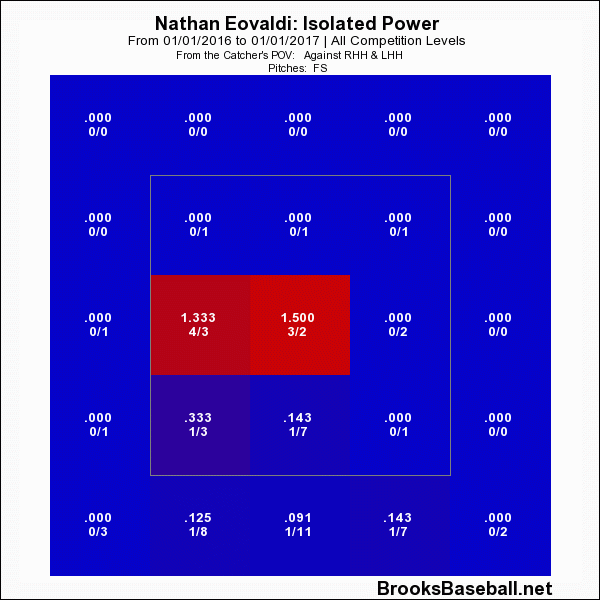 Those red spots are telling. Regardless of who's batting, a splitter in those locations is going to get hammered. For a right-handed batter, that's a tumbling pitch at a better hitting speed than a straight fastball. For a lefty, those are meatballs that didn't break right, begging to be hammered. This all reminds me of a similar issue that Masahiro Tanaka had late last year. Pitchers who rely on splitters are going to get hurt when those pitches don't, well, split. That seems to be happening a bit with Eovaldi this year. Luckily, his whiff/swing% on the split is nearing 30% and he's getting grounders on it exactly two-thirds of the time (66.67%) it's being put into play. The pitch is an overall positive that needs some polishing. Hopefully as the season goes along, he gets it to drop out of the zone more and the grounders and whiffs stay, while the homers recede.