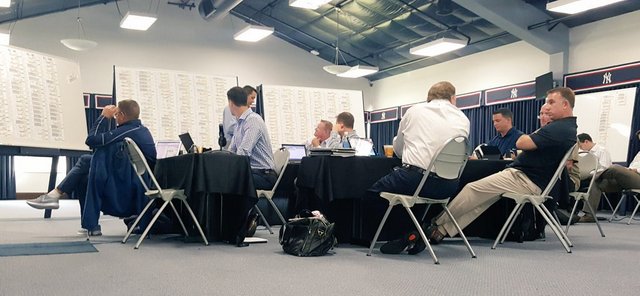 Last night, the 2016 amateur draft got underway with Day One of the three-day event. A total of 77 picks were make yesterday, including two by the Yankees. They made their first (18th overall) and second (62nd overall) round selections, and with those two picks, the Yankees bucked some recent trends in a pretty significant way. Let's review the team's two picks on Day One.
Yankees go big with Rutherford
The Yankees have not had much success developing high school players over the years. Top picks like C.J. Henry, Slade Heathcott, Cito Culver, and Dante Bichette Jr. stand out the most, but others like Carmen Angelini and Angelo Gumbs received huge bonuses only to fizzle out in short order. As a result, the Yankees started favoring college players, especially early in the draft. Eight of the eleven players they selected in the top three rounds from 2013-15 were college guys.
Last night the Yankees went back to the toolsy high school demographic, which I truly believe is scouting director Damon Oppenheimer's wheelhouse. He seems to be all about upside and loud tools at heart. The Yankees used their first rounder last night on California prep outfielder Blake Rutherford, who earlier in the spring was considered a possible top ten pick. Keith Law (6th), MLB.com (8th), and Baseball America (9th) all ranked him among the ten best players in the draft.
This is awfully exciting, isn't it? Getting a top ten talent with the 18th pick? Fair or not, college players come with the stigma of being considered low upside. Also, the Yankees have a knack for making out-of-nowhere picks. We all remember Culver and Bichette, right? Right. With Rutherford the Yankees took a truly high-upside player who fell into their laps despite being one of the top available talents. This is the type of pick that hasn't been happening the last few years.
Law says Rutherford has a "unique combination of hit and power and has shown an ability to spray well-hit balls to all fields," so he's not just a brute masher from the left side of the plate. Also, Rutherford can run fairly well and play solid outfield defense, with right field his most likely landing spot long-term. Simply put, he can impact the game in many different ways. He's not a one-dimensional player.
"Blake's a guy that we've scouted for a long time, and we couldn't be happier with him falling to us," said Oppenheimer in a statement. "He's hit at a high level, he can run, he's a really good defender in center field, and he's got power. He's got a chance to have all the tools to profile. The fact that he's performed on a big stage with Team USA, where he's been a quality performer, makes it really exciting for us."
A little more than a year ago the Yankees made some fairly big changes to their player development staff, most notably replacing farm system head Mark Newman with Gary Denbo. They also reassigned coaches and instructors, and brought in others from outside the organization. That was all in response to the club's development failures over the last last, well, years and years. I don't know how many, but it's a lot.
The Yankees targeted college players the last few years because they are closer to finished products and didn't need as much help developmentally. That's no secret. Rutherford will be the new development staff's first real test. Oppenheimer and his staff did their job. They brought in the highly talented player. Now it's up to the player development staff to turn him into a Major Leaguer.
Balancing risk with Solak
These days the draft is not very friendly to big market teams. The bonus pools eliminate their ability to spend freely, so while I'm sure the Yankees would have loved to follow the Rutherford pick with another high-end player in the second round, the draft pool means they have to watch their money. They can't target the tippy top talent all the time. They can only go after the players their pool allows them to afford.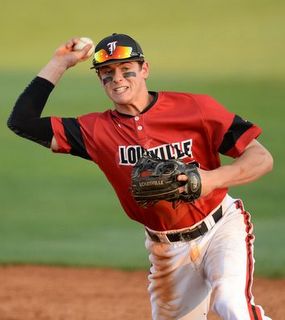 With their second pick the Yankees grabbed Louisville second baseman Nick Solak, who is pretty much the opposite of Rutherford. He's not only a college guy, he's also lacking loud tools and super high upside. Solak is one of those classic gritty grinder types at 5-foot-10 and 185 lbs., so yeah, he and Rutherford couldn't be more different. There is no such thing as a "safe" pick, but Solak is definitely safer than Rutherford.
The interesting thing about the Solak pick is how different he is than the other middle infielders the team has drafted in recent years. Guys like Culver and Kyle Holder were defense first players who could maybe possibly hit in pro ball. Solak is a hitter first and a defender second. He doesn't hit for power but he rips line drives to all fields and he knows the strike zone. Those are pretty good offensive tools.
"Solak is a really accomplished hitter," said Oppenheimer. "He makes hard contact, he walks, he has plate discipline and he's tough. He's also a plus runner, with tools to stand on in the middle of the diamond."
On the other side of the ball, Solak only recently moved to second base last year — he was an outfielder before that — and not everyone is sure he can stick there long-term. He has quickness and good hands, but he's lacking infield instincts, though at least part of that is due to a lack of experience. Solak has some Rob Refsnyder in him as an outfielder who is trying to make it work on the infield. The bat is the primary tool here. Not the glove.
* * *
Both Rutherford and Solak are much different than the players the Yankees have been drafting the last few years. Rutherford is a high-upside prep player with a lot of development ahead of him, not a polished college player who figures to climb the ladder quickly. Solak is a bat first middle infielder, not someone who was drafted for his glove and has to learn to hit.
It's two picks and we should be careful not to read too much into them, but I couldn't help but notice how much the Yankees seemed to change their draft philosophy. They went after that high schooler who has a lot of development ahead of him and they went after the bat first guy who may or may not play the premium position well enough to get there. Day One brought a very different set of picks from the Yankees compared to what we've seen in recent years.