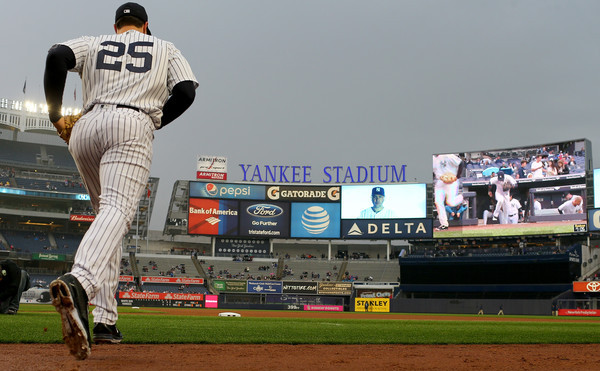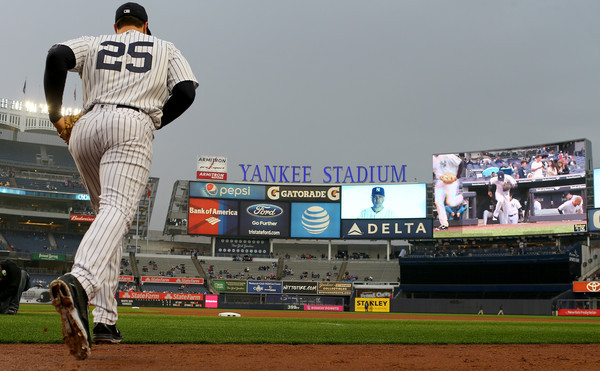 Exactly three weeks ago, Mark Teixeira was placed on the 15-day DL with torn cartilage in his right knee. There was talk he would need season-ending surgery. Instead, Teixeira returns to the lineup today after "rehabbing" the knee. I say "rehabbing" because torn cartilage won't repair itself. (I'm no doctor. Someone correct me if I'm wrong.) He's going to need surgery at some point. Teixeira is receiving treatment and lubrication injections to make the injury manageable for the time being.
If nothing else, Teixeira's return will instantly improve the team defense. He's still an all-world defender at first base. Will he help the offense? That's another matter. Teixeira was hitting only .180/.271/.263 (47 wRC+) at the time of the injury, and he hadn't homered in nearly two full months. He had a fantastic season a year ago, so it's not like you have to look back real far to see the last time he was a productive player. Hopefully the little break gets his bat on track. Here is the Twins' lineup and here is the Yankees' lineup:
CF Jacoby Ellsbury
LF Brett Gardner
RF Carlos Beltran
DH Alex Rodriguez
C Brian McCann
1B Mark Teixeira
2B Starlin Castro
SS Didi Gregorius
3B Chase Headley
RHP Michael Pineda
It's a lovely day in New York. Sunny, not many clouds, and temperatures in the low-80s. Good afternoon to spend at the ol' ballyard. Today's game will begin at 1:05pm ET and you can watch on WPIX locally and MLB Network if you're out of market. Enjoy the game.
Roster Update: Ike Davis was designated for assignment to clear a roster spot for Teixeira, the Yankees announced. He can elected free agency if he clears waivers because he has more than five years of service time. Do any other teams offer a greater opportunity though? Teixeira is playing with torn cartilage, so it wouldn't take much for Davis to return to the big leagues. He might stick around.