Is it good when you get out-classed by the Rockies three times in two different time zones in the span of a week? Colorado out-hit and out-pitched (and out-defended and out-baseran) the Yankees yet again Tuesday night, a week after doing it twice in Colorado. The final score was 8-4 Rockies. Don't worry, the Yankees are just gearing up for their next run at .500.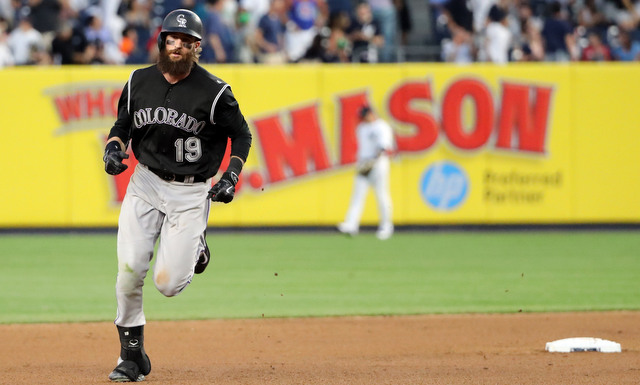 Down Early
There's nothing worse than falling behind before you even get a chance to bat. That's exactly what happened Tuesday night, when Ivan Nova managed to put the Yankees in a 3-0 hole in the top of the first. It was a pretty wild inning, so I'm going to annotate the play-by-play. Usually I reserve this for big offensive innings, but that top of the first deserves it.

(1) The Rockies wasted no time taking the lead. The underrated Charlie Blackmon launched a leadoff home run on Nova's third pitch, a big time hanging curveball. It clanked it off the very top of the right field foul pole. Way up there. In most other parks, that ball probably sails just foul. In tiny Yankee Stadium, it's off the pole for a tater.
(2) This was a very weird play. Starlin Castro was shaded towards shortstop because Nolan Arenado is a pull hitter, and sure enough, Arenado pulled a grounder to the shortstop side of second base. Both Castro and Didi Gregorius went after the ball and both were in position to make the play, so much so that they nearly collided:
Gregorius ended up scooping the ball, then spinning and firing to first. Arenado was originally called out because Laz Diaz, the first base umpire, is just terrible, but replay correctly overturned it. Three batters into the game, the Rockies had a run and runners on first and second.
(3) Carlos Beltran is in the lineup because of his bat. We all know that. The Yankees would rather have him at DH, no doubt about it, but the presence of Alex Rodriguez makes it impossible. So right field it is. Carlos Gonzalez ripped a single to right field and Beltran waddled on over to pick it up … except he straight up whiffed on the scoop and the ball rolled to the wall. Amazingly, the Rockies scored only one run on the play, which probably would have happened even without Beltran's error. Still.
(4) This was one of those Murphy's Law innings. Everything that could go wrong did go wrong. Blackmon hit a hanger for a homer, Didi and Castro almost ran into each other, Beltran whiffed on the rolling grounder, so on and so forth. Daniel Descalso — excuse me, Designated Hitter Daniel Descalso — loaded the bases with what was basically a swinging bunt. Chase Headley made a nice play to charge the weak grounder and make a quick throw to first, but DHDD beat it out. So it goes.
(5) Castro and Gregorius almost make a breathtaking inning-ending double play. Castro made a tremendous diving stop on Mark Reynolds' ground ball behind second base, flipped to Gregorius, who spun and threw to first. Reynolds beat it out though. Starlin made a tremendous play to stop the ball. He saved a run by keeping it on the infield. Getting the out at second was a nice bonus. The fact they nearly turned it into a double play was really cool.
Nova finished the night having allowed six runs (five earned) in only four innings. He gave up eight hits and walked two while striking out one. That is: bad. Nova has made nine starts this season and he's managed to give up a homer in every single one. He gave up two in this game; Blackmon got him twice. Ivan is up to 58 baserunners and 27 runs in his last six starts and 34 innings. Nova shouldn't make his next start — I'd go with Chad Green, personally — but he will.
A Failed Attempt At A Comeback
The Yankees couldn't out-score their own pitching staff Tuesday, which is exactly what happened last week in Colorado. Brett Gardner and Beltran opened the first inning with back-to-back singles, then A-Rod plated a run with a double play to get the Yankees on the board. They answered that three-run top of the first with a run in the bottom half, which is better than nothing.
New York scored their second run in the second inning thanks to a D.J. LeMahieu error. Gregorius doubled with one out, moved to third on Headley's ground out, then scored when LeMahieu bobbled a grounder, allowing Aaron Hicks to beat out what should have been the third out of the inning. Singles by Gardner and Beltran, plus an A-Rod sac fly, drove in the Yankees' third run of the game. By then it was too little, too late. The Rockies had pushed their lead to 6-3.
The best opportunity for the Yankees to get back into the game was in the bottom of the seventh, when the score was 8-4 Rockies. Rob Refsnyder led the inning off with a double — odds Ike Davis gets the start at first base tomorrow? 50/50? — and Gardner followed with the walk to put runners on first and second with no outs. They never advanced any further. Beltran flew out, A-Rod grounded out, and McCann struck out. The Yankees went 0-for-10 with runners in scoring position. Still managed to score four runs though.
More Sloppiness
Once again, the Yankees played sloppy baseball. Beltran let the grounder get under his glove in the first, Refsnyder took a grounder to the wrist in the second, Brian McCann let a few pitches get by him behind the plate, and Beltran was thrown out when he foolishly tried to tag up and go first to second and A-Rod's fifth inning fly ball. Carlos, predictably, was thrown out by a considerably margin. Stupid mistakes like this happen almost every game. Fair or not, it reflects poorly on the coaching staff. The Yankees are bad and they're sloppy. It's an awful combination.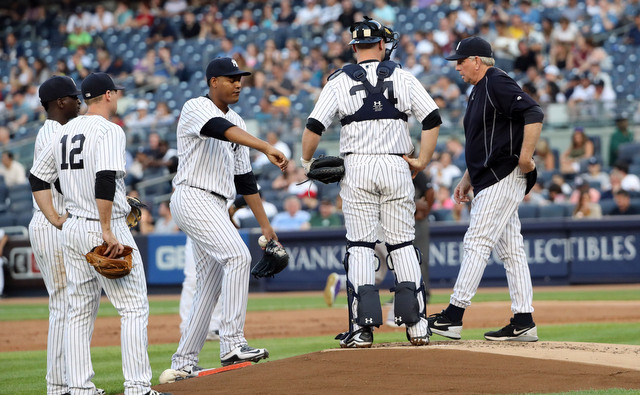 Leftovers
Props to the bullpen, and yes I'm serious. Nick Goody allowed a two-run homer to Arenado, and well, that's just going to happen. Arenado is so damn good. Richard Bleier recorded five outs, Kirby Yates threw a scoreless inning, and Anthony Swarzak tossed a perfect ninth. The four relievers allowed just the two runs in five innings. They struck out 12! I'll take it. They didn't let the game get out of hand.
Gardner did his job as the leadoff hitter du jour, going 2-for-3 with two walks. Beltran had two singles as well. Not just singles, infield singles. Yep. Gregorius and Refsnyder each had a pair of hits too. Didi raised his season batting line to .286/.317/.420 (97 wRC+). He seems like the only position player on the team who has a realistic chance to be a contributor to the next championship caliber Yankees team. I'm not way off base here, am I?
Box Score, WPA Graph & Standings
Go to ESPN for the box score and updated standings, and MLB.com for the video highlights. We have Announcer Standings and Bullpen Workload pages too. Here's the win probability graph:

Source: FanGraphs
Up Next
The Yankees and Rockies finish up this quick two-game set Wednesday afternoon. That's a 1:05pm ET start. CC Sabathia and ex-Yankees draft pick Jon Gray will be on the bump. RAB Tickets can get you in the door if you want to catch that one live.