Alright alright alright. Two straight wins! Feels good. The Yankees could have been on a four-game winning streak right now if not for that rain delayed blown lead Sunday. Whatever. Tuesday's final score was 6-3. The Yankees took advantage of some silly mistakes by the Angels, which is the kind of thing good teams do. What is going on here?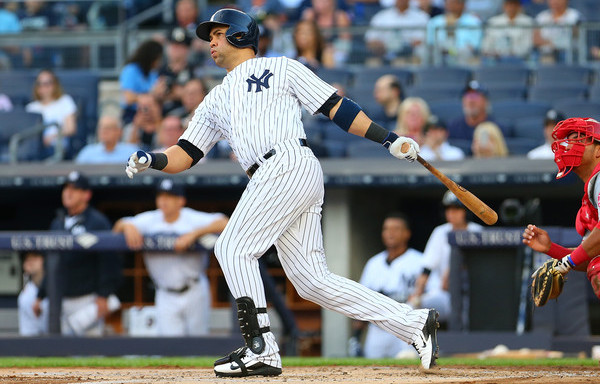 Putting The Fun In Fundamentals
Mike Scioscia's teams are known for being fundamentally sound and that is generally true. It definitely was not the case Tuesday night though. The bottom of the first inning started with a Brett Gardner infield single that deflected off David Huff's glove. It was a chopper just to the right of the mound, and it looked as though Huff had it squared up, but he didn't make the catch and Gardner reached. Two batters later, Carlos Beltran gave the Yankees a quick 2-0 lead with a two-run homer to left.
Singles by Alex Rodriguez and Starlin Castro followed, then the Angels made their second mistake of the inning. This one was a huge mental mistake. Chase Headley hit a hard ground ball right to Yunel Escobar at third, who stepped on the bag for the force out. And that was it. He thought there were two outs and never threw over to first to complete what should have been an inning ending double play. Austin Romine made Escobar and the Angels pay with a single to drive in A-Rod as the next batter. That made it 3-0 good guys.
The mistakes continued in the second. Aaron Hicks started the inning with a double into the left corner, and he moved to third when Duff made a throwing error on another Gardner chopper. Hicks scored on Rob Refsnyder's sac fly and, to be fair, he would have moved to third on the play even if Huff made an accurate throw on Gardner's chopper. The error still gave the Yankees an extra baserunner. Four runs by the Yankees, three mistakes by the Angels.
A New Pineda?
The first inning was Michael Pineda's best inning of the season. He needed eight pitches — four of which generated swings and misses — to get two strikeouts and a pop-up. That was domination. Then, of course, Pineda came out and fell behind every single hitter in the second inning. The first three batters saw 3-1 counts. Argh. Pineda allowed just a walk that inning, but still, he was annoyingly behind everyone after his offense staked him to a 3-0 lead.
The Angels were able to do some damage with a three-run fifth inning that included a Kole Calhoun two-run homer into the short porch. The Yankees stretched their lead to 5-0 on a Starlin Castro solo homer in the third inning, so that three-run fifth cut the lead to 5-3. Things got interesting quick. To Pineda's credit, he settled down and retired seven straight following the Calhoun homer to end his night. The final line: 7 IP, 4 H, 3 R, 3 ER, 2 BB, 4 K.
PitchFX says the Angels swung at 18 of Pineda's 34 sliders, and missed ten times (55.6%). That is absurd. After the game Pineda told Bryan Hoch pitching coach Larry Rothschild tweaked his arm angle two starts ago, giving him more action on his slider, and it showed in this game. It had vicious break down in the zone. It was the best the pitch has looked since his 16-strikeout game last year. Hopefully it continues.
Another Run, Another Win
The Yankees tacked on an insurance run in the seventh thanks to yet another Angels misplay. Gardner was on first and he took off on the 3-2 count to Beltran. Beltran struck out, and the throw to second beat Gardner by a mile, but Gregorio Petit didn't make the catch and Brett was safe. He came around to score on Alex Rodriguez's single to right to stretch the lead to 6-3.
With Aroldis Chapman unavailable due to his recent workload, Joe Girardi went to the old formula of Dellin Betances in the eighth and Andrew Miller in the ninth. Betances struck out two in a perfect inning and Miller pitched around a one-out double for his seventh save. Nice and easy. It was sort of weird to see the back-end relievers blow to some games to the Orioles over the weekend. Things went back to normal Tuesday.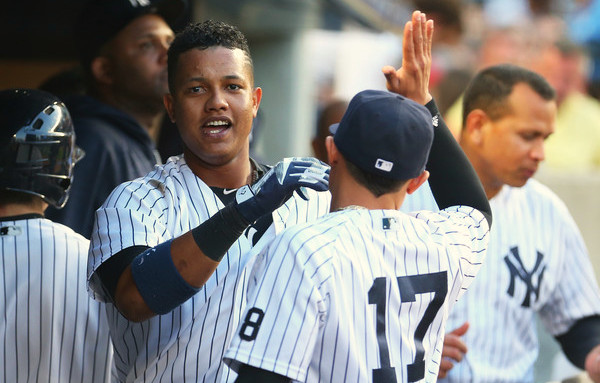 Leftovers
The Yankees had ten hits as a team, including two each by A-Rod, Castro, and Hicks. Gardner had a single and a walk. Refsnyder drew a walk and a had a sacrifice fly. Headley went 0-for-4 and was the only starter who failed to reach base. The Yankees have now scored at least five runs in five of their last six games. How about that?
Beltran's first inning homer was the 1,000th extra-base hit of his career. He joins Pete Rose, Eddie Murray, and Chipper Jones as the only switch-hitters to do that. (Mickey Mantle had 952.) Carlos is the 38th hitter overall with 1,000 extra-base hits. Also, A-Rod is only five hits away from 3,100 for his career.
And finally, Tuesday's HOPE Week event involved Cleaning for a Reason, a group that provides free house cleaning for women battling cancer. Several players went to the Bronx to help clean homes, and that's pretty cool. Good work, Yankees.
Box Score, WPA Graph & Standings
ESPN has both the box score and updated standings while MLB.com has the video highlights. Make sure you don't miss our Bullpen Workload and Announcer Standings page either. Here is the win probability graph:

Source: FanGraphs
Up Next
The Yankees and Angels continue this four-game series Wednesday night. Nathan Eovaldi and Jered Weaver, who are polar opposites in terms of pitching style, will start that game. Check out RAB Tickets if you want to catch that game or any of the other four games on the homestand live at the ballpark.