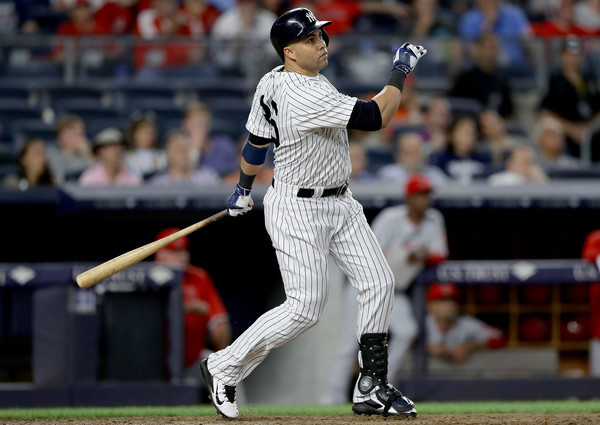 Two nights ago the Yankees beat the Angels thanks to an eighth inning three-run home run by Carlos Beltran. It was an opposite field job into the short porch against lefty Jose Alvarez. Believe it or not, that was the team's first three-run homer since April 7th, the third game of the season. Yeah, it had been a while. Beltran again gave the Yankees the lead lastnight, this time with a first inning two-run homer off David Huff.
Last night's home run was the 15th of the season for Beltran, and that's notable because he hit only 19 homers last season and 15 the year before. Even in 2013, his final year with the Cardinals, Beltran swatted 24 homers. He's on pace to hit 42 dingers (!) this season. His .277 ISO and .549 SLG rank 11th and 13th among the 175 qualified hitters in baseball, respectively. The guy is 39, remember.
As you know, Beltran started last season horribly. He looked done. Like done done. He turned things around in May and raked the rest of the season, but he didn't hit for power like this. Beltran hit his first homer last year on May 10th, in the team's 32nd game. From that game through the end of the season, Carlos ran a pace of 26.6 homers per 150 games. That's really good! It's still far below this year's pace of 38.8 homers per 150 games.
Check out Beltran's rolling 20-game ISO since 2010, via FanGraphs. Aside from a spike early in 2012, Beltran hasn't matched his current power rate at any point in the last six seasons: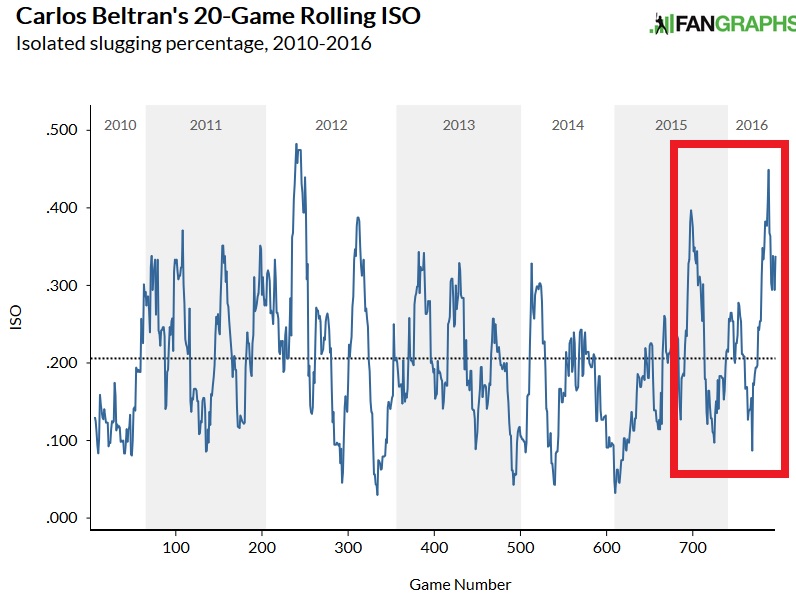 As you can see in the graph, Beltran's ISO gradually faded from early-2012 though the end of the 2014 season, and that is totally normal for a player on the wrong side of 35. Players lose bat speed as they age and their power suffers. That's the way it goes. Beltran was no exception during that three-year period.
Since the last May though, Beltran has been hitting for power at a tremendous pace, and he's kicked it up a notch through two months and change this season. He's done it without a substantial change in his fly ball rate or hard hit ball rate too. Beltran's not even pulling the ball more often to take advantage of the short porch. In fact, his pull rate is down, though as a switch-hitter, that helps him take aim at the short porch against lefties.
"That's not the plan," said Beltran when Chad Jennings earlier this week when asked if he's trying to hit more home runs. "The plan is to just to try to put together good at-bats. Hopefully everyone in the lineup is capable of putting together good at-bats. The plan is not to go up there and try to hit homers. That's a terrible plan, but (Monday) it worked out for us."
There is one really obvious possible explanation for Beltran's recent power surge: he's healthy. Beltran spent most of 2014 playing through a bone spur in his elbow. He wasn't all that good that season, especially in the second half. Beltran then had the bone spur removed in the offseason. It seems like it took him a few weeks early last year to get right physically, then once he started to feel really good in May, he took off and it carried into this season.
I also think there might be something tying Beltran's performance to his contract status. This is going to sound cynical as hell, but money is a great motivator. We've all noticed Carlos running better in the outfield and on the bases this season, right? Is it unreasonable to think he's in better shape than he has been the last few years because his deal is up? I don't think so. This happens all the time in all sports.
The combination of good health and that extra contract year motivation could help explain Beltran's recent power surge. Could is the key word there. We don't know this for sure. The only thing we know for sure is that since May of last season, Beltran has really awesome at the plate, and he's upped his power output considerably this season. He hasn't hit for power like this since he was in his prime with the Mets years and years ago.
For the Yankees to have any chance to climb back into the postseason race, they'll need Beltran to keep up this pace. He's been their best hitter this season by no small margin and is their biggest power threat. And you know what? If the Yankees don't get back into the race, this power surge will make Beltran that much more attractive to other teams at the deadline should the Yankees decide to sell. For now, Carlos' power definitely qualifies as a good surprise this season.