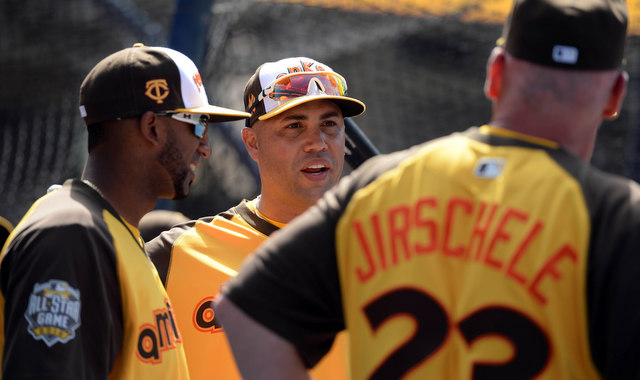 Tonight in San Diego, baseball's biggest stars will gather in Petco Park for the 2016 All-Star Game. There are even some Yankees there. That's cool. As always, home field advantage in the World Series is on the line tonight. That's pretty important. How else will Aaron Hicks hit a walk-off homer in Game Seven?
The Yankees have three All-Stars this year: Carlos Beltran, Dellin Betances, and Andrew Miller. All very deserving, of course. This is Beltran's ninth All-Star Game but his first as an AL player, believe it or not. Betances is here for the third straight year and Miller's a first-timer. My guess is Beltran gets an at-bat or two at DH tonight while Betances and Miller join Kelvin Herrera and Zach Britton to get the last nine outs somehow. Here are the full rosters. There are 79 All-Stars this year. 79!
Although the game is being played in San Diego, the AL is the home team tonight. Weird. That's a result of four straight All-Star Games (2015-18) being played in NL parks. The two leagues will still alternate home field advantage. The AL will be the home team in Nationals Park in 2018 too. Anyway, here are the starting lineups. Fans voted for the players and managers Ned Yost and Terry Collins lined 'em up:
National League
1. 2B Ben Zobrist, Cubs
2. RF Bryce Harper, Nationals
3. 3B Kris Bryant, Cubs
4. DH Wil Myers, Padres
5. C Buster Posey, Giants
6. 1B Anthony Rizzo, Cubs
7. CF Marcell Ozuna, Marlins
8. LF Carlos Gonzalez, Rockies
9. SS Addison Russell, Cubs
Starting Pitcher: RHP Johnny Cueto, Giants
American League
1. 2B Jose Altuve, Astros
2. CF Mike Trout, Angels
3. 3B Manny Machado, Orioles
4. DH David Ortiz, Red Sox
5. SS Xander Bogaerts, Red Sox
6. 1B Eric Hosmer, Royals
7. RF Mookie Betts, Red Sox
8. C Salvador Perez, Royals
9. LF Jackie Bradley Jr., Red Sox
Starting Pitcher: LHP Chris Sale, White Sox
Yost said yesterday the tentative plan is to pitch Corey Kluber, Cole Hamels, Aaron Sanchez, and Jose Quintana after Sale, in that order. The relievers will take over at that. Collins didn't tip his hand too much. He did indicate Jon Lester would pitch at some point, and I'm sure hometown Padre Drew Pomeranz will get an inning too.
The All-Star Game will begin at 8pm ET tonight and you can watch on FOX. The AL has won three straight All-Star Games and 15 of the last 20, you know. Hopefully that dominance continues tonight. Enjoy the game.