It's time for a ten-day, ten-game, three-city, three-time zone road trip to close out the first half. The Yankees will play the first three of those ten games this weekend in San Diego, home of the 2016 All-Star Game. Believe it or not, this is only the second third time the Yankees are visiting the Padres during interleague play. They lost two of three in Petco Park back in 2013 and won two of three at Qualcomm Stadium in 2002. Of course, there's that whole 1998 World Series thing too. The Yankees had some success in San Diego that year. Also, this is Chase Headley's first trip back to the Petco Park since being traded to New York.
What Have They Done Lately?
The Padres were playing so poorly earlier this year that executive chairman Ron Fowler called his players "miserable failures." He also called James Shields an "embarrassment" after a poor start and traded him a few days later, so yeah. Not the best season in San Diego. Anyway, the Padres have lost their lost three games and are 33-46 with a -55 run differential overall. That's the fifth worst record and sixth worst run differential in baseball.
Offense & Defense
Petco Park is a pretty big ballpark — it still is even after the walls were brought in a few years back — and as a result the Padres always seem to have a below-average offense. They're scoring 4.29 runs per game with a team 88 wRC+ this season. Rookie skipper Andy Green is without two of his regulars: OF Jon Jay (108 wRC+) is out with a broken forearm and 2B Cory Spangenberg (82 wRC+) has a quad strain. 2B Jemile Weeks (11 wRC+) is out with a hamstring problem too. None are coming back this series.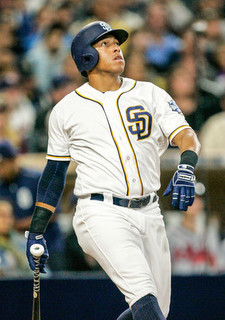 San Diego has a legitimate blossoming star in 1B Wil Myers (137 wRC+), who won the AL Rookie of the Year award with the Rays a few years back. He's finally healthy after battling wrist problems the last few years, so he's starting to come into his own as an impact hitter. Myers usually bats second with OF B.J. Melvin Upton Jr. (100 wRC+) leading off and RF Matt Kemp (94 wRC+) hitting third. Ex-Yankee IF Yangervis Solarte (121 wRC+) is the cleanup hitter. What's Solarte going to hit against the Yankees this weekend, about .750? That sounds about right.
SS Alexei Ramirez (67 wRC+), 3B Brett Wallace (103 wRC+), and C Derek Norris (74 wRC+) are Green's other regulars. OF Travis Jankowski (91 wRC+) and OF Alex Dickerson (76 wRC+) are filling in while Jay is on the DL. On the bench are C Christian Bethancourt (100 wRC+), UTIL Alexi Amarista (63 wRC+), UTIL Adam Rosales (87 wRC+), and UTIL Ryan Schimpf (45 wRC+). It feels like it's been forever since the Yankees faced a team with a normal seven-man bullpen and four-man bench. Well, five man bench in this case. Silly NL.
San Diego's defense is collectively below-average, and in Kemp they have one of the worst defensive outfielders in the game. He's Carlos Beltran-esque despite being eight years younger than Carlos. Jankowski is a tremendous outfielder and is the team's best defender by a mile. Upton, Solarte, and Ramirez are average at their positions. Wallace is a first baseman playing third. Myers is better at first than in the outfield but he's still learning the nuances of the position. Both Norris and Bethancourt can shut down the running game.
Pitching Probables
Friday (10:40pm ET): RHP Nathan Eovaldi (vs. SD) vs. RHP Colin Rea (No vs. NYY)
You know, right before the season I half-jokingly predicted Rea would throw the first no-hitter in Padres history this year. Wouldn't it be something if he does it against the Yankees tonight? Today's his 26th birthday too. A birthday no-hitter against the Yankees that some idiot blogger called three months ago? That would be the most 2016 Yankees thing ever. Rea has a 5.05 ERA (4.29 FIP) in 76.2 innings spread across 14 starts and one relief appearance this year. He has an average grounder rate (45.3%) and a better than average homer rate (0.82 HR/9), but his strikeout (17.9%) and walk (9.7%) numbers leave a little something to be desired. Rea has a small platoon split because he's a true five-pitch pitcher. He sits in the 92-94 mph range with his four-seamer and sinker, and a notch below that with his cutter. An upper-70s curveball is his go-to offspeed pitch. Rea also throws a mid-80s changeup. He throws everything regularly too.
Saturday (10:10pm ET): RHP Ivan Nova (vs. SD) vs. LHP Drew Pomeranz (vs. NYY)
Along with Myers, the 27-year-old Pomeranz has been the brightest spot on an otherwise nondescript Padres team. The fifth overall pick in the 2010 draft — he was drafted by the Indians, traded to the Rockies for Ubaldo Jimenez, traded to the Athletics for Brett Anderson, and traded to the Padres for Yonder Alonso — has a 2.76 ERA (3.36 FIP) in 15 starts and 88 innings this year, and he's been able to stay healthy, which has not always been the case. He's had some injury trouble over the years. That always held him back. Pomeranz has a fantastic strikeout rate (28.4%) and good grounder (46.7%) and homer (0.83 HR/9) numbers, though he does walk a few too many (10.9%). The walks are the only real downside. Thanks to his big-breaking upper-70s curveball and upper-80s cutter, Pomeranz actually performs better against righties than lefties. His straight four-seamer sits in the low-90s and his changeup in the mid-80s. The curve is what got Pomeranz drafted so high. He has one heck of a yakker.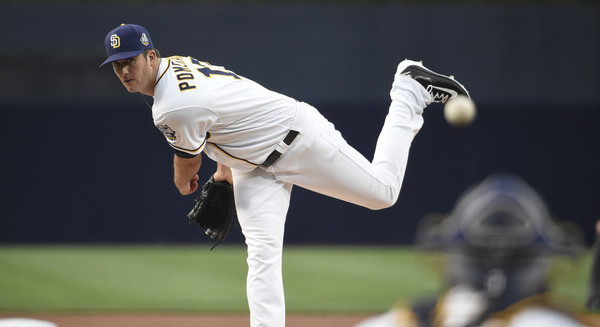 Sunday (4:40pm ET): RHP Chad Green (No vs. SD) vs. RHP Andrew Cashner (vs. NYY)
This could very well end up being one of Cashner's last starts as a Padre. They got him from the Cubs for Anthony Rizzo a few years back (oops), and he's scheduled to become a free agent after the season, so the rebuilding Padres figure to make Cashner available at the trade deadline. He's been out with a neck issue and will come off the DL to make this start. Cashner has a 4.75 ERA (4.75 FIP!) in eleven starts and 53 innings around the neck injury this year. His homer (1.02 HR/9) and grounder (50.3%) rates are in line with his career norms, but he's missing fewer bats (15.3 K%) and issuing more free passes (9.3%) than he has in recent years, and he has a big reverse split, which is the exact opposite of the rest of his career. Cashner still throws really hard, sitting in the mid-90s with his four-seamer and sinker — the four-seamer has topped out at 99.3 mph this season — while using a hard low-90s slider as his primary secondary pitch. He throws a few upper-80s changeups and low-80s curves per start but they aren't consistently reliable weapons for him.
Bullpen Status
Just yesterday the Padres traded closer RHP Fernando Rodney, who was having a really great year (0.31 ERA and 2.33 FIP), to the Marlins for a RHP Chris Paddack, a quality prospect. His MLB.com scouting report is right here. Miami did other sellers a favor by setting the bar really high for rental relievers.
Anyway, I'm not sure who will replace Rodney as closer. Here is San Diego's bullpen at the moment:
Setup: LHP Ryan Buchter (2.91 ERA/2.75 FIP)
Middle: RHP Brandon Maurer (5.73/4.33), RHP Kevin Quackenbush (3.55/4.89), LHP Matt Thornton (3.48/2.49)
Long: LHP Brad Hand (3.53/3.40), RHP Carlos Villanueva (4.53/4.52)
It's probably safe to assume Buchter will go from setup man to closer in the wake of the Rodney trade, but Thornton (an ex-Yankee) has closing experience and Quackenbush spent a few weeks as the team's closer in 2014. Green may prefer someone with some closing experience in that role. Manager's do stuff like that all the time. We'll see.
The Padres will have to call someone up to today to fill Rodney's roster spot, but they're then going to have to send someone down Sunday when Cashner comes off the DL, so whoever gets called up might not be around very long. There's been talk the Padres will go with a six-man rotation once Cashner returns. That doesn't really matter to the Yankees though. They'll be out of town by time that decision is made.
San Diego had an off-day yesterday, so their bullpen is relatively fresh. Our Bullpen Workload page shows you the status of the Yankees' bullpen, so check that out. Joe Girardi has used his big three relievers quite a bit of late. Dellin Betances, Andrew Miller, and Aroldis Chapman all pitched yesterday and have each pitched five times in the last nine days. They're going to need a break at some point.