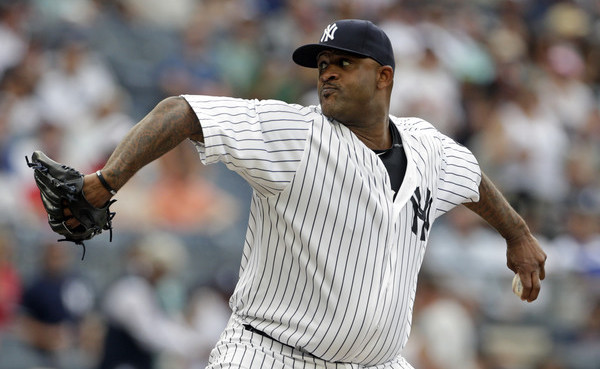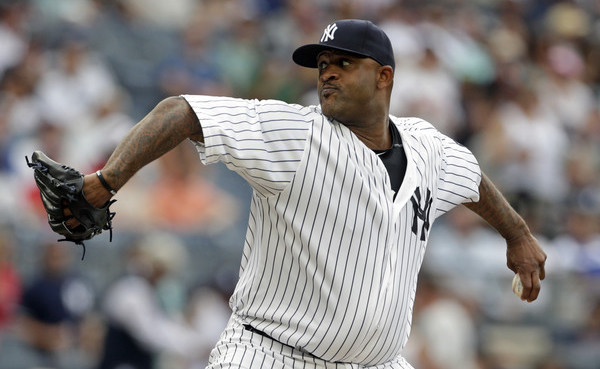 According to Ken Rosenthal, the Yankees are drawing trade interest in some of their starting pitchers, including veteran lefty CC Sabathia. That's a sentence I never thought I would write coming into this season. CC has been using a new knee brace and a new cutter this year, plus he's sober now, all of which are reasons he may be more effective going forward than he was from 2013-15.
Sabathia, 35, has a very respectable 3.94 ERA (3.97 FIP) in 93.2 innings this season after the Yankees made him compete for a rotation spot in Spring Training. He started the season very well but has crashed hard of late, allowing at least five runs in each of his last five starts. Some home run regression was inevitable — it still is, probably (0.67 HR/9 and 7.0 HR/FB%) — and it's arrived. I have some thoughts on Sabathia as a trade candidate.
1. The interest probably isn't all that serious. Sabathia is very well respected around the league for all he's accomplished and his willingness to give everything he has to his team and teammates. He pitches hurt, he pitches on short rest, he does whatever is needed. It's admirable. Teams wish they had 25 guys like Sabathia in the clubhouse.
Despite that, I don't think any club is serious about acquiring Sabathia because his on-field value is so small. He was both hurt and terrible from 2013-15, and based on his last five starts, his early season success this year may have been a mirage. Also, Sabathia's vesting option complicates things. Either the $25M option is going to vest, or he's going to hurt his shoulder in the second half and be no help. That's a lose-lose for the acquiring team.
My guess is any trade discussions involving Sabathia have gone like this:
Other GM: "Hey Brian, are you open to trading CC?"
Cashman: "We're open to trading anyone. What are you offering?"
Other GM: "We'll give you a middling prospect if you eat 80% of what's left on his contract."
Other teams will take Sabathia if the Yankees are willing to pay down a ton of his contract, otherwise it doesn't make sense to acquire him. It would be a straight salary dump, a la A.J. Burnett to the Pirates or Josh Hamilton to the Rangers (the second time). Sabathia's a sunk cost. The Yankees have to pay him anyway. At least a salary dump trade would save a little cash and free up a rotation spot for a younger arm.
Of course, that also means the Yankees would have to replace Sabathia's innings, which might not be a huge deal. They have Chad Green and Luis Cessa in Triple-A, not to mention Luis Severino, so there are arms available. The Yankees would just have to monitor workloads later in the season. September call-ups will make that a little easier.
2. Sabathia has complete control of the situation. It doesn't matter what Sabathia's contract says at this point. He has full no-trade protection through his ten-and-five rights, so he's in total control here. If he doesn't want to be traded, he won't be traded. It's pretty simple. Sabathia and his family live in New Jersey year-round now, so he might not want to go anywhere else. I wouldn't blame him. It's pretty awesome here.
We've speculated countless times over the years that Sabathia may be willing to accept a trade to go home to the Bay Area, where he grew up, though who knows if that's true. We can rule the Athletics out immediately. Doesn't make sense for Sabathia to go there and it doesn't make sense for the A's to bring him in. That leaves the Giants, who are very much in contention and need a fifth starter with Matt Cain unable to stay healthy.
Sabathia seems like a classic "trade deadline pickup to World Series hero for the Giants" move. Doesn't that seem like a thing that could happen? It does to me. Sabathia would be home, but not home home with his family, and who knows if the Giants are even interested. I'm not sure putting the big man in the pitchers have to hit league is such a good idea at this point given his knee.
* * *
Rosenthal says there's been interest in Sabathia and there's no reason to doubt his reporting. That doesn't mean there's serious interest though. Teams may have checked in just in case the Yankees were open to eating a ton of money, and Sabathia's not really the kind of guy you eat a ton of money to move. He's a leader in the clubhouse and he has value as an innings eater, even on a bad team. Sabathia doesn't fit into the #TeamSell plan.