Well, if nothing else, at least the Yankees are not going down without a fight this year. They won their third straight game Tuesday night, beat the Astros 6-3 in Houston. I dunno if the Yankees have the talent to climb back into the postseason race, but I'm hoping they at least make things interesting these next few weeks.
Return of the Ace
That was CC Sabathia's best start in more than a month. He'd allowed at least four runs in each of his last six starts, but Tuesday night he rebounded to hold the Astros to two runs on four hits and two walks in 6.2 innings. The first run came on Marwin Gonzalez's first inning homer, and the second came on Evan Gattis' seventh inning homer. Sabathia retired 17 of 20 batters faced between dingers.
I'm not sure there's a way to confirm this, but it looked to me like Sabathia was doing a better job busting righties inside with his cutter than he had been the last few times out. He struck out five, and of his 15 ball-in-play outs, ten were recorded on the infield. There was a lot of weak contact. It's not like Sabathia needed his defense to be great behind him. He kept the ball off the barrel like we saw earlier this season. I don't know if it'll last, but for at least this one night, Sabathia looked like the Sabathia we saw early in the season. It was pretty awesome. Way to go, CC.
Build a Lead
The first inning did not go well. Doug Fister needed nine pitches to retire the side in the top of the first, then Sabathia allowed the solo homer to Gonzalez to put the Yankees in a quick 1-0 hole. The offense went to work against Fister after that, forcing him to throw 31 pitches in the second and another 25 pitches in the third. They were on everything too. He had to work hard for those six outs.
The Yankees scored their two second inning runs because four of the first five batters reached base, and the one who didn't reach drove in a run with a sacrifice fly. That was Didi Gregorius. Brian McCann and Mark Teixeira started the inning with a single and a double, respectively, then Starlin Castro and Chase Headley strung together singles to keep it going. Headley singled in the second run after Didi sac flied in the first.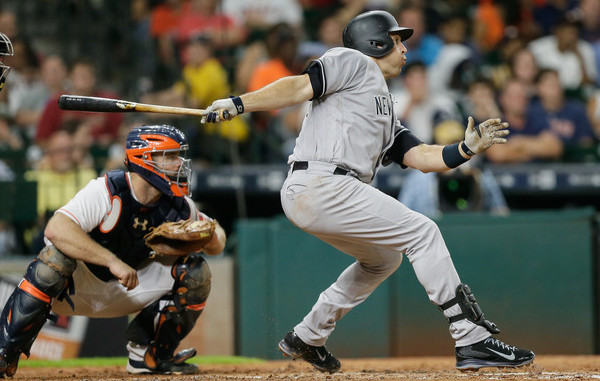 The third inning run scored on Castro's infield single, and man, those are the worse when you're on the other side of it. I guess that means they're the best when they go in your favor? Carlos Beltran scored that run after a single, a wild pitch, and a ground ball moved him to third. The Yankees were up 3-1 after three innings. Two innings later, they were up 6-1 thanks to the bottom of the order.
That fifth inning rally started with a hit-by-pitch (McCann) and a single (Teixeira). Gregorius moved the runners up with a ground ball, then the 'Stros opted to issue the ol' unintentional intentional walk to Castro. They were pitching around him, but once the count went 3-0, they just walked him. Gregorius got a run with sac fly, then Aaron Hicks made Houston pay for the intentional walk with a two-run triple to right. That was big. The Yankees were up 6-1.
To The Bullpen
A 6-1 lead is pretty comfortable, right? It was, but as soon as Sabathia allowed the solo homer to Gattis to make it 6-2 in the seventh, you could see the bullpen wheels beginning to turn. First in was Anthony Swarzak, who stranded a runner in the seventh before allowing a solo homer to Gonzalez in the eighth. Following a two-out walk to Carlos Correa, Joe Girardi went to Dellin Betances, who walked two to load the bases. He bounced back to strike out Jason Castro to end the thread.
Betances has now pitched in six of the last nine days, and one the days he didn't pitch, he warmed up. He's appeared in eleven of the team's 21 games this month, plus he threw an inning in the All-Star Game, so yeah. Dellin's worked a ton lately. He could use a nice and easy two-week stretch, you know? Like three appearances in 14 days. That sorta thing. Anyway, Andrew Miller came on for the ninth and recorded his ninth save. He's pitched five of the last nine days. Hey, offense, win a blowout once in a while!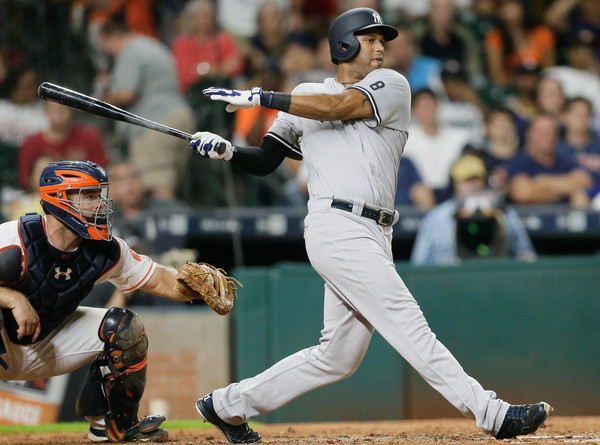 Leftovers
Every starter had a hit except Brett Gardner, who drew a walk. Ellsbury had three hits while Beltran, Teixeira, and Castro each had two. Teixeira went 2-for-4 with a double and both hits went to the opposite field as a left-handed hitter. He had four opposite field hits total as a lefty coming into the game. Also, McCann scored on two not deep sac flies. When's the last time that happened? Crazy game, this baseball.
Ellsbury led off the sixth with a double to left, then was promptly thrown out trying to steal third. That was a curious decision, I'd say. Jacoby might have been trying to do a little too much there with Beltran at the plate. Ellsbury is 17-for-25 (65%) in steal attempts this season, which is about a league average success rate. I'd still like to see him pick it up a little.
And finally, the Yankees are four games over .500 for the first time this season. They've gone 11-5 in their last 16 games, all against pretty good teams. This team, I tell ya. Once you think they're done and out of it, they pull you right back in.
Box Score, WPA Graph & Standings
You can go to ESPN for the box score and updated standings, and MLB.com for the video highlights. We have Bullpen Workload and Announcer Standings pages available too. Here's the win probability graph:

Source: FanGraphs
Up Next
The Yankees will look to finish the sweep of this three-game series Wednesday night. Masahiro Tanaka will be on the mound against young right-hander McCullers. After that? An off-day.