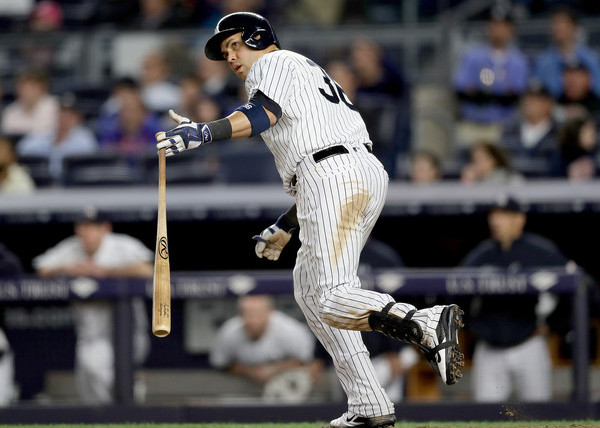 With eleven wins in their last 16 games, the Yankees are a season-high four games over .500 and firmly on the winning side of the ledger. They've had a winning record for a grand total of eleven days this season, believe it or not. It would be even fewer than that without Carlos Beltran's brilliance. He's been, by far, the Yankees' best and most consistent hitter this season.
Even with those eleven wins in 16 games, the Yankees have gained only one game in the wildcard race. That's all. One silly little game. They were five games back before this 11-5 stretch and they're four games back today. The Yankees already traded away Aroldis Chapman and they should continue to sell at the trade deadline. And if they do, Beltran figures to be one of their more valuable chips. He's a productive veteran bat who can help any contender.
The alternative is keeping Beltran, attempting to make a run in the second half, then making him the qualifying offer after the season when he becomes a free agent. That would net the Yankees a supplemental first round pick in the 2017 draft should Carlos sign elsewhere. This assumes the upcoming Collective Bargaining Agreement doesn't change or eliminate the qualifying offer system first. I don't think that'll happen though.
The qualifying offer sounds like a fine backup plan, but I don't see Beltran as a candidate to receive one. Or at least I don't think the Yankees should tender him the offer. It's easy to understand why the Yankees would do so, but I see such a move as almost all downside for one big reason: Beltran will probably take it. The qualifying offer will be worth $17M or so, and who is offering that to Carlos as a free agent, even across two years? Teams are shying away from older, one-dimensional sluggers nowadays.
The Yankees have money even though like to pretend they don't. Bringing Beltran back next season on an expensive one-year deal doesn't seem like such a bad thing, especially with the way he's hitting this year, but I see three problems with it.
1. He's probably not going to hit like this again. Beltran is defying the odds this season. He's hitting .309/.350/.554 (138 OPS+) with 21 homers in 95 games overall, and amazingly, I don't think he's had one slump all year. He just keeps hitting. It's impressive. Now let's look at a list of players comparable to Beltran since the 1961 expansion, meaning 39-year-old everyday outfielders who were above-average at the plate:
2004 Barry Bonds: 263 OPS+ (lol)
1970 Willie Mays: 140 OPS+
1985 Reggie Jackson: 135 OPS+
1991 Dave Winfield: 120 OPS+
2004 Steve Finley: 109 OPS+
2007 Luis Gonzalez: 104 OPS+
That's the complete list. Six players since 1961 and Beltran's about to make it seven. And remember, every single one of those guys except Gonzalez was allowed to use amphetamines, or greenies as they're called in baseball circles. Greenies were banned in 2005, so 39-year-old outfielders can't turn to them for that extra boost of energy.
Those are the players like Beltran right now, 39-year-old everyday outfielders. What about 40-year-olds? Beltran turns 40 in April, so if the Yankees bring him back next year, that's what they're getting, a 40-year-old outfielder. Here's the list of everyday outfielders who were above-average at the plate during their age 40 season during the expansion era:
1971 Willie Mays: 158 OPS+
1999 Rickey Henderson: 128 OPS+
2007 Kenny Lofton: 105 OPS+
Three players and two of them were among the greatest players to ever live. Know what else is crazy? Only one other outfielder even had enough plate appearances to qualify for the batting title during their age 40 season since 1961. Jeff Conine did it in 2006, when he had an 86 OPS+. Heck, let's drop the outfield part. Only eleven 40-year-old players have produced at a league average clip since 1961, and most of them had the benefit of greenies. Here's the list.
Maybe Beltran will be one of those outliers. Should the Yankees bank on that? I don't think so. You needn't look beyond New York's roster for examples of an older player being productive one year and a liability the next. Mark Teixeira's and Alex Rodriguez's declines are a big reason why the Yankees have spent only those eleven days in first place.
2. The roster construction will be a mess again. The Yankees are stuck either playing Beltran in right field or sitting A-Rod on the bench at the moment. It's not a great situation at all. It's almost like a 24-man roster. The roster construction is so bad right now. The Yankees lack flexibility with the bench and DH spot, and if they bring Beltran back, that will continue.
I suppose they could release A-Rod to clear up the logjam, but I'm sorry, I'm going to have to see that to believe it. As long as there are home run records to be chased — Alex is four away from 700 and 18 away from tying Babe Ruth — there's money to be made and tickets to be sold. Let's face it, the Yankees might need all the attendance and ratings help they can get next year. A-Rod puts butts in the seats.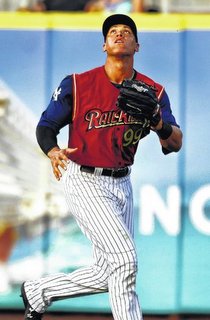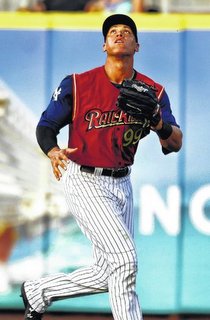 3. The Yankees need to start getting younger. The Yankees currently have four legitimate outfield prospects in Triple-A: Aaron Judge, Mason Williams, Ben Gamel, and Jake Cave. All four are among the 25 best prospects in the organization. That doesn't include Cesar Puello, a former top prospect who is playing extremely well in Triple-A after being picked up as a minor league free agent. It also doesn't include Aaron Hicks in MLB or Dustin Fowler and Billy McKinney in Double-A.
The Yankees have a lot of impressive young outfielders at the upper levels of the minors and that's awesome. They should be thrilled to have so many young options, and in the cases of Judge and Williams, high upside options. The Yankees need to start making room for these guys and bringing Beltran back doesn't accomplish that at all. In fact, it's gotten to the point now where the Yankees need to think about clearing two outfield spots next year to make room for these guys. Let Beltran go and trade Brett Gardner. That sort of thing. (I'm guessing they're stuck with Jacoby Ellsbury.)
* * *
This would all be rendered moot if Beltran declined the qualifying offer, but I think the chances of that are so small. Beltran said at the All-Star Game that he wants to play two more years, so he's not thinking about retirement, and who's going to give up a draft pick to sign a 40-year-old outfielder or DH, let alone offer close to $17M? If the Yankees make the qualifying offer, accepting it would be Beltran's best shot at gainful employment next year.
There's too much downside to bringing Beltran back next season — he's likely to decline, the roster will be inflexible, the young outfielders will be blocked, etc. — for the qualifying offer to be a serious consideration. Hopefully the Yankees realize this and decide to cash in on Beltran's big season by trading him for a prospect or two at the deadline, rather than keep him and lose him for nothing after the season. Or worse, bring him back in 2017. This is a classic example of letting a player go a year early rather than a year late.