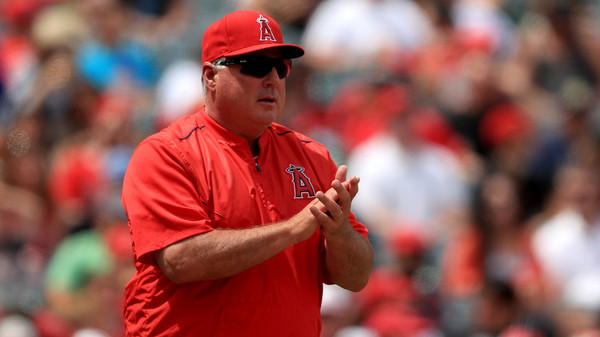 The Yankees are out on the West Coast and they start a six-game swing through Anaheim and Seattle tonight. The Yankees haven't had much success at Angel Stadium over the last decade or so. They're 13-23 at the ballpark since 2007, and only once during that time did they have a winning record in Anaheim. They went 2-1 there in 2014. Hopefully this trip goes better. The Yankees swept four games from the Angels at Yankee Stadium back in June.
What Have They Done Lately?
Good gravy are the Angels bad. They're so bad they give me anxiety. How are they going to turn this around? The big league team stinks and they have the worst farm system in baseball. New GM Billy Eppler, who spent years as Brian Cashman's right-hand man, sure has his hands full. The Halos recently snapped an eleven-game losing streak and they're 51-70 with a -34 run differential overall this season. Only the Braves (44-77), Twins (49-72), Diamondbacks (50-71), and Rays (50-69) have worse records.
Offense & Defense
Believe it or not, the Angels have a pretty good offense this season. They've averaging 4.52 runs per game with a team 102 wRC+, so they're above-average. Way better than the Yankees too (4.15 and 88). The Halos are currently without 1B C.J. Cron (120 wRC+), though he could be activated at some point this weekend. He's been sidelined with a hand injury. Both C Geovany Soto (knee) and OF Shane Robinson (hip) were just placed on the DL.
As always, manager Mike Scioscia builds his lineup around CF Mike Trout (166 wRC+), who remains the best player in the world. I got caught up in the Bryce Harper hypefest earlier this season too. Shame on me. Trout is simply incredible. He's so, so good. Trout hits third with 3B Yunel Escobar (116 wRC+) and RF Kole Calhoun (114 wRC+) in front of him, and DH Albert Pujols (102 wRC+) and SS Andrelton Simmons (81 wRC+) behind him. Simmons is day-to-day with a little rib problem, it should be noted.
1B/OF Ji-Man Choi (68 wRC+) is playing left field regularly and 2B Johnny Giavotella (80 wRC+) is the second baseman. C Jett Bandy (116 wRC+) and C Carlos Perez (62 wRC+) share catching duties. I called him Jeff Bandy in the previous series preview. Oops. UTIL Jefry Marte (101 wRC+) has been playing first base with Cron out. OF Nick Buss (143 wRC+), IF Cliff Pennington (97 wRC+), and ex-Yankee IF Gregorio Petit (91 wRC+) are the other bench players. Petit had an annoyingly huge series in New York last time these two clubs met.
The Angels are a pretty good team, defensively. Trout is awesome in center and so is Calhoun in right. Simmons is still the best defensive shortstop in baseball, and both Giavotella and Escobar are solid as well. Choi is playing out of position in left field, so he's their one real weakness. Both Bandy and Perez are very good defenders. Like Scioscia would have an offense-first catcher. Hah.
Pitching Matchups
Friday (10:05pm ET): RHP Masahiro Tanaka (vs. LAA) vs. RHP Jered Weaver (vs. NYY)
Once upon a time the Weaver was one of the best pitchers in baseball thanks to his unique ability to generate weak pop-ups. Now he's 33 years old and has a 5.32 ERA (5.59 FIP) in 23 starts and 133.2 innings this season. He doesn't miss bats (11.6%), doesn't get grounders (28.5%), and doesn't keep the ball in the park (1.75 HR/9). Weaver does limit walks (6.4%) though, plus his platoon split is tiny. (Because everyone crushes him.) These days Weaver averages 83.7 mph with his fastball, better than only knuckleballers R.A. Dickey and Steven Wright among qualified pitchers. Doug Fister has the next slowest heater among non-knucklers at 86.9 mph, so we're talking about a gap of more than three miles an hour between Weaver and the next slowest fastball. Yeesh. His kitchen sink approach includes low-80s sinkers, mid-70s changeups and sliders, and an upper-60s curveball. Everything is slow. The Yankees scored six runs in 5.1 innings against Weaver in June.
Saturday (9:35pm ET): RHP Luis Cessa (No vs. LAA) vs. RHP Ricky Nolasco (vs. NYY)
Nolasco, 33, came over from the Twins in a trade deadline move I still don't quite understand for either team. Nolasco and broken Alex Meyer for Hector Santiago? Okie dokie. Nolasco has a 5.13 ERA (4.43 FIP) in 142 total innings this season — he's still doing the "lower FIP than ERA" thing, one year he'll live up to his potential! — with middling ancillary stats (17.6 K%, 5.5 BB%, 42.1 GB%, 1.39 HR/9). Righties have hit him much harder than lefties this season, which is unusual. Typically his platoon split is small because he's a kitchen sink guy. Nolasco sits in the low-90s with his four-seamer and sinker, in the low-80s with his splitter and slider, and in the mid-70s with his curveball. He throws all five pitches regularly too. The Yankees saw Nolasco back in June, when he was still with the Twins, and he held them to two runs in seven innings.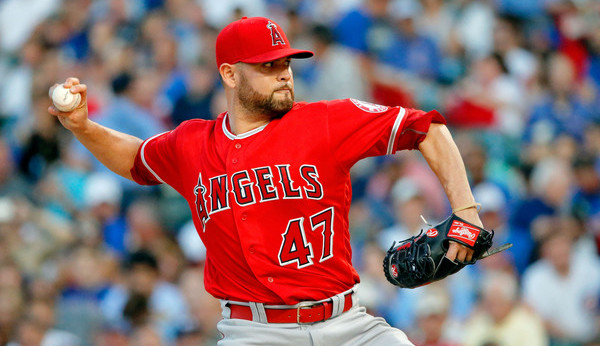 Sunday (3:35pm ET): RHP Chad Green (No vs. LAA) vs. RHP Jhoulys Chacin (vs. NYY)
A few months ago the Angels acquired Chacin in a minor trade with the Braves simply because they needed someone to soak up innings. He's thrown 103.1 innings across 17 starts and eight relief appearances this year, and he's allowed a lot of runs (5.92 ERA) and a lot of walks (9.2%). The ground ball rate (49.4%) is good while the strikeout (17.2%) and homer (1.05 HR/9) numbers are mediocre. That all works out to a 4.50 FIP. Chacin has a small platoon split, and his trademark pitch is a low-90s sinker. He backs it up with upper-80s cutters, mid-80s changeups, low-80s sliders, and upper-80s curveballs. Chacin throws everything too. He's a true five-pitch pitcher. The Yankees faced Chacin during the series in New York a few weeks back. They scored five runs in 5.1 innings.
Bullpen Status
The Angels are currently without closer Huston Street (knee), primary setup man Joe Smith (traded), and secondary setup man Cam Bedrosian (finger). They've been losing so much lately that I have no idea who Scioscia would turn to in a save situation. Hopefully we don't find out this weekend. Here's the bullpen:
Closer: ?
Setup: RHP Fernando Salas (4.64 ERA/4.93 FIP), RHP J.C. Ramirez (3.67/4.19)
Middle: LHP Jose Alvarez (3.80/3.17), RHP Mike Morin (4.46/3.46), RHP Jose Valdez (5.68/6.62)
Long: RHP Deolis Guerra (2.72/3.38), LHP Brett Oberholtzer (5.60/5.94)
That is not the Jose Valdez who spent parts of seven seasons in the Yankees' farm system. That Jose Valdez played in Mexico last year and doesn't seem to be active in 2016. The Angels have a different Jose Valdez. Salas is by far the most experienced reliever in the bullpen — he saved 24 games for the 2011 Cardinals, you know — and I assume he's their ninth inning guy for the time being.
Alvarez (three pitches), Valdez (nine pitches), and Salas (26 pitches) all pitched last night. The Yankees had an off-day yesterday, so their bullpen is as fresh as it's going to get. Check out our Bullpen Workload for Joe Girardi's recent reliever usage anyway.