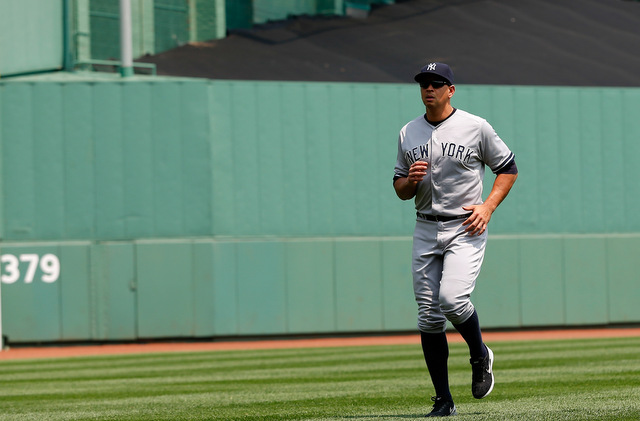 The final road series of Alex Rodriguez's career will take him where he played his first ever MLB game: Fenway Park. (No, the Red Sox are not planning to honor him.) The Yankees are in Boston for a three-game series with the Red Sox this week. If you're still hoping to see the Yankees make a run at the postseason spot (I am!), this pretty much is a must-win series. New York is 3-6 against the BoSox this season. They were swept in three games in Fenway back in late-April/early-May.
What Have They Done Lately?
The Red Sox just wrapped up a long ten-game West Coast trip, during which they went 5-5. They lost four of the final six games. Overall, Boston is 60-50 with a +86 run differential on the season. That's the best run differential but only the fifth best record in the AL. They're 2.5 games back in the AL East and tied with the Tigers for the second wildcard spot. The Yankees are 4.5 games back of Boston.
Offense & Defense
Manager John Farrell oversees the highest scoring offense in baseball, and it's not all that close either. The Red Sox are averaging 5.44 runs per game in 2016. The Coors Field aided Rockies are second at 5.20. The Indians are the next closest AL team at 4.99. So, yeah, the Red Sox can score. They have a team 114 wRC+, again the best in baseball, and the only regulars they're missing are OF Chris Young (hamstring), C Ryan Hanigan (ankle), and C/OF Blake Swihart (ankle). And I guess 3B Pablo Sandoval (shoulder) too, but they don't miss him.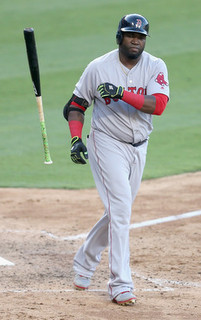 For the most part Farrell has had a set top of the lineup. RF Mookie Betts (134 wRC+) leads off, 2B Dustin Pedroia (116 wRC+) hits second, SS Xander Bogaerts (123 wRC+) bats third, DH David Ortiz (160 wRC+) cleans up, and 1B Hanley Ramirez (109 wRC+) hits fifth. CF Jackie Bradley Jr. (133 wRC+) tends to hit sixth. Ortiz has had a phenomenal final season but has cooled off quite a bit in the second half (62 wRC+). Will that make me feel any more comfortable when he's up at the plate this week? No. No it will not.
The Red Sox are platooning IF Travis Shaw (105 wRC+) and IF Aaron Hill (99 wRC+) at third base, and quasi-platooning UTIL Brock Holt (91 wRC+) and OF Andrew Benintendi (107 wRC+ in very limited time) in left. Holt and Benintendi are both lefty hitters, so they've been sharing time more than straight platooning. C Sandy Leon (161 wRC+) has taken over as the everyday catcher with C Bryan Holaday (74 wRC+) backing him up. OF Bryce Brentz (81 wRC+) is the other bench player.
Defensively, the Red Sox are a very good club, especially in the outfield. Bradley is great in center and Betts and Benintendi are good in the corners. (Holt isn't all that good in left.) Pedroia is their best defensive infielder. Hanley and Shaw have their fish out of water moments on the corners, and while Bogaerts is solid, he's in the lineup for his bat, first and foremost. Leon's very good behind the plate.
Pitching Matchups
Tuesday (7:10pm ET): RHP Luis Severino (vs. BOS) vs. RHP Rick Porcello (vs. NYY)
Following a pretty disastrous first season in Boston, the still only 27-year-old Porcello has bounced back nicely this year. He has a 3.46 ERA (3.77 FIP) in 22 starts and 143 innings, with a career high strikeout rate (20.5%) and a career low walk rate (4.3%). Both his homer (1.07 HR/9) and grounder (45.2%) rates are closer to average these days after being much better than that earlier in his career. Righties have actually given Porcello a harder time than lefties this season, which the opposite of the rest of his career. He lives off a sinker right around 90 mph, and uses both low-80s changeups and low-70s curveballs regularly. Porcello has seen the Yankees twice this season: seven scoreless innings in April and three runs in seven innings in May.
Wednesday (7:10pm ET): RHP Nathan Eovaldi (vs. BOS) vs. LHP Drew Pomeranz (vs. NYY)
Pomeranz, 27, came over from the Padres prior to the trade deadline, and while he's having a strong season overall (3.09 ERA and 3.61 FIP in 122.1 innings), his four starts with the Red Sox have not gone well (6.20 ERA and 6.03 FIP in 20.1 innings). His overall strikeout (27.0%) rate is excellent, and his grounder (47.5%) and homer (0.96 HR/9) numbers are good, but he walks way too many (10.5%). He averages 4.13 pitches per plate appearance, sixth highest in MLB. The southpaw will run his pitch count up quick. Thanks to his big-breaking upper-70s curveball and upper-80s cutter, Pomeranz has a very small platoon split. His straight four-seamer sits in the low-90s and his changeup in the mid-80s. The Yankees faced Pomeranz when he was still with the Padres a few weeks ago. He held them to one run in seven innings.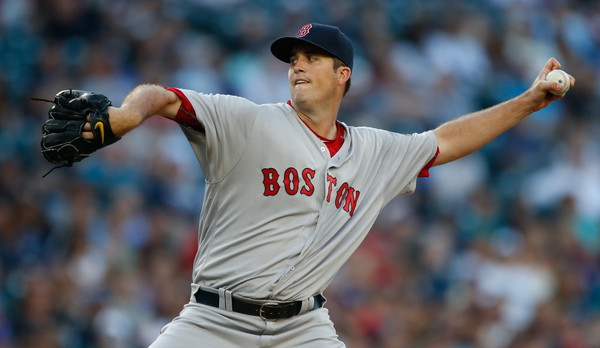 Thursday (7:10pm ET): RHP Michael Pineda (vs. BOS) vs. RHP Steven Wright (vs. NYY)
Blah. Just can't escape the knuckleball. The 31-year-old Wright has a 3.01 ERA (3.37 FIP) in 22 starts and 146.2 innings, though his home run rate (0.46 HR/9) has been on the rise of late. That was to be expected. Knuckleballers aren't exactly known for keeping the ball in the park. Wright has average-ish strikeout (20.2%), walk (8.4%), and grounder (44.2%) rates, which is fairly common for knuckleball guys. Righties have had much more success against him that lefties so far this season. Wright's knuckler floats in around 73 mph, and his get-me-over fastball sits in the low-80s. He throws his heater around 16% of the time, which is a lot by knuckleballer standards. Wright likes to surprise hitters with it in two-strike counts when they're sitting knuckleball. The Yankees have seen Wright twice this year. He held them to one run in nine innings in May, and three runs in six innings in July.
Bullpen Status
You could make a case the Red Sox are without their second (RHP Carson Smith) and third (RHP Koji Uehara) best relievers right now. Smith is out for the season due to Tommy John surgery while Uehara is out for several weeks with a pectoral issue. Here's the bullpen Farrell is working with now:
Closer: RHP Craig Kimbrel (3.31 ERA/2.59 FIP)
Setup: RHP Brad Ziegler (2.45/3.36), RHP Junichi Tazawa (3.52/4.15)
Middle: LHP Fernando Abad (2.72/3.79), RHP Matt Barnes (3.00/3.70), LHP Robbie Ross Jr. (3.76/2.91)
Long: RHP Clay Buchholz (5.68/5.62)
Kimbrel just returned a week or two ago from a torn meniscus. Ziegler and Abad came over at the trade deadline, and Buchholz … well he was so bad earlier this season that they had to take him out of the rotation. He's been more effective in limited time as a reliever (3.32/2.97) than as a starter (6.31/6.33) this season.
The Red Sox had an off-day yesterday as they traveled home from the West Coast, so their bullpen is fresh. The Yankees had an off-day too, though they didn't have to travel nearly as far. Both relief crews are in good shape going into the series. Makes sure you check out our Bullpen Workload page anyway.