I've got 14 questions for you in the mailbag this week. I also have a bunch of guest post submissions sitting in my inbox that I haven't been able to get to yet, so if you've sent one in, I'm not ignoring you. I've just been busy this week. I hope to get to them soon. If you want to send us anything, RABmailbag (at) gmail (dot) com is the email address to use.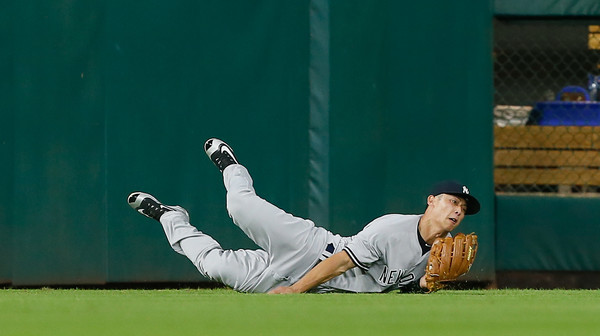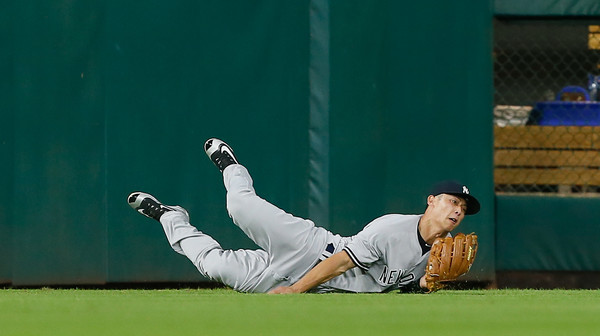 Justin asks: Will the Refsnyder third base experiment get revisited a little bit down the stretch?
Maybe if there's an injury, otherwise I don't think so. Rob Refsnyder has played one inning at third base in the big leagues, and that was during an interleague game in an NL park. He was double-switched out one inning later. Chase Headley has gotten three days off since the All-Star break and Ronald Torres was at third base all three times. If the Yankees didn't use Refsnyder at third then, I'm not sure when they will. They don't seem comfortable with him at the hot corner at all, and to be fair, he is still very new to the position. We might see him at third in September, but I would bet against it becoming a regular thing.
David asks: At what point does a player (who has been called up) lose prospect status? If Sanchez and Judge lose prospect status in 2016, how well does the Yankees' system rank among MLB teams overall? Still Top 5? Top 15?
MLB's rookie limits are 130 at-bats for position players and 50 innings for pitchers, and 45 days of service time outside September for all players. Once you reach one of those limits, you are no longer technically a rookie. When it comes to prospect status, most places just stick with 130 at-bats or 50 innings. Service time is too much of a hassle to track.
Based on how much he's played the last week, Gary Sanchez should clear 130 at-bats this season. Whoever gets called up to replace Alex Rodriguez on Saturday, either Aaron Judge or Tyler Austin, figures to lose rookie eligibility as well if they do indeed play regularly. If, say, both Sanchez and Judge lose prospect status down the stretch, the Yankees would still have a top ten farm system in my opinion, if not top five. They'd still have four legit top 100 guys in the system in Clint Frazier, Gleyber Torres, Jorge Mateo, and Justus Sheffield. Maybe James Kaprielian too.
As long as the Yankees are losing prospects for good reasons (graduated to MLB) and not bad reasons (injury, poor performance), then I couldn't care less about the farm system dropping in the rankings. Give me the talent in the big leagues. That's the whole point of acquiring prospects and building a strong system. To improve the MLB team.
Stephen asks: Now that Teixeira is retiring, I thought it would be a good time to compare Teixeira and Giambi's Yankee careers. The easy answer would be to say that Tex had the better career because 1) they won a world series and 2) he could play defense…but looking at the numbers quickly, it is somewhat surprising to see Giambi seemed to have outshined Tex by more than a little bit offensively. Thoughts?
Jason Giambi has better offensive numbers for sure. I think Mark Teixeira has been the better all-around player. Here's the side-by-side comparison of their careers in pinstripes:
| | Games | PA | AVG/OBP/SLG | wRC+ | HR | RBI | BB% | K% | bWAR | fWAR |
| --- | --- | --- | --- | --- | --- | --- | --- | --- | --- | --- |
| Teixeira | 923 | 3,981 | .249/.344/.480 | 120 | 201 | 606 | 11.6 | 18.1 | 20.8 | 18.3 |
| Giambi | 897 | 3,693 | .260/.404/.521 | 145 | 209 | 604 | 16.8 | 19.1 | 22.0 | 21.8 |
Both versions of WAR say Giambi was the more valuable player (in fewer games), though WAR doesn't handle first base defense well. I think it sells Teixeira well short in the field, and it probably overrates Giambi a bit too. Giambi was a way better hitter than Teixeira, but he gave a ton of value back in the field. Teixeira has been comfortably above-average on both sides of the ball. Bottom line: they were both very productive in pinstripes.
Noah asks: David Robertson has been gone for a couple of years now and the no runs DMC era is over. I think many people forget how dominant Robertson was for the Yankees (especially in 2011) because of how good Betances, Miller, and Chapman have been. Where do they stand when compared to each other? Is Robertson's 2011 still better than Betances or Millers' 2015?
That 2011 season was Robertson's big breakout season and the best season of his career. He's had plenty of excellent seasons since, but that was his absolute peak. Here's how 2011 Robertson compares to last year's version of Dellin Betances and Andrew Miller:
| | IP | ERA | FIP | WHIP | K% | BB% | GB% | HR/9 | bWAR | fWAR |
| --- | --- | --- | --- | --- | --- | --- | --- | --- | --- | --- |
| 2011 Robertson | 66.2 | 1.08 | 1.84 | 1.13 | 36.8 | 12.9 | 46.3 | 0.14 | 4.0 | 2.6 |
| 2015 Betances | 84 | 1.50 | 2.48 | 1.01 | 39.5 | 12.1 | 47.7 | 0.64 | 3.7 | 2.4 |
| 2015 Miller | 61.2 | 2.04 | 2.16 | 0.86 | 40.7 | 8.1 | 48.3 | 0.73 | 2.2 | 2.0 |
I don't think you can say one of those three is clearly better than the other two. I'm not a big believer in reliever WAR — I think it drastically understates their value, especially high-leverage relievers like these three — and if I had to pick one, I think I'd go with 2015 Betances because of the sheer number of innings. He threw roughly 20 (20!) more innings than the other two guys. Either way, all three were awesome. The Yankees have had some truly remarkable relief seasons in recent years. We've been spoiled as fans.
Bob asks: Please tell us more about Abiatel Avelino who, considering his age, has had a pretty good year in Tampa and has held his own in Trenton so far. Is he a good prospect?
Avelino, 21, was bumped up to Double-A Trenton a week or two ago, and he's hitting .269/.336/.379 (110 wRC+) with 22 doubles, six homers, 21 steals in 35 attempts (60%), an 8.1% walk rate, and a 16.0% strikeout rate in 105 games between High-A and Double-A this season. I've had him on my top 30 list a few times (including this year) and he's basically a slap hitter with speed and good defense at short. Avelino has always been billed as a guy with great baseball instincts whose whole is greater than the sum of the parts. He's a decent prospect who probably fits best in a utility role.
Joseph asks: If the White Sox place Robertson on waivers, do you think the Yankees will claim him like they did last year? If so, Do they work out a trade, do the White Sox just assign him to the Yankees or neither?
Not including his partial rookie season in 2008, Robertson is currently having the worst year of his career, pitching to a 4.18 ERA (4.12 FIP) in 47.1 innings. He's had some really high profile meltdowns too. For example:
Yeah, that's bad. Robertson is owed the remainder of his $11M salary this season, plus $12M next season and another $13M the season after that. He's not cheap by reliever standards. Robertson is worth a deeper look outside a mailbag setting because I'm not sure what exactly the problem is. Given the money owed and the fact there are some signs of decline, I'd steer clear. I don't think the White Sox would just give Robertson away, but I wouldn't risk a claim either.
Bryan asks: Will Gardner gain 10 and 5 rights at the end of this season? I've seen people say both yes and no. I'd think that if he doesn't gain them, he would almost be a must-move for the offseason with the amount of talent we have coming up in the OF and the logjam created between him and Ellsbury. Then, if we were to trade him, what kind of package do you think he could bring back?
No on the 10-and-5 rights. It's ten years of continuous service, and Brett Gardner wasn't up for good until August 2008. He won't get 10-and-5 rights until August 2018. There is no no-trade clause in Gardner's contract, not even a partial one, but he gets a $1M bonus if traded. That's better than nothing, I guess.
I think the Yankees are going to end up trading Gardner this offseason to help clear up their outfield logjam. I'm sure they'd prefer to trade Jacoby Ellsbury, but that's not happening, so Gardner it is. Sucks. Gardner will be two years away from free agency after the season, and when Dexter Fowler was traded two years prior to free agency (Rockies to Astros), he fetched an MLB ready mid-range pitching prospect (Jordan Lyles) and an MLB ready platoon outfielder (Brandon Barnes). I guess that's a good template for a Gardner trade?
Anonymous asks: RA Dickey has thrown 200+ innings in 5 straight seasons. HR rate isn't ideal for the Bronx, but he's a dependable innings eater. What about signing RA Dickey to a 1-2 year deal in the offseason as a back end option?
If the Yankees plan to try to contend next year, then I say no, aim higher. Dickey is 41 and he's having his worst season since before he joined the Mets (4.61 ERA and 5.27 FIP), so I'm not sure what he offers a contending team at this point other than veteran presents. (I hear he gives good veteran presents.) If the Yankees are willing to focus on player development and aren't so concerned with winning in 2017, Dickey could make sense as an innings guy. Someone has to pitch, right? He's someone you can count on for 180+ innings and to start every fifth day, no questions asked.
Mark asks: Probably already asked a million times, but with ARod retiring how does his remaining contract count against next years luxury tax? Is he not essentially a $20M+ advisor? I'm sure I'm missing something obvious. Thanks for all the great work you guys do.
Nothing changes as far as the luxury tax is concerned. The Yankees will still be hit with a $27.5M luxury tax hit next season — luxury tax hits are based on the average annual value of the total contract (ten years, $275M), not actual salary ($20M in 2017) — even though A-Rod is being released after tonight's game. When you release a player, it's like he's still on your roster for payroll purposes. It doesn't matter that he's staying on as an advisor. And if another team signs A-Rod, the Yankees can subtract the pro-rated portion of the league minimum from the $27.5M. That's the only break they'll get. The Yankees are fully aware of this and are willing to accept it, obviously.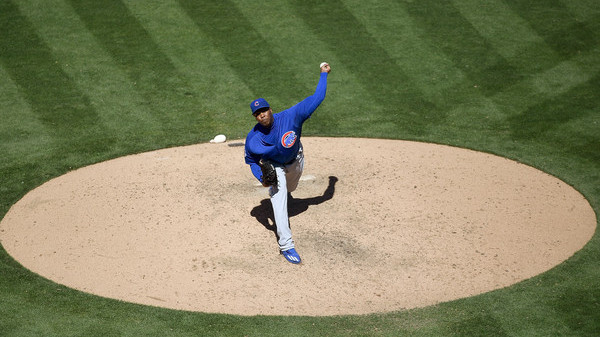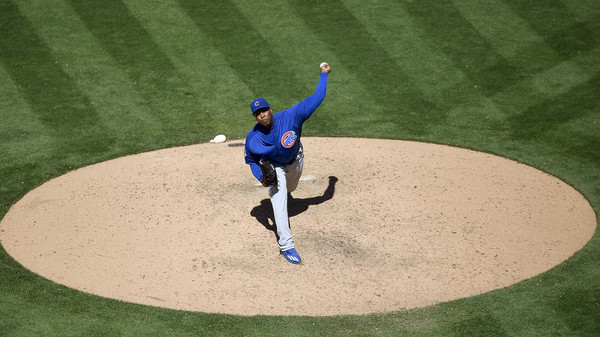 Jason asks: Not sure if you've mentioned this before, but if the Yankees do for whatever reason decide to sign Chapman in the offseason, would they surrender a draft pick because he was traded (from them, if that matters) during the season? Would this also apply to Melancon?
Players have to spent the entire season with the same team to be eligible for the qualifying offer, so since Aroldis Chapman and Mark Melancon were traded at the deadline, they will not be attached to draft pick compensation. Those two plus Kenley Jansen will be the three big free agent relievers after the season. I'd prefer Jansen myself, though he's going to cost a first round pick, and that kinda sucks. As good as he's been, Melancon's velocity is down and he's not getting nearly as many grounders as in the past, so he's probably at the bottom of my target list. I'm already preparing myself for the Yankees to re-sign Chapman. It feels inevitable at this point.
Hunter asks: What happens to Alex's number 13 after Friday? Held for retirement, immediately back in circulation, or given the Paul O'Neill treatment?
Good question! I have no idea whatsoever. I could totally see the Yankees putting it right back in circulation — they gave out No. 46 the Spring Training after Andy Pettitte lefty for the Astros as a free agent — and I could also see them retiring it at some point. Nothing would surprise me. The Yankees still have not retired No. 2, you know. That will happen soon. If they do retire No. 13, it'll probably be in a few years. Now watch Ronald Torreyes show up to camp wearing No. 13 next spring.
R.J. asks: Hey Mike, can you explain what are the area code games and how the players are selected to play for the teams they play for? Thanks
The Area Code Games are one of the major high school showcase events each year. They're actually going on right now. There are eight teams that draw players from different regions of the country, and the eight teams are named after MLB franchises.
Chicago White Sox: Midwest
Cincinnati Reds: Four Corners and Hawaii
Kansas City Royals: Pacific Northwest
Milwaukee Brewers: Southern California
New York Yankees: Northeast
Oakland Athletics: Northern California
Texas Rangers: Texas and Louisiana
Washington Nationals: Southeast
The Area Code Games teams are just named after MLB franchises. There's no affiliation. The kids aren't Yankees prospects. They're not coached by Yankees coaches, nothing like that. It's just the team name. The Area Codes Games are why there are photos of Mike Trout in a Yankees hat and Bryce Harper in a Reds hat floating around the internet: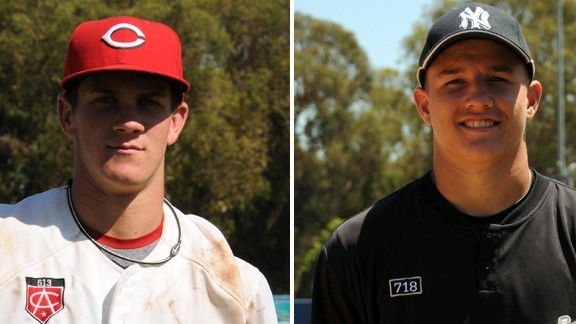 As far as I know most players are invited to the Area Code Games, especially in the traditional baseball hotbeds, but there are open tryouts as well. The games are played at Long Beach State's Blair Field in August each year, and it gives the kids a chance to strut their stuff against other elite high school players in front of hundreds of scouts. The Area Code Games are the first big scouting event of the draft season.
Craig asks: Jonathan Holder. I confess I never heard of him (notwithstanding some passing references in RAB) until I read the Fangraphs piece on Grant Dayton of the Dodgers today.  But Holder's numbers this year in AA and AAA are pretty mind-boggling.  In the mix for 2017?
Mind-boggling is a good way to describe Holder's numbers: 1.86 ERA (1.49 FIP) with a 39.4% strikeout rate and a 3.4% walk rate in 53.1 innings between Double-A and Triple-A. He was the team's sixth round pick in 2014 — Holder was the closer at Mississippi State and Jacob Lindgren was the setup man/fireman — and the Yankees tried Holder as a starter last season. He performed well (2.52 ERA and 2.85 FIP in 118 innings), though I guess the team didn't like what they saw, because they stuck him back in the bullpen this year.
Holder is a low-to-mid-90s fastball/curveball pitcher and I don't think he's a future closer or anything like that. I know the numbers are great, but trust me, there are hundreds of relievers putting up silly numbers in the minors. Holder is more of a middle reliever type, someone who rides the shuttle a la Nick Goody and Branden Pinder. One of those guys. Of course, I said the same thing about Robertson back in the day, then he jumped two grades of command overnight, so who knows.
Max asks: Given that Tex announced his retirement today; it makes me wonder. How much longer are you gonna keep this site going, Do you see it as a lifelong thing? Do you think baseball will even be here in 40 years?
I can promise you right now this won't be a lifelong thing. RAB's tenth anniversary is in February and I can't see going another ten years. Ben, Joe, and I started the site when we were all in college because we wanted to write about baseball. Now we're all in our 30s and, ugh, responsible adults. Priorities have changed. The best answer I can give is saying I'm taking it year-to-year at this point. It has nothing to do with the state of the Yankees. It's all about me and whether I want to continue doing it.