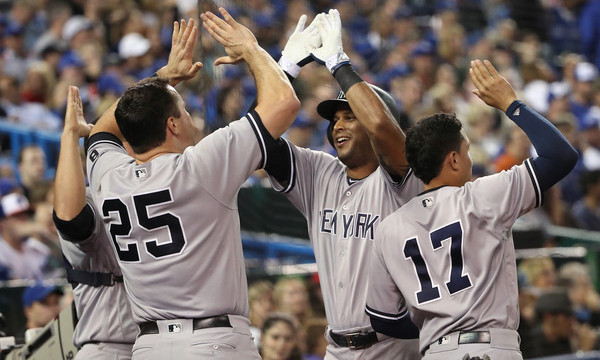 At some point soon, very possibly tonight, the Yankees will be officially eliminated from postseason contention. Their tragic number is a mere two. Last night's dramatic win notwithstanding, the Yankees have tanked hard these last two weeks, ever since winning seven straight to climb to within one game of the second wildcard spot. I have some thoughts.
1. It's pretty telling that as the Yankees were desperate for offense the last week or so, they were more willing to play Billy Butler at first base than Rob Refsnyder at second base, isn't it? Starlin Castro has been out with his hamstring injury, so the playing time was available, yet those at-bats have gone to Ronald Torreyes and Donovan Solano. (Solano and Torreyes each started four of the last eight games at second.) Butler has started three games at first and already his defense has hurt the Yankees on two occasions. He wasn't able to reel in CC Sabathia's wild throw in Boston on that would-be inning-ending double play, and he botched that routine ground ball last Friday in Toronto. Refsnyder hasn't hit much lately, and we know he's not good in the field, but it sure seems like the Yankees will go to great lengths to not give him extended playing time. His only real opportunities to play regularly were at second last year after Stephen Drew got hurt, at first this June after Mark Teixeira got hurt, and in right this month after Aaron Judge got hurt. Each time it was out of necessity, and both times this year the Yankees quickly turned to someone else. Perhaps the whole power-hitting thing will work out. Otherwise I don't see how Refsnyder fits with the Yankees going forward.
2. I don't understand playing Butler at first base over Tyler Austin either. I mean, yes, the Yankees were kinda sorta in the race a week ago, and Butler was hitting and Austin wasn't hitting, but still. As soon as Butler, who should have zero future with the Yankees beyond this week, proved somewhat useful, the struggling young player went to the bench. Would something similar have happened if Gary Sanchez didn't get off to such a hot start? Don't get me wrong, I understand sitting a struggling player now and then, but Austin has been outright benched. He's started one of the last ten games, during which the Yankees faced six left-handed starters. (Hilariously, Austin's one start was against a righty.) Things very quickly went from "hey look, the young players are helping the Yankees get back into the race" in August to "ewww, Butler and Solano are trying to keep them alive" in September. For a team that is supposedly committed to a youth movement, the Yankees don't seem very committed to it.
3. The last two points speak to the challenge the Yankees will face going forward: developing young players while trying to win. Those two things don't always go hand in hand, and yes, the Yankees are absolutely going to try to win next season. There's no reason to think Hal Steinbrenner won't make the rounds this offseason talking about championship caliber rosters and expectations and all that. The odds are strongly in favor of the Yankees trying to win while they rebuild transition, and that can get messy if the kids don't produce right away, which is often the case. Butler is playing over Austin and the young relievers have been pushed aside. Stuff like that can't happen next year. The young players have to be the priority, even if it they don't give the team the best chance to win in the short-term.
4. I noticed Luis Severino has started to vary the timing of his delivery slightly in his last two games. He's added a little pause at the top of his left lift. To the RAB action news footage: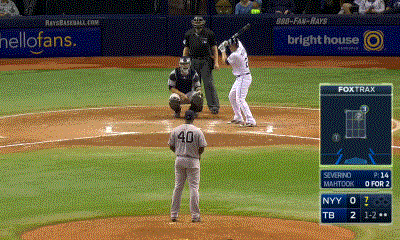 Severino hasn't done that every pitch. It's only been a handful of times in his last two games. Fewer than five. And as far as I can tell, there's no real pattern. He doesn't do it only in two-strike counts, or only when ahead in the count, or only when throwing fastballs, nothing like that. Pitchers changing the timing of their delivery seems to be a new fad around baseball. Johnny Cueto and his four deliveries get the most attention, though I've noticed a pretty drastic increase in quick pitches around the league the last year or two. Pitching is all about disrupting timing, and in this age with super advanced scouting reports, varying the timing of the delivery is a possible way for pitchers to gain an advantage. It adds an element of unpredictability. Severino is going to be suspended following last night's ejection, it's a certainty, so we might not see him again this season. This is something we'll have to file away for next year to see if it continues.
5. With six days left in the regular season, my feeling right now is Michael Fulmer will be named AL Rookie of the Year and Sanchez will finish second. I also think the chances of Sanchez winning right now are the best they've been since he was called up. That's even after going 2-for-16 (.125) in Toronto over the weekend. Nineteen homers in 48 games is ridiculous. He could have hit 19 homers across a full season as a starting catcher and been the Rookie of the Year favorite. Only ten other rookie catchers in history have hit 19 homers in a season, and they all had at least 400 plate appearances. Sanchez has 209. At the same time, Fulmer currently leads the AL with a 2.95 ERA, and he'll need to throw at least 6.1 innings in his final start of the season tomorrow night to qualify for the ERA title. I don't think that'll matter though. You can't support Sanchez for Rookie of the Year and discredit Fulmer for not having enough innings to qualify for the ERA title. They've both had tremendous rookie seasons and would be very deserving of the award. My guess right now is Fulmer's sustained excellence over close to a full season will trump Sanchez's historically great two months, but it'll be close.
6. For whatever reason I've been thinking about right-handed hitters with opposite field power a lot lately. I guess because Sanchez and Austin have poked a few into the short porch. Anyway, via Baseball Savant, here are the right-handed hitters — including switch-hitters hitting righty — with the most opposite field home runs at Yankee Stadium since Opening Day 2013, when the Yankees stopped having a good offense:
Alex Rodriguez, Alfonso Soriano: 6
Starlin Castro, Wil Myers, Mike Napoli, Mike Trout: 4
Tyler Austin, Carlos Beltran, Evan Longoria: 3
Eleven other righties have hit multiple opposite field home runs at Yankee Stadium over the last four seasons and only one of those eleven was a Yankee: Sanchez. Others include guys like Logan Forsythe, Desmond Jennings, and Yasiel Puig, who doesn't even play in the same division or league. I'm not quite sure where I'm going with this. I just wanted to see the leaderboard. The Yankees haven't had many good righty hitters in recent years. A-Rod and Soriano were by far the best power hitters, and now Castro is in that mix. Otherwise we're talking about Derek Jeter, Vernon Wells, Francisco Cervelli, guys like that. Not exactly power hitters. Twenty different right-handed hitters have hit multiple opposite field home runs at Yankee Stadium since 2013, and only six actually played for the Yankees. That isn't necessarily bad — there are a lot more non-Yankees than Yankees, after all — but some more righties with right field pop would be a welcome addition to the lineup going forward. Hopefully Sanchez, Austin, Aaron Judge, and Clint Frazier can provide that.
7. As poorly as these last two weeks have gone, that run in August and early-September was a lot of fun, and they Yankees won't be mathematically eliminated from the postseason race until the final week of the regular season. That's way better than I expected back in April and May. The Yankees were bad in the first half and they reacted appropriately by selling at the deadline and calling up MLB ready young players in the second half. That it led to a little run was gravy. This team still has a lot of problems to address going forward, especially on the pitching side, and there's no guarantee things will be better next season. At least now it appears the Yankees have a plan and are executing it. For a few years the plan seemed to be hang on for dear life and hope to luck into a postseason spot. We can see the future of the lineup taking shape (Sanchez, Judge, Castro, Frazier, Greg Bird, etc.) and almost all of the big money contracts coming off the books. If things go according to plan, the Yankees will soon have a lot of young players in the lineup with their best years ahead of them, and an awful lot of money to spend. That's pretty exciting.