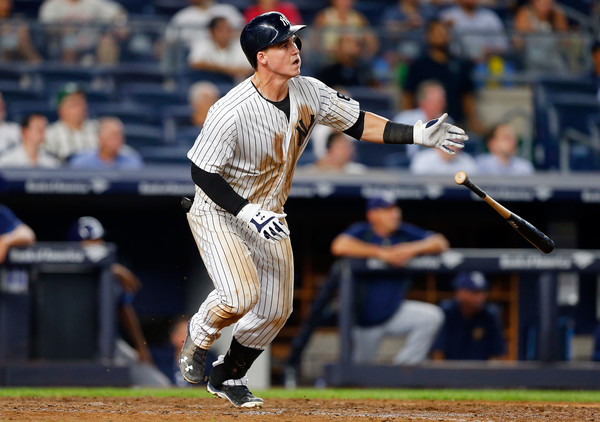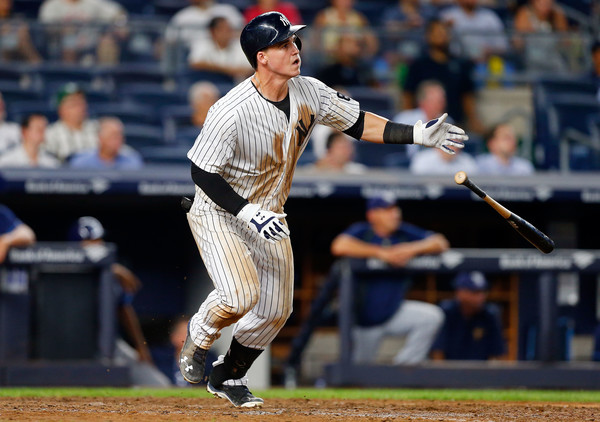 Last night, thanks largely to their second tier relievers, the Yankees won their fifth straight game to climb to within two games of the second wildcard spot. They haven't been this close to a postseason spot since April 25th, when the season was only 18 games old.
The big blow last night was, of course, Tyler Austin's ninth inning walk-off home run. It was an opposite field shot against Erasmo Ramirez. Here's the video, because I know you all want to watch it again:
All three of Austin's big league home runs have been opposite field shots. The first was part of the first set of back-to-back home runs by rookies in their first game in history. The second was a birthday blast. The third? A walk-off. That's some start to Austin's dinger career, eh?
Although all three homers have been opposite field home runs, Austin's home run last night was different than the first two. Opposite field hits — singles, doubles, homers, whatever — typically come on pitches on the outer half of the plate. Last night Austin hit his walk-off home run on an inside pitch. Here's a screen grab of the pitch an instant before impact: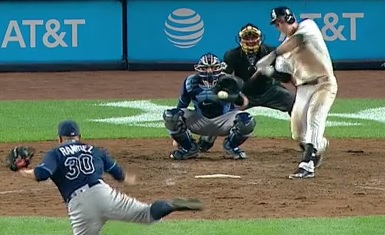 The camera angle doesn't do us any favors here, plus I'm not exactly a master screen-grabber, but that's a two-seam fastball running back inside. You can kinda see the movement on the ball in the screen grab. Austin pulled his hands in and got to the inside pitch. Here's the pitch location of his three home runs, via Baseball Savant: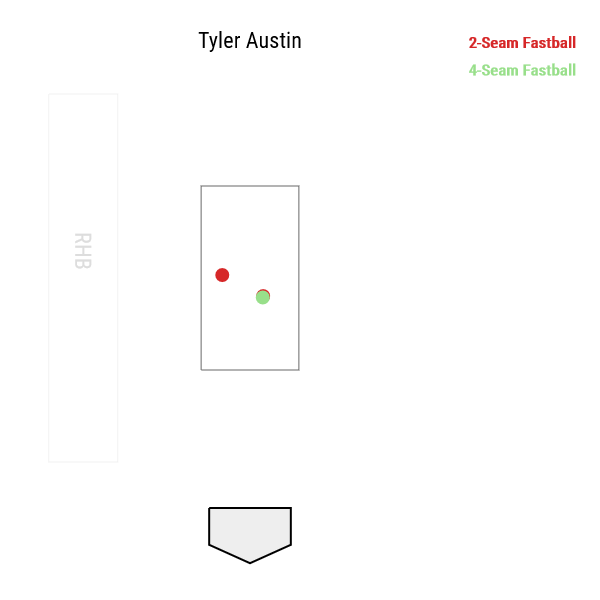 The inside pitch is last night's home run. His first two homers came on fastballs in nearly the same exact spot, almost right down the middle but a little on the outer third. Last night Austin basically inside-outted a home run. We watched Derek Jeter pull his hands in and inside-out singles to right field for two decades. Austin did the same thing last night, but he hit it out of the park.
As you'd expect, the vast majority of pitches on the inner third like that are pulled to left field by right-handed batters. That's usually how it works. Inside pitches are pulled and outside pitches are shot the other way. Here, via Bill Petti's Spray Chart Tool, is every home run hit by a right-handed hitter on an inside pitch this season: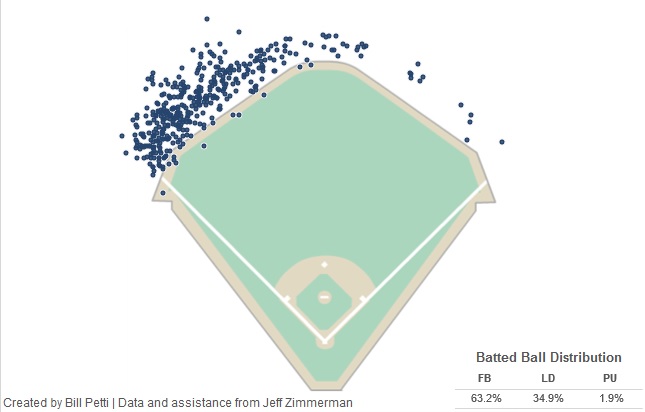 Like I said, the vast majority have been pulled to left field. Nothing wrong with that. The spray chart tool shows that only eleven home runs have been hit to right field by a right-handed hitter on an inside pitch. It's actually 12 — the spray chart tool hasn't been updated with last night's games, so it doesn't include Austin's dinger — but the point stands. It's incredibly rare for a righty hitter to hit an opposite field homer on an inside pitch.
(Because I know you're wondering, those other eleven opposite field/inside pitch dingers were hit by Javier Baez, Adrian Beltre, Ryan Braun, Chris Carter, Josh Donaldson, David Freese (twice), Matt Holliday, D.J. LeMahieu, Hanley Ramirez, and Ryan Zimmermann.)
The book on Austin coming up through the minors was that he had power, specifically to the opposite field, but his prospect stock took a hit thanks to injuries and poor performance the last few seasons. Last September he was designated for assignment to clear a 40-man roster spot for someone else, went unclaimed on waivers, and then went unselected in the Rule 5 Draft. Every other team had a chance to pick him up for free, and declined.
"Mentally, the best thing that ever happened," said Austin to Chad Jennings last night, referring to going unclaimed on waivers. "Reminding me that I need to continue to work every day. Reminding me that I can't get comfortable with where I'm at, because I could be back in Double-A, you know what I mean?"
Austin has bounced back in a huge way this season and he earned his call-up. This wasn't a token call-up by a rebuilding team with nothing better to do. Austin is healthy and he's regained the opposite field power that once made him so highly touted. That home run he hit last night, an opposite field shot on an inside pitch, is a home run only very few right-handed batters are capable of hitting.