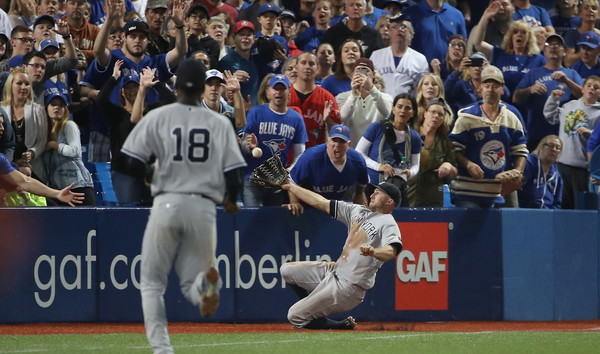 For the second straight year, Brett Gardner is among the three finalists for the AL Gold Glove award in left field, MLB announced. He was a finalist back in 2011 as well. Gardner is up against Alex Gordon and Colby Rasmus. No other Yankees are among the Gold Glove finalists, which isn't surprising. You can see all of this year's finalists right here.
Gardner had a typical Brett Gardner season in left field this year, I thought. Both DRS (+12) and UZR (+3.5) liked his work out there, for what it's worth. Gardner did make his fair share of highlight reel catches throughout the summer as well. These are the two most notable, I'd say:
Gardner has yet to win a Gold Glove, mostly because Gordon has been hogging it the last few years. Gordon has won four of the last five AL Gold Gloves in left field, with the only exception being last year, when Yoenis Cespedes won it despite splitting the season between the Tigers and Mets.
Gold Gloves are voted on by managers and coaches around the league — they're not able to vote for their own players — plus there's now a statistical component as well. Gordon missed some time with an injury, so if he gets dinged for that, Gardner just might sneak in and win himself a Gold Glove.
The Gold Glove winners will be announced Tuesday, November 8th. I'm pretty sure they're announced during a live television broadcast these days. The other major awards (MVP, Cy Young, etc.) will be announced the following week.