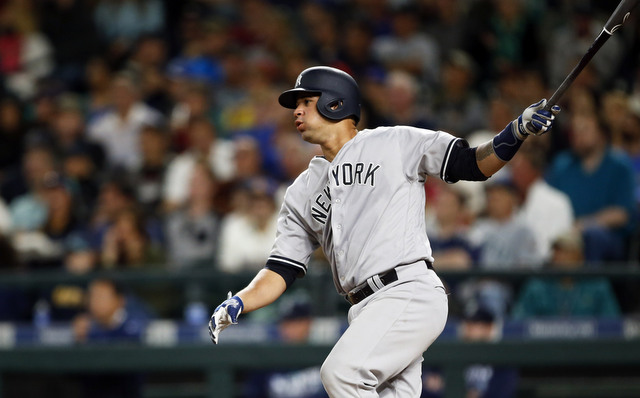 We've been waiting a long time for this. For the Yankees to call up a tippy top prospect and get instant high-caliber production. Jesus Montero had a big September in 2011 and Joba Chamberlain did well out of the bullpen in 2007, but otherwise you have to go all the way back to Robinson Cano in 2005 for the last time the Yankees called up a young player and watched him dominate.
This season, Gary Sanchez did exactly that. The Yankees called him up after selling at the trade deadline, shifted Brian McCann to designated hitter to clear playing time, and watched Sanchez rake. It wasn't just immediate success either. It was immediate success above and beyond anything anyone could have reasonably expected. Sanchez's first few weeks as a full-time big leaguer were positively Ruthian.
Losing The Job That Was His To Lose
"I'd like to unleash the Kraken," said Brian Cashman at the GM Meetings in mid-November after trading John Ryan Murphy to the Twins for Aaron Hicks. Murphy had a very nice season a year ago as McCann's backup, and while we all know anyone can be traded at any time, I don't think many folks saw that trade coming. Murphy was gone and Cashman all but declared Sanchez ready for the job.
One small problem though: Sanchez lost the job that was his to lose in Spring Training. He went 2-for-22 (.091) during Grapefruit League play, and while pitchers didn't overpower him (only two strikeouts), Sanchez didn't play as well as the Yankees hoped. "I was too anxious. I wanted to impress the Yankees and show that I was ready to play in the big leagues," he later said.
Austin Romine did play well, and since Sanchez had minor league options while Romine didn't, Romine got the backup job. Disappointing? Oh sure. But the right move? Well, based on the way things worked out this year, it's hard to think they could have gone better for Romine or especially Sanchez had the Yankees done things differently in Spring Training.
The Final Tune-Up In Scranton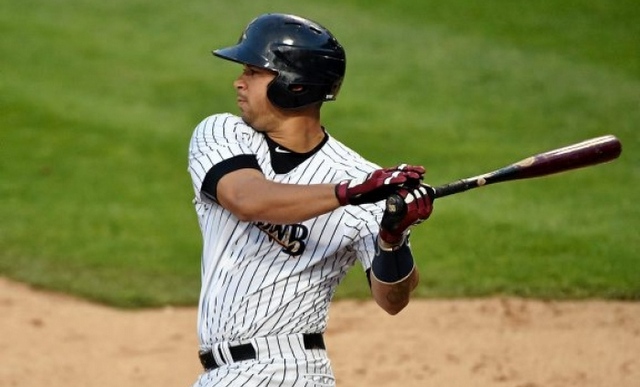 You know, it's funny. Sanchez performed worse in Triple-A Scranton this year than he did last year. A season ago he hit .295/.349/.500 (145 wRC+) with six homers in 146 plate appearances and 35 games for the RailRiders. This year he hit .282/.339/.468 (131 wRC+) with ten homers in 313 plate appearances and 71 Triple-A games. Don't get me wrong, that's still really good, especially for a catcher. It's just that when a guy repeats a level, you expect him to do better the second time around.
To be fair, Sanchez missed about three weeks with a fluke thumb injury. He was hit by a foul tip and suffered a small fracture. One of those catcher injuries. An occupational hazard. It took Sanchez a little time to get back on top of his game following the thumb injury. Even still, he had a very good Triple-A season, especially when you consider he was a 23-year-old full-time catcher. It ain't easy to play that position everyday and still rake. Sanchez went back to Scranton and did everything he needed to do.
Back In The Big Leagues, For Good
In mid-May, with the offense struggling and a bunch of left-handed starters coming up, the Yankees briefly recalled Sanchez to be the DH. It was supposed to be a two-game cameo against Chris Sale and Jose Quintana on May 13th and 14th. Sanchez started at DH against Sale, went 0-for-4, then was sent down the next day. Not because of the 0-for-4, but because the pitching staff was stretched thin and they needed another arm.
It wasn't until early-August, a few days after the trade deadline, that the Yankees brought Sanchez back for good. Aroldis Chapman and Andrew Miller were traded away, but more importantly Carlos Beltran had been dealt, which opened up DH at-bats. (Alex Rodriguez was firmly glued to the bench by this point.) Step One was moving veterans for prospects. Step Two was calling up MLB ready prospects and playing time.
Sanchez started his first two games after being recalled at DH, went 3-for-8 with a double, then took over as the regular catcher. It wasn't subtle either. Sanchez caught 18 of the team's next 25 games. The Yankees cast McCann aside and made him the DH. Sanchez was their guy behind the plate, and he rewarded them. Holy crap did he reward them. From August 10th through August 27th, he hit eleven homers in the span of 15 games.
Every time he stepped to the plate, you expected him to go deep. It was like A-Rod in 2007. Sanchez was that locked in. And the thing is, he never really slowed down. He had a ten-game stretch with no home runs at one point, but overall the kid came up in August and hit 20 homers in 53 games. That's almost exactly one-third of a season. He had a 60-homer pace as a catcher. Nuts. Sanchez was so good he even drove in runs while being intentionally walked.
The best part — besides the dingers, of course — was that Sanchez was not a one-trick pony either. This was no Kevin Maas feasting on mistake fastballs. Sanchez hit all sorts of pitching and he hit for average too, carrying a .337 batting average into the final week of the season before finishing in a 2-for-29 (.029) slump. I mean, whatever. It happens. The kid played more this year than he ever had before. I'm sure he was worn down.
When it was all said and done, Sanchez authored a .299/.376/.657 (171 wRC+) batting line with those 20 homers, a 24.9% strikeout rate, and a 10.5% walk-rate in 53 games. Only Brian Dozier (22) hit more home runs than Sanchez following the date of his call-up. In terms of games played, Sanchez became the fastest player in history to 11, 18, 19, and 20 career home runs. Again: as a catcher!
The historic showing — Sanchez led Yankees' positions players in fWAR (+3.2) and was second in bWAR (+3.0) despite playing one-third of a season — is going to earn Sanchez serious Rookie of the Year consideration, and I do think he's going to win. Michael Fulmer had an excellent season, no doubt about it. But basically no one has come up and done what Sanchez did in the second half. It's excellence vs. historic greatness, and I think the voters will lean towards history. We'll see. Either way, holy cow was Sanchez awesome.
Power & Plate Coverage
One thing we learned about Sanchez in the second half is that the kid can do damage on just about any type of pitch in any location. He is close to a dead pull hitter — Sanchez did pop two opposite field home runs — but that's okay. When you hit for that kind of power, you call pull the ball as much as you want.
Look at the pitches on which Sanchez did his most damage this year. I'm going to use 100 mph exit velocity as my completely arbitrary cutoff point here. It's a nice round number. Here are the locations of the pitches Sanchez hit at least 100 mph this year, via Baseball Savant: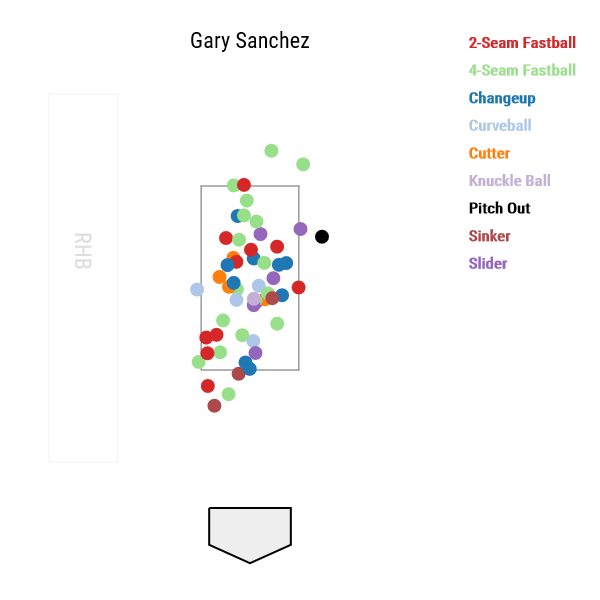 All over the zone and all types of pitches. He doesn't live on fastballs inside, or breaking balls up in the zone. Nothing like that. Sanchez covers the entire strike zone — heck, he even covers outside the strike zone too — and he's able to drive the ball with authority regardless of where it's pitched. He doesn't have a traditional wheelhouse. The strike zone is Sanchez's wheelhouse.
Despite the late call-up, Sanchez finished sixth on the Yankees with 55 batted balls of at least 100 mph, more than guys like Mark Teixeira (54), Didi Gregorius (54), and Brett Gardner (52). His average home run distance was 398 feet as well, so it's not like Sanchez hit a bunch of wall-scrappers. Hit Tracker classified only five of his 20 home runs as "Just Enoughs," meaning five cleared the wall by fewer than ten feet. Bombs. He hit bombs.
We all knew Sanchez had huge power. That was the book on him coming up through the minors. The kid could hit the ball a long way, it was just a question of whether he'd put in the work required to be a big leaguer, and he's done that the last two years. Sanchez has admitted that becoming a father two years ago helped put his career in better perspective, and helped him understand he couldn't coast on talent. This year, for the first time, he was rewarded for all his hard work.
A Work In Progress On Defense
For years and years, the concern with Sanchez was whether he'd improve enough defensively to be a passable catcher. He is blessed with a rocket arm, and holy geez, we saw it a bunch of times this year. Sanchez threw out 13 of 32 basestealers this season, or 40.6%, plus he picked five runners off first base and two off second. We saw throws like this on the regular:
Perfect throw. Strong, accurate, right on the money. It's amazing anyone tried to run against this kid once word got out about his arm. Six of the 19 successful steals against Sanchez came with Dellin Betances on the mound, and, well, Betances might be the worst pitcher in baseball at holding runners. Hard to fault Sanchez there. Also, he seemed to take charge on the mound. He didn't hesitate to go out to talk to the pitcher, even a veteran like CC Sabathia.
Depending on who you ask, Sanchez was either an above-average (Baseball Prospectus) or a slightly below-average (StatCorner) pitch-framer. I thought he looked fine. He didn't stab at everything but he wasn't exactly catching pitches and presenting them with baby soft hands like Yadier Molina. Sanchez was fine at framing pitches. The one glaring weakness in his game seemed to be wild pitches and passed balls. More than a few got by him.
In fact, Sanchez allowed 15 wild pitches and six passed balls this year. His 21 combined passed pitches were 41st most in baseball even though he ranked 58th in innings caught. There were times that yes, Sanchez seemed to get a little lazy behind the plate and let a catchable ball scoot by. That's something that will have to be improved going forward. An excellent arm and average-ish framing make for a good defensive catcher. If Sanchez can improve the passed pitches, he could be a real asset behind the plate.
Outlook for 2017
Sanchez is in the big leagues for good. As if his bat didn't make that clear enough, he is out of minor league options, so the Yankees can't send him back to Triple-A anyway. Well, they could, but they'd have to put him on waivers, and there's a better chance of the team signing me than that happening. It's time to stop thinking about Sanchez as the catcher of the future. He's the catcher of the present.
"Gary Sanchez is our starting catcher next year," said Cashman during his end-of-season press conference. "That's his position to lose. That doesn't mean he can't lose it. We saw (Luis) Severino last year helping us get to the postseason. This year, he struggled. We're very excited about Gary, who always projected to be (a middle of the order bat)."
It's impossible to expect Sanchez to do what he did in 2016 again in 2017. He's not going to repeat his 60-homer pace. He's not going to slug close to .700 again. Chances are he probably won't hit close to .300 again either. If Sanchez hits, say, .270/.330/.450 with 20-something dingers next season, it would be phenomenal for a young catcher in his first full season. And yet, it would represent a big step down from what his did this year.
Sanchez set the bar awfully high this year. The Yankees will count on him to again be a middle of the lineup force — he batted third in his final 40 games of the season — and provide power. They'll have to carefully balance his playing time too. Catchers need regular off-days to rest, but Sanchez's bat is so good that you don't want him out of the lineup. A lot of DH days are in his future and that's okay. Gary finally arrived this season, and now he's here to stay.