Now that the 2016 season is complete and the dust has settled, it's time to begin our annual season review series. This year was a complicated one. That's for sure.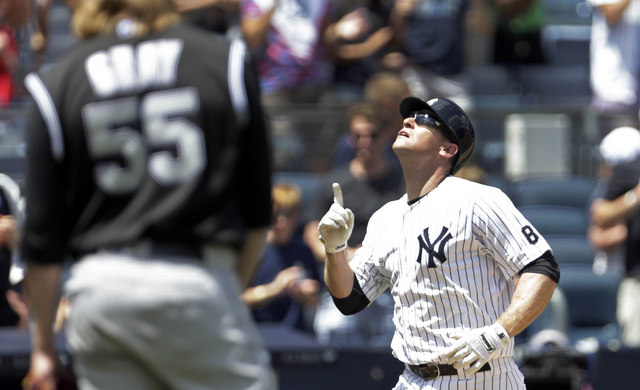 Three years ago the Yankees came to a realization: Alex Rodriguez was no longer a capable third baseman. He had hip surgery during the 2012-13 offseason and was suspended for all of 2014, plus he was closing in on his 40th birthday, and guys who go through all of that don't stay at a demanding infield position. It was time to find a new full-time third baseman.
In 2013 the Yankees turned to Kevin Youkilis, which was a disaster. In 2014 they went originally with Kelly Johnson, but Yangervis Solarte forced the issue in Spring Training. At midseason, the Yankees went for the more proven commodity and sent Solarte to the Padres for Chase Headley. Headley played well enough in the second half of the 2014 season to earn a new four-year, $52M contract as a free agent. The 2016 season was year two of four.
The Inexcusably Awful April
Last season was the worst full season of Headley's career. He hit .259/.324/.369 (92 wRC+) with eleven homers in 156 games, plus he stopped played top notch defense. Headley went from being a big time asset in the field to being a big liability. Getting his defense back on track was priority No. 1 this year, perhaps so much so that it hurt his offense. Headley spent a lot of time working on his throwing in Spring Training.
In the first month of this season, Headley hit an unfathomable .150/.268/.150 (22 wRC+) in 71 plate appearances. Yeah, he drew plenty of walks (14.1%), but holy cow was he bad. No extra-base hits? No extra-base hits! In terms of OPS+, Headley had the second worst April by a regular player in franchise history. He had a 21 OPS+. Roger Peckinpaugh had 16 OPS+ in April 1918. Yeah.
Headley had two-hit games on April 12th and 19th. He had five hits the rest of the month. You can blame poor luck on balls in play (.191 BABIP) if you want, but a 17.0% soft contact rate and a 21.3% hard contact rate doesn't exactly scream "this guy isn't being rewarded." Headley was awful in April. Inexcusably so, really. Ronald Torreyes took some at-bats away from him, though ultimately the Yankees needed to get Headley on track, so he remained in the lineup.
The Return to Normalcy
May 12th. That was the date of Headley's first extra-base hit this season. It was team game No. 33 and his 103rd plate appearance. Headley's first non-single was an opposite field home run, because of course it was. Ex-Yankee Ian Kennedy served it up. To the action footage:
"It's been pretty crummy all year, to be honest," said Headley following the game. "There was never a question in my mind that I was going to come out of it … I'm very confident in who I am as a player. But you have to produce. When you're playing here and the team's not playing well, you know you have to get it going. The confidence in the short term wasn't as high as it usually is, so it was frustrating. But never have I thought, 'I'm not going to hit anymore.'"
Naturally, Headley's second extra-base hit came the next day. That was also a home run. Against Chris Sale of all people. Two days later Headley hit his first double of the season. The floodgates were open! By Headley standards, anyway. He got the monkey off his back — I can't imagine the lack of extra base hits wasn't weighing on his mind — and his performance started to improve into the warm summer months. It almost couldn't get worse, really.
Early in the season Headley said he was rolling over on too many pitches and pulling too many grounders, which killed his production. He was doing it from both sides of the plate too. Once Headley was able to hit the ball in the air a little more often — and impact the baseball harder in general — his production began to tick up. Check out his rolling ground ball and hard contact rates: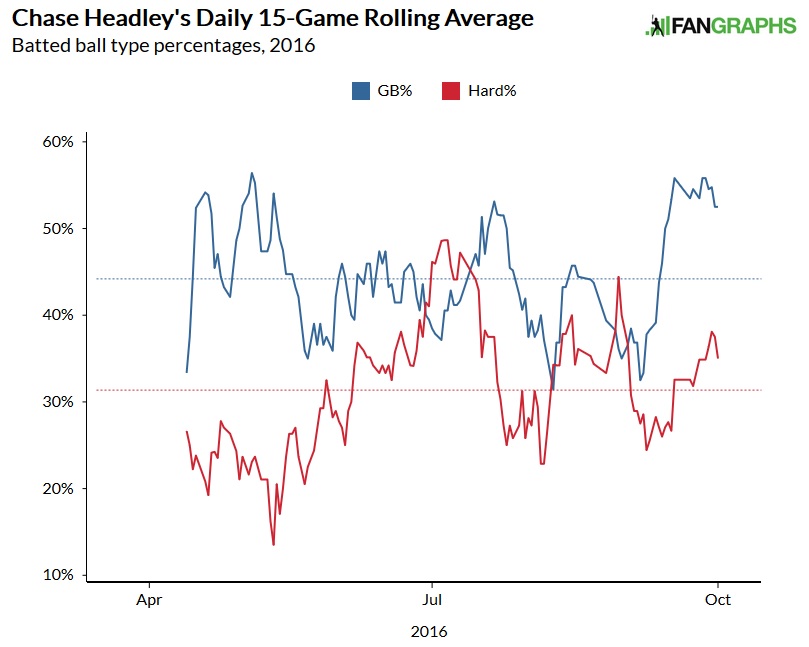 The hard contact rate climbed steadily and peaked north of 50% in July. That's really good! Headley's ground ball rate was up close to 60% at the start of the season before coming down to 40% or so at midseason. That's much better. It makes sense for some hitters to hit the ball on the ground. Not Headley. He's no speedster. He needs to elevate the ball to be productive and he wasn't doing that in April.
From the start of May through the end of the season, Headley hit .265/.338/.418 (103 wRC+) with 18 doubles and 14 homers in 458 plate appearances and 121 games. That's after putting up a 102 wRC+ from 2013-15. April 2016 was the outlier for Headley. Not May through early-October. He had a bad month — a terrible, awful, horrible, abysmal month — and went right back to being the guy he's been the last few seasons.
All told, Headley hit .251/.329/.383 (92 wRC+) with 14 home runs in 2016. He also stole eight bases and always seemed to do so in big moments. Headley was a sneaky good base-stealer. The miserable April dragged his overall numbers down, but that miserable April happened, so we can't ignore it. Headley was basically a league average hitter after April and there's nothing exciting about that. It's not good. It's not bad. It just is.
The Defensive Rebound
For all the questions about Headley's bat, there were never any concerns about his defense, at least not until last season. Last year Headley became alarmingly error prone, especially on throws. He was very tentative. There was no conviction behind any of his throws. It looked like he had the yips. No doubt about it. I mean: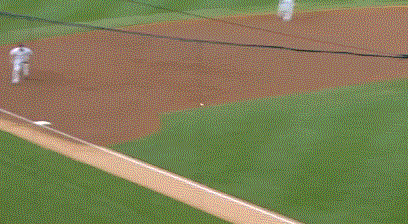 That is not a man who is confident in his throwing ability. We saw an awful lot of that last season. Headley worked and worked and worked on it all season, and when Spring Training opened up, he worked and worked and worked on it some more. He and infield coach Joe Espada went out to the back fields every day to work on footwork and things like that.
To the surprise of many (I'm guessing), Headley did rebound defensively this past season. His throwing issues were gone and he appeared more confident in the field as the season progressed. Look at the last four seasons:
2013: +5 DRS and +7.0 UZR
2014: +13 DRS and +20.9 UZR
2015: -6 DRS and -3 UZR
2016: +7 DRS and +6.6 UZR
One of those things is not like the other. Headley's been a really good defensive third baseman his entire career except for last season, when he lost his way for whatever reason. Players have bad years defensively. It's just like offense. You can go into a defensive slump, and Headley did last season. He worked hard to get himself out of it and this year we saw a comfortably above-average gloveman at the hot corner, which is what we all expected when Headley first arrived in 2014.
The total package, meaning a bit below-average bat with an above-average glove, works out to an average-ish player. Headley ranked 15th among third basemen with +2.6 fWAR and 15th with +2.6 bWAR. Freaky. That's pretty much exactly where he belongs. Middle of the pack. Headley's a league average third baseman, someone who mans the position adequately and without any flash. Unexciting. Reliable. Safe. Boring. Those are good words to describe Headley. He leaves you wanting more but won't sink your season either.
Outlook for 2017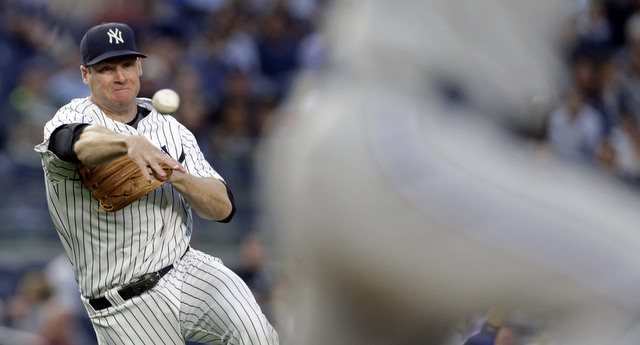 The Yankees put Headley on the market at the trade deadline — it seems they did that with all their veterans — but obviously no team bit. Or at least no one made an acceptable offer. The Yankees don't have  a replacement everyday third baseman in house, so it would have been interesting to see what happened had Headley been dealt. Torreyes? Rob Refsnyder? Donovan Solano? Who knows.
Whenever a team puts a player on the trade market at the deadline, chances are they'll do the same in the offseason. The free agent third base market is weak, especially after Martin Prado's extension with the Marlins, meaning teams that don't want to pony up for Justin Turner will turn to the trade market. Of course, the Yankees themselves would have to figure out how to replace Headley should they trade him. They need competency at the hot corner too.
My guess right now is Headley remains with the Yankees next season. There's two years and $26M left on his contract and that's pretty much exactly what he's worth. These days $13M a season doesn't buy you much in free agency. The Yankees will listen to offers for Headley this winter, I'm sure of it, but his value to the team in the field is probably greater than whatever he'd fetch in a trade.