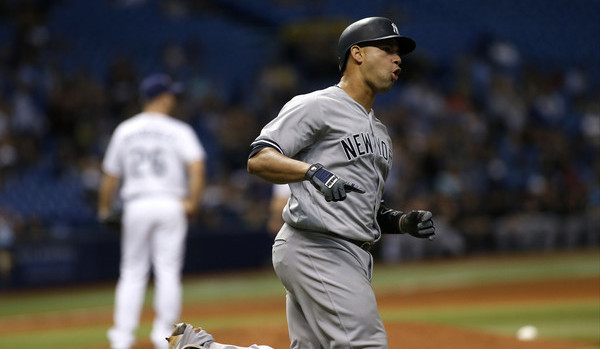 Earlier tonight MLB and the BBWAA announced the three finalists for each of this year's major awards. As expected, Gary Sanchez is among the AL Rookie of the Year finalists. He's up against Michael Fulmer of the Tigers and Tyler Naquin of the Indians. No surprises there at all. Here are all the awards finalists.
Sanchez was not called up for good until early-August, but he's in the Rookie of the Year race because he had a historically great two-month stretch. He hit .299/.376/.657 (171 wRC+) with 20 homer runs in 53 games, plus he showed off an insane arm behind the plate.
Your browser does not support iframes.In terms of games played, no player in history reached 11, 18, 19, and 20 career home runs faster than Sanchez. He led all AL rookies in fWAR (+3.2) and was second to Fulmer in bWAR (+3.0). Because he didn't play a full season like Fulmer and Naquin, Sanchez's Rookie of the Year case is built on his historically great two-month stretch.
I actually think Sanchez is going to win Rookie of the Year. I think voters will skew towards the historically great catcher over the starter who had a great full season, but didn't do anything we haven't seen before. Same with Naquin. Great season! But someone will do pretty much the same thing next year. We'll see.
The Yankees did not have any finalists for the other awards, which isn't a surprise. Masahiro Tanaka will surely get some Cy Young votes, though he's not a finalist. Corey Kluber, Rick Porcello, and Justin Verlander are up for the AL Cy Young Award. Sounds right to me. You could argue Zach Britton and Chris Sale should be finalists.
Awards week is next week. The Rookies of the Year will be announced next Monday, November 14th. Cy Youngs will be announced Wednesday, November 16th. Joe Girardi will inevitably get some Manager of the Year votes, and there are always some weird down ballot MVP votes. We'll see a few Yankees pop-up in the MVP voting.