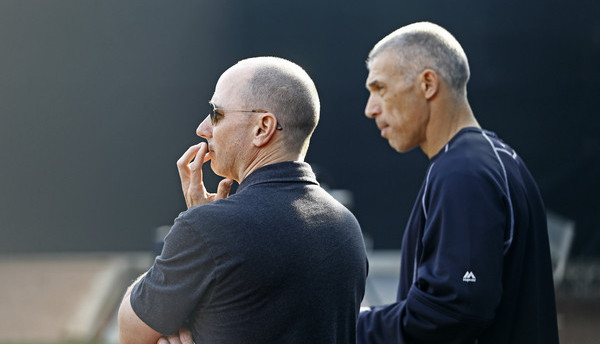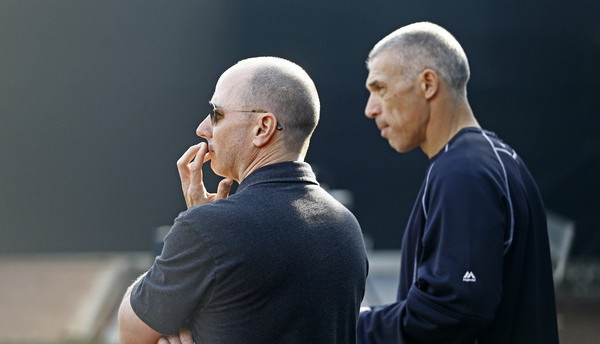 As of 12:01am ET this morning, free agents are able to negotiate and sign with any team. That's fun! Too bad this free agent class stinks, especially if you need rotation help. I ranked the top 20 free agent starters for CBS yesterday and my list included Clayton Richard. Literally Clayton Richard. The free agent pitching class is that bad. Unfortunately, the Yankees are among the teams in need of arms.
"We're going to go through everything. We've had our scouting meetings. The areas that we would like to focus on — the bullpen and starting pitching. I think the biggest focus will be pitching, pitching, pitching," said Brian Cashman to Christian Red at a charity event last week. "All clubs know that we are a very open-minded, aggressive organization, open to any idea that serves us."
Beyond free agency, there's also the trade market, and I get the feeling we're going to see a ton of trades this offseason. Not necessarily involving the Yankees, just in general. That'll be fun. Trades are a blast. Anyway, I have some thoughts on the Yankees and their pursuit of "pitching, pitching, pitching" at the outset of free agency.
1. The difference between the team's short-term and long-term needs is pretty fascinating. The Yankees were one of the worst offensive teams in baseball this past season. They averaged 4.20 runs per game, which ranked 22nd among the 30 teams. And that's with Gary Sanchez being out of his mind for two months. Offense is a clear short-term need. At the same time, the Yankees are also light on impact pitching long-term. Masahiro Tanaka can opt into free agency next offseason, and top prospects Justus Sheffield and James Kaprielian are at least a year away, maybe more. The Yankees have young bats coming. Sanchez and Aaron Judge are in the big leagues, Greg Bird will be back next year, and Clint Frazier figures to arrive soon. They can solve their offense problem internally, at least in theory. The pitching is another matter. Assuming the emphasis on "pitching, pitching, pitching" is genuine, the Yankees are taking more of a long-term approach this offseason.
2. I've talked myself into signing Rich Hill. Both MLBTR and Keith Law (subs. req'd) project a three-year deal worth $50M or so, and that sounds about right to me. It's an awful lot of money for a guy who a) turns 37 in March, b) has an extremely limited track record of excellence, and c) hasn't thrown more than 120 innings since 2007. But in this market, getting a pitcher who has shown the ability to pitch like an ace for less than $20M a year is pretty damn good. The money isn't really the problem though. The Yankees have a ton of it. It's the years. The team that offers the third guarantee year is the team that will likely get Hill. Heck, at this point I wonder if a fourth year is what does the trick. This free agent class is so incredibly bad. If the Yankees are going to dip into free agency and spend real money, do it on the best available pitcher, and that's Hill.
3. I am comfortable with the Yankees' rotation depth. Tanaka, CC Sabathia, and Michael Pineda are the clear top three starters at this point in whatever order. After that the Yankees have Luis Severino, Luis Cessa, Chad Green, and Bryan Mitchell, plus Chance Adams and Jordan Montgomery slated to start in Triple-A next season. There's quite a bit of upside in that group, and also a lot of downside, of course. Severino was very kind to remind us this year that even the most talented pitching prospects can fall flat on their face. I feel pretty good that the Yankees have six of those guys though, all of whom are big league ready or close to it. Surely at least one of them will be able to establish himself as a full-time big league starter in 2017, right? Right??? I hope so.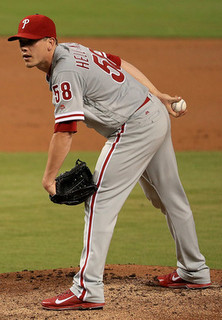 4. If the Yankees aren't going to extend themselves to sign Hill, the next best approach may be going after two or three risky starters. Reclamation project types. Brett Anderson, Derek Holland, C.J. Wilson … those guys all figure to come on one-year contracts and at least have a chance to pitch at an above-average level. A small chance, but a chance nonetheless. Those guys offer a smidge of upside, and if they do get hurt again, the Yankees can turn things over to that young rotation depth they have. I don't like the idea of betting multiple years that Jeremy Hellickson or Ivan Nova has suddenly turned the corner. Aside from Hill, who himself is a pretty substantial risk, I think the best approach with this free agent class is going short-term with two or three veterans. The hard part is convincing them to take a one-year contract to rebuild value in Yankee Stadium and the AL East.
5. How much will the upcoming Collective Bargaining Agreement impact free agency? Part of me thinks teams are going to steer clear of free agents until the new deal is in place so this way they know exactly what they're getting themselves into. Last time the CBA was up, the Phillies rushed out and signed Jonathan Papelbon. Then under the terms of the new CBA, teams did not have to give up their first round pick to sign relievers the remainder of the offseason. Philadelphia gave up their first rounder for nothing. Everyone got a good laugh at their expense, but everyone learned their lesson too. I don't think teams want to jump the gun. Free agency may be slow until the new CBA is in place. Trades could be all the rage early in the offseason, and I fully expect the Yankees to be in on the action.