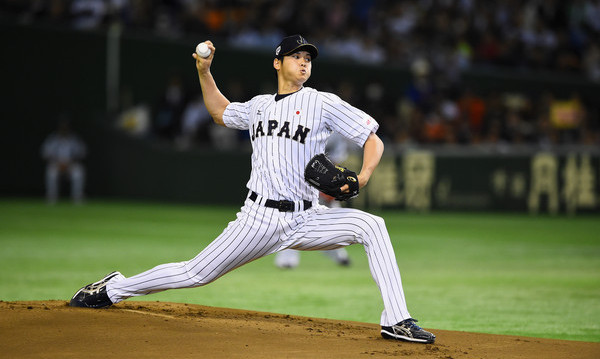 According to J.J. Cooper, MLB's international free agency rules may prevent the Nippon Ham Fighters from posting right-hander Shohei Otani this offseason. Otani is still only 22, which means if he comes over this winter, he'd only be able to sign a minor league contract. He still qualifies as an international amateur and would count against the bonus pool. Even through the posting process.
Furthermore, because the Yankees are still subject to the penalties from their 2014-15 international spending spree, they would only be able to offer Otani a $300,000 bonus. Obviously that won't be enough to sign him. The Red Sox, Dodgers, and Angels are in the same boat. Otani doesn't turn 23 until next July too, so it's not a matter of waiting a few extra weeks.
The current Collective Bargaining Agreement expires on December 1st, so it's possible the international free agency rules will change and make it more realistic for Otani to be posted. That seems unlikely though. Every change made to international free agency these days further limits spending. There's no reason to think that'll change this time around.
Otani would be, by far, the best available pitcher this winter. The (Ham) Fighters could still post him, but they know he's not going to sign a minor league contract, so there's no real point. They figure to instead keep him one more year, then post him next offseason, when he'll be able to sign a contract of any size at age 23. We'll see. Maybe the upcoming CBA will change things for the better.
This season Otani had a 1.86 ERA with 174 strikeouts in 140 innings while also hitting .322/.416/.588 with 22 homers in 382 plate appearances. The consensus is his future is much brighter on the mound, though when it comes time to sign him, the team that gives Otani the chance to pitch and hit may be the one that gets him.