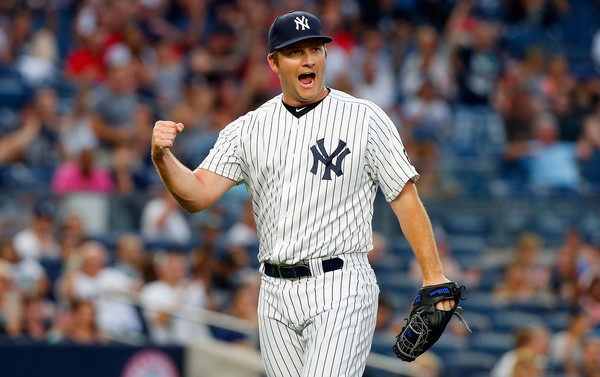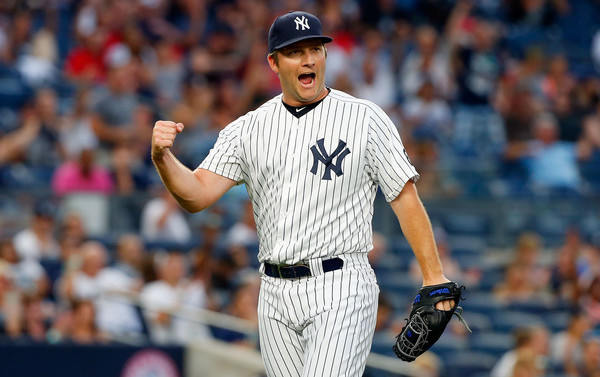 Once again, Adam Warren will be given a chance to win a rotation spot in Spring Training. Brian Cashman told Erik Boland that Warren will come to camp as a starter next year, and if he doesn't win a rotation spot, he'll move to the bullpen. Cashman said Dellin Betances and Tyler Clippard are the only bullpen locks at the moment, because duh.
Warren, 29, had a 4.68 ERA (5.12 FIP) in 65.1 total innings this past season, including a 3.26 ERA (4.30 FIP) in 30.1 innings with the Yankees. He made one start with the Cubs and allowed one run in five innings against the Reds. For his career, Warren has a 3.88 ERA (4.16 FIP) in 111.1 innings as a starter and a 3.51 ERA (3.86 FIP) in 243.1 innings as a reliever. I have some thoughts on this.
1. Of course Warren should come to camp as a starter. There's no reason for the Yankees not to bring Warren to Spring Training stretched out a starting pitcher. There's nothing to lose. They can see what he looks like as a starter, decide where he fits best, then put him there. If that's in the bullpen, so be it. Nothing wrong with having a stretched out reliever.
With close to an entire offseason to go, the Yankees have Masahiro Tanaka, CC Sabathia, and Michael Pineda ticketed for the 2017 rotation. I'll be surprised if they don't bring in someone from outside the organization for the fourth spot. Then there are all the kids for the fifth spot. Luis Severino, Luis Cessa, Chad Green, Bryan Mitchell … those guys will all be in camp as starters too. Warren is another name to throw into the mix. That's all.
2. The best value starters may be relievers. This free agent pitching class is so impossibly bad that one team (Angels) has already signed a reliever (Jesse Chavez) with the intention of turning him into a starter. Rather than spend big money for a potential fifth starter, the Halos found a cheaper and more creative alternative. I wouldn't be surprised if Travis Wood and Trevor Cahill get jobs as starters this winter too.
If Warren were a free agent right now, wouldn't teams look at him as a rotation option? Of course they would. They wouldn't be doing their jobs if they didn't. Sign him and see what he can do as a starter, knowing the bullpen is always a fallback option. The Yankees are in position to do exactly that without the hassle of a free agent bidding war or anything like that. Warren is already on the roster.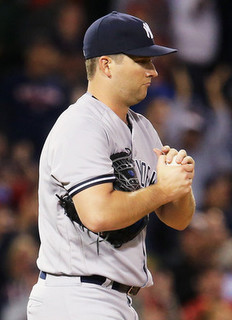 3. Trade value! Because the free agent class is so thin, trades are going to be very popular, and not only in the offseason. It'll carry over into the regular season too. Teams that can't get the pitching they need this offseason — and it figures to be a lot of teams — will keeping looking for arms next summer leading up to the trade deadline.
Should Warren have success as a starter, even as a serviceable fourth or fifth starter, his trade value will increase. He'd only have so much value as a middle reliever. Back end-starter with an extra year of control though? Forget it. Those guys are in demand. I'm not saying Warren would fetch a big return as a starter. Just a bigger return than he would as a reliever.
4. Warren starting doesn't have be permanent. This is kinda important. Winning a rotation spot in Spring Training doesn't mean Warren will be in the rotation all season. The Yankees have all those young starters, so Warren may only have to hold down the fort until Green gets over his elbow issue, or until Severino finds his changeup, or until Cessa stops giving up dingers. That sort of thing.
I'm a Warren believer and think he could be a solid starting pitcher. The chances of him being more effective as a starter than, say, Severino or Green in the short-term seem pretty high to me. The Yankees stuck with Austin Romine and sent Gary Sanchez to Triple-A for more seasoning this year, and they were rewarded in the second half. Going with Warren in the rotation while some of the kids get more time in Triple-A could be the best possible thing for the Yankees long-term.