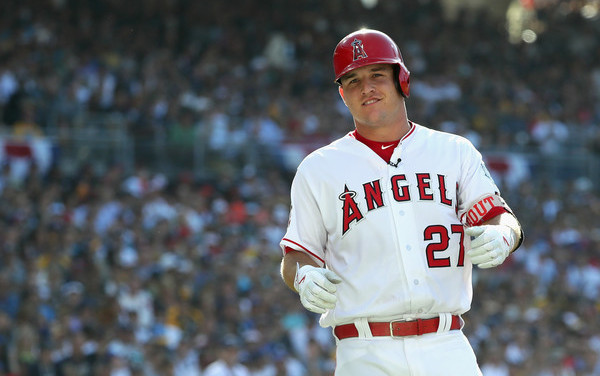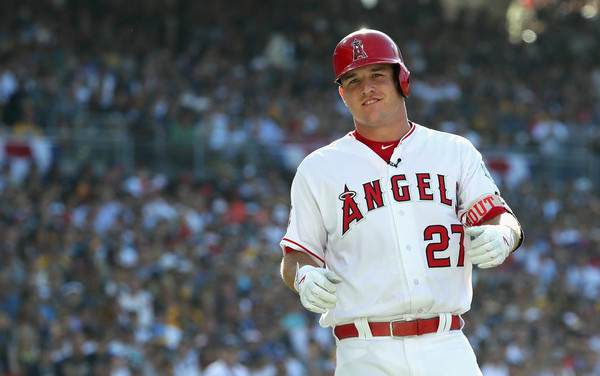 This season the Yankees did something that really had been a long-time coming. They committed to a youth movement. It actually started last season with the Didi Gregorius trade and Greg Bird and Luis Severino call-ups, but this year the Yankees took it a step further by trading productive veterans for prospects at the deadline. We haven't seen them do that in nearly three decades.
As a result, the Yankees now have one of the best farm systems in baseball, if not the best. Jim Callis calls it the deepest system in the game. Depending what happens with Brett Gardner and Brian McCann this offseason, it's entirely possible Jacoby Ellsbury and Chase Headley will be the only players over 27 in the starting lineup come Opening Day next year. The Yankees could have youngsters all over the field. That's exciting!
You know what else is exciting? Trading a whole bunch of those prospects for Mike Trout. Think about it, what better player is there to build around going forward than the best player on the planet, who himself turned only 25 four months ago? There isn't one. Trout's not just great. He's historically great and well on his way to being in the inner circle of the inner circle of the Hall of Fame. A generational talent, indisputably.
The idea of a Trout trade creates two obvious big picture questions: why would the Angels do it and why would the Yankees do it? Let's answer the second question first because it's easiest. Because Trout's insanely good and not every prospect is going to work out. Hang on to all the kids and you're inevitably going to be left with a lot of nothing. That's baseball. The attrition rate for even tippy top prospects is pretty darn high.
As for the Angels, this is where it gets complicated. Take Trout away from the Angels and they're an unmitigated disaster. The 2011-13 Astros but somehow more hopeless. They have baseball's worst farm system and so very few long-term assets at the big league level. There's Andrelton Simmons and, uh, C.J. Cron? Trout is more valuable to his franchise's well-being than any other player in baseball. He's the only reason the Halos are relevant.
More than a few folks have said the Angels would be wise to trade Trout for a godfather package to kick start their rebuild, and there is some validity to that. He'd bring back almost an unprecedented amount of talent. Personally, I think it's a heck of a lot easier to rebuild a farm system than it is to get the best player in the world on your roster when he's only 25. That's just me.
Anaheim has given zero indication Trout is available. Angels GM Billy Eppler, who spent all those years as Brian Cashman's right-hand man, said last year Trout "means too much to this clubhouse, community, organization," to trade. And he's right. It'd be like trading Derek Jeter. Like I said, take Trout away from the Angels and they're in worse shape than any team we've seen in a very long time. Their situation is that dire.
Convincing the Angels to part with Trout is the hard part. I actually think putting together a trade package would be pretty easy for the Yankees. It depends how much they're willing to stomach more than anything. Prospects? Whatever, they're all on the table. Gary Sanchez? Of course you put him in a Trout trade if that's what it takes. He just had a Trout-like two months. Trout just had his fifth straight Trout-like year.
I don't think a player of Trout's caliber has ever been traded. The closed comparable is the Alex Rodriguez trade, which was motivated by money more than anything. It's apples and oranges. Putting together hypothetical trade proposals is pointless because a) your trade proposal sucks, and b) there's no real precedent for trading the best player in the world four years before he becomes a free agent. No one has been crazy enough to do it yet.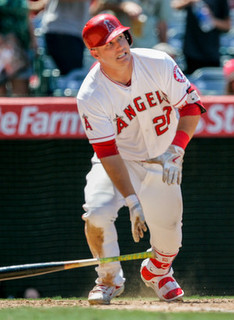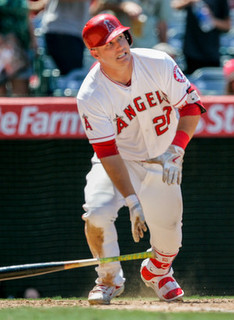 This, I think, is the most important thing to understand: the Yankees could give up a hefty package of young talent for Trout and still have plenty left over. The Angels are Trout and nothing else. The Yankees would not become Trout and nothing else with the trade. Their talent base right now so far exceeds what the Angels have put around Trout that even gutting the system to make the trade leaves them with a respectable roster.
Consider Baseball America's top ten Yankees prospects for a second. The Yankees could take the top six guys, send them to the Angels for Trout, and still have a top 100 prospect left, not to mention Sanchez and Bird and Severino and Gregorius and Masahiro Tanaka and others at the MLB level. This wouldn't be like the 68-win Reds gutting their system for Trout. The Yankees are in better position to make a move like that.
Here's the other thing to consider: trading prospects not on the big league roster for Trout instantly makes the Yankees contenders. He's a legitimate +9 WAR player. A balance of power player. He changes the entire dynamic within a division. Adding Trout moves New York's timetable for contention up from "we hope sometime within the next two or three years" to right now. That is huge.
As it stands right now, the Yankees' master plan seems to be incorporating young players into the roster while shedding payroll and resetting the luxury tax rate, so when some actually good players become free agents, they can sign them to boost the roster. Good plan, in theory. Risky because the prospects might not work out and those players might not become free agents, but that's life. Everything is risky.
Acquiring Trout is a much more straightforward plan, and also the "safer" play as well. You're getting value from your prospects and acquiring an undeniably great player. It's a franchise-altering move. For both teams, the Yankees and Angels. He changes everything. The timetable, the team building philosophy, everything. The Angels would slip into a deep rebuild while the Yankees could suddenly start gearing up for serious contention again. It would be the blockbuster of all blockbusters. The Wayne Gretzky trade all over again. It would shock the world.
Sadly, there is basically no chance Trout gets traded this offseason. And if the Halos did put him on the market, the Yankees would face stiff competition. The Red Sox, Dodgers, Cubs, Rangers, Astros, and every other team in the league would get involved. Eppler and Angels owner Arte Moreno — trading Trout is a decision that gets made at the ownership level, not the GM level — would create the mother of all bidding wars. It would be total chaos.
Sending a whole bunch of prospects to the Angels for the best player in baseball is a fun idea that almost certainly will never happen. The timing is not right. The farm system is ready for a trade now but the Angels aren't. When the Angels are ready to trade Trout, if they ever are, the farm system probably won't be. Such is life.
The Yankees added all these prospects recently and we're all attached to them and excited. We've been waiting for this for years. I know I have. Turning around and trading these kids might be tough to swallow, but as far as I'm concerned, trading for a player of Trout's caliber is never a bad move. Not when you're the New York Yankees.