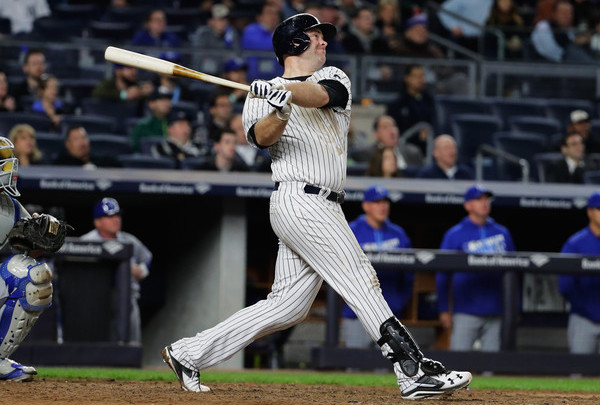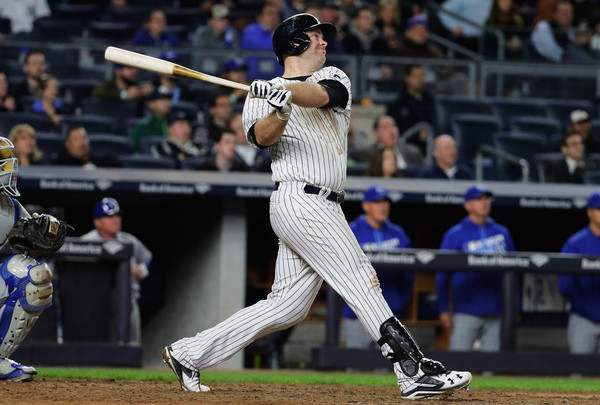 As expected, the Brian McCann trade rumor mill has started to heat up early in the offseason. The Yankees weighed offers for their erstwhile catcher at the trade deadline, most notably from the Braves, and are expected to do the same this winter. They're trying to get younger and under the luxury tax threshold in the near future. Moving McCann would help accomplish both.
"The catching market is very thin, so it's not surprising to anybody (teams are interested in McCann)," said Brian Cashman to Ken Davidoff and Joel Sherman at the GM Meetings this week. "A lot of teams have expressed interest and offers that I've said no to. If I ever get to a point where something makes enough sense, then Mac will have the final say, as he's earned the right to have that final say."
According to Mark Feinsand, Cashman has already identified one realistic trade partner for McCann. Jon Morosi says the Astros are interested — it's unclear whether Houston is the team identified as a realistic trade partner — which makes sense. They need a catcher now that Jason Castro is a free agent — they played Evan Gattis behind the plate 55 times last year, yikes — and also a lefty bat to balance their lineup. Some notes and thoughts on all this:
1. Remember, McCann is in control here. McCann has a full no-trade clause, so he is in total control of the situation. He doesn't have to go anywhere he doesn't want to go. In fact, Sherman says Cashman "has deals he can make for Brian McCann right now," but has waved them off because McCann is unlikely to accept a trade to those teams. McCann hasn't given the Yankees a list of approved clubs. He'll look at it on a case-by-case basis.
"I haven't said, 'Hey he has to be here or it's not going to happen.' Nor has Mac given me permission to do that," said B.B. Abbott, McCann's agent, to Sherman. "Mac basically wants them to come to him. If Cash says there is a deal in place, then I'll go to Mac and he will say nay or yay … I don't think this is a slam dunk that it happens, I really don't. He made a choice to be in New York because that is where he wants to be and he got a full no-trade clause because of that."
Ken Rosenthal says McCann prefers the American League because he doesn't want to catch 120+ games a year anymore, and wants to be able to DH. Apparently he told the Yankees he felt better physically in September than he had in years after handing the catching reins over to Gary Sanchez. That said, Rosenthal added McCann would also approve a trade to the Braves, his hometown team.
2. Okay, so what could the Yankees get from the Astros? Supposedly the Yankees want young pitching in a McCann trade. That's the long-term need, anyway. The Yankees pushed for Lance McCullers Jr. (and Vince Velasquez) during Andrew Miller trade talks with Houston last offseason, but it's pretty clear that's not going to happen for McCann. (Velasquez is with the Phillies now anyway.)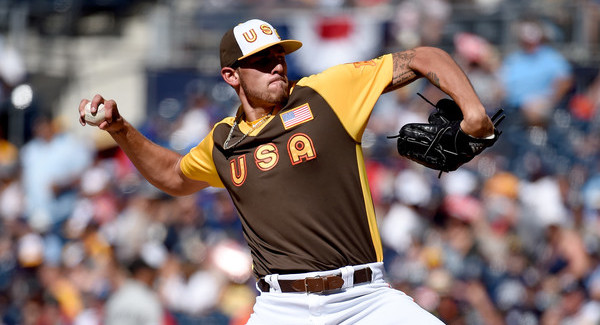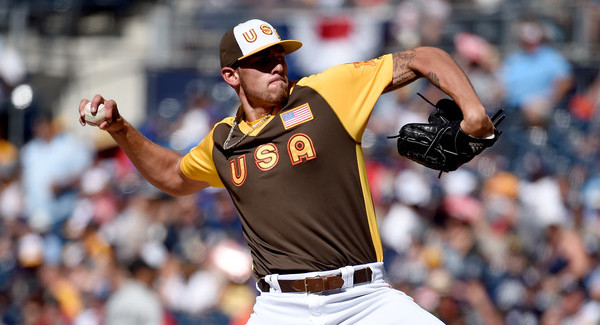 Even after removing McCullers from consideration, the Astros still have a handful of young arms worth targeting in a McCann trade. None of them are future aces — the Yankees aren't getting anyone with that kind of upside for McCann anyway — though a few of them are potential long-term rotation pieces. Let's run them down quickly (2016 ERA/FIP):
RHP Chris Devenski (2.16/2.34 in 108.1 IP): Devenski, 26 on Sunday, spent most of the season in the bullpen. He has four pitches though, so there's at least a chance he can start. Devenski's minor league track record isn't great, and given his success as a reliever in 2016, my guess is he's a bullpener for life now. Once a fringe guy has that much success in relief, he usually stays there.
RHP Michael Feliz (4.43/3.24 FIP in 65 IP): The 23-year-old Feliz has the Michael Pineda starter kit: mid-90s gas and a wipeout slider, but his changeup lags. Like Devenski, he spent most of the season in the bullpen, but I think he'll get another chance to start given his age.
RHP Joe Musgrove (4.06/4.81 FIP in 62 IP): Musgrove was a top 100 prospect last year but he doesn't look like a typical top pitching prospect. He's a command and control guy with a low-90s gas and three secondary pitches (slider, curve, change). Musgrove turns 24 next month.
RHP David Paulino (5.14/4.29 in 7 IP): Paulino is a flamethrower. He sits mid-90s and touches 99 mph, even as a starter, and his curveball is an out-pitch. He's still working on his changeup though. Paulino turns 23 in February. He missed all of 2014 following Tommy John surgery.
RHP Brady Rodgers (15.12/5.31 in 8.1 IP): Rodgers, 26, is the least heralded pitcher in this post, but the guy legitimately throws six pitches (four-seamer, sinker, cutter, slider, curveball, changeup) and he locates. Nothing sexy about him, but he'll be a big leaguer for a while, even with a fastball that sits 90 mph.
Here is MLB.com's top 30 Astros prospects list, if you're interested in looking that over. My top three targets are Musgrove, Feliz, and Devenski, in that order, and I want the Yankees to get another piece too. You can't trade a top ten catcher, even one on the wrong side of 30 like McCann, straight up for a pitching prospect. That's asking for trouble. The second piece doesn't have to be great, but there has to be something else.
3. The Yankees should be open to eating money. Money is the single biggest advantage the Yankees have over the rest of the league. Hal Steinbrenner is content with marginalizing that advantage by focusing on getting under the luxury tax, but it's still an advantage. The Yankees should absolutely be willing to eat some of the $34M left owed to McCann the next two years in order to get a larger return. They ate money to facilitate the Carlos Beltran trade at the deadline, so I assume they're willing to do the same with McCann. It just needed to be said. Essentially trading money for prospects is exactly the kind of move the Yankees should make.
4. Again: The Yankees don't have to trade McCann! I've said this a bunch of times already and I get the feeling I'm going to repeat it another hundred times before the end of the offseason. The Yankees don't have to trade McCann. Keeping him is a viable option. Having the best catching tandem in baseball sure would be cool, right? Especially since the two guys hit from opposite sides of the plate.
"Based on his success the past season, Sanchez is the everyday catcher. (McCann) can DH and catch a minimum of two games a week. We have two power-hitting catchers, one right and one left who hit 20 homers," said Cashman to George King. By all means, take offers for McCann and negotiate like hell. If someone steps up with a strong offer, great, take it. If not, just keep him. No need to make a move for the sake of making a move.