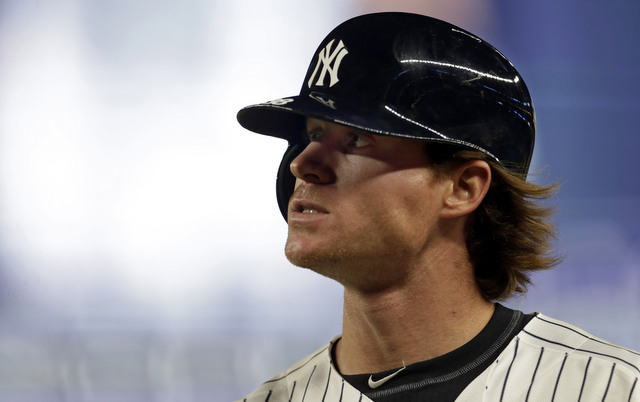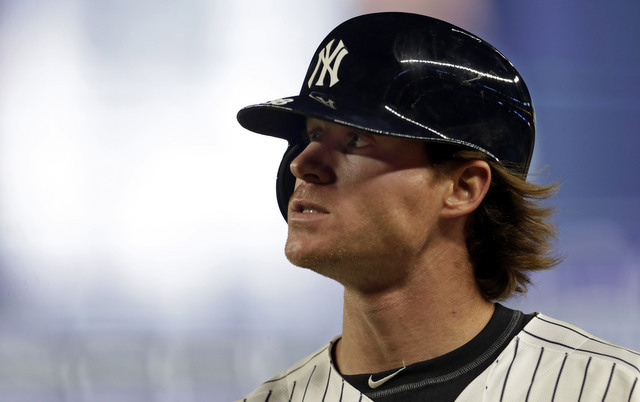 As our season review series winds down, it's time to get into the spare part players. The guys who came up from the minors or were picked up off the scrap heap to plug roster holds for a few days or weeks. Every team needs players like this to get through the 162-game season. These days it takes 40-50 players to win. Maybe more. Not 25.
For all intents and purposes the Yankees had five regular outfielders this past season. Brett Gardner and Jacoby Ellsbury were the mainstays. Carlos Beltran was the right fielder until being traded away, which is when Aaron Judge took over. Aaron Hicks was the fourth outfielder all season. The Yankees also used three fill-in outfielders too: Ben Gamel, Mason Williams, and Eric Young Jr. All three had big league time in 2016.
The Blocked Outfielder
The 2015 season was a breakout year for Gamel, who went from fringe prospect to big league consideration by hitting .300/.358/.472 (138 wRC+) with 28 doubles, 14 triples, ten homers, and 13 steals in 129 Triple-A games. That earned the 24-year-old a spot on the 40-man roster and a long look during Spring Training this year. He wasn't going to win an Opening Day roster spot unless someone else got hurt, but the Yankees had their eyes on him.
Gamel started the 2016 season relatively slowly with the RailRiders, hitting .286/.346/.363 (104 wRC+) in his first 23 games. The Yankees called him up for the first time on May 5th. Alex Rodriguez (hamstring) was on the disabled list and Gardner (elbow) was day-to-day after being hit by a pitch, so the bench was shorthanded. Gamel appeared in three games (two starts) and picked up his first career hit in his first career at-bat.
Gamel went 1-for-8 (.125) with a walk and a strikeout in those three games before being sent down once Gardner's elbow starting feeling better. The Yankees called Gamel up one other team this season: on August 1st, after trading away Beltran. Gamel was on the roster for three days until Gary Sanchez was called up. He laid down a sac bunt in his only plate appearance during those three days.
With Triple-A Scranton, Gamel hit .308/.365/.420 (126 wRC) with 26 doubles, five triples, six homers, and 19 stolen bases in 116 games. That earned him the International League MVP award. A tremendous honor, no doubt, but there was one small problem: the Yankees still didn't have a spot for Gamel on their big league roster, both short and long-term. Even with Beltran gone. The team is very deep in outfielders and something had to give.
That something was Gamel. On August 31st, a few hours before the deadline to acquire players and have them be postseason eligible, the Yankees sent Gamel to the Mariners for righties Juan DePaula and Jio Orozco, a pair of 19-year-old rookie ball pitching prospects. Orozco is the more highly regarded prospect of the two. At least we got a chance to see Gamel's long flowing locks before the trade: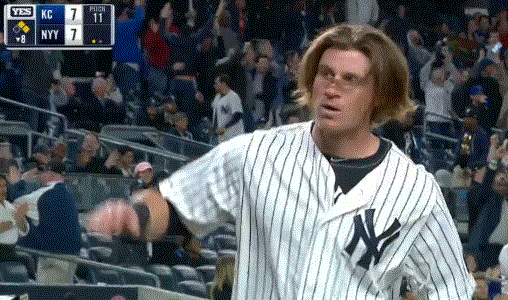 The Yankees traded Gamel because, unlike Tyler Austin a year ago, he wouldn't have slipped through waivers unclaimed. They needed the 40-man roster space and outfield was a position of depth, so they moved Gamel when his value was at its absolute highest. The guy had just won IL MVP. How much higher could you sell?
Following the trade Gamel was a semi-regular for Seattle in September. He hit .200/.289/.325 (72 wRC+) in 47 plate appearances while striking out 31.9% of the time. I'm not really sure what the Mariners have planned for him going forward — he has two minor league options remaining and there's a very real chance he'll spend a third straight season in Triple-A in 2017 — but they offer him a clearer path to big league playing time than the Yankees.
The Injured Outfielder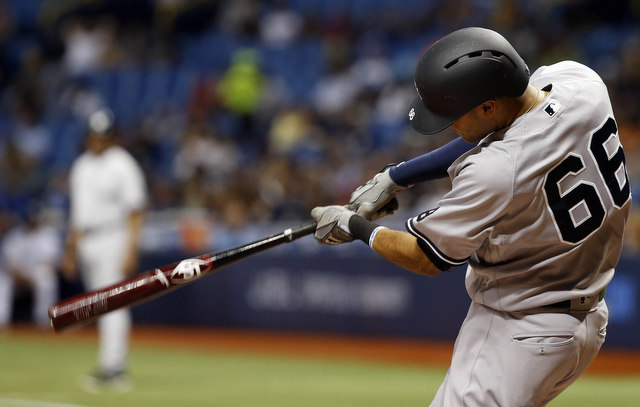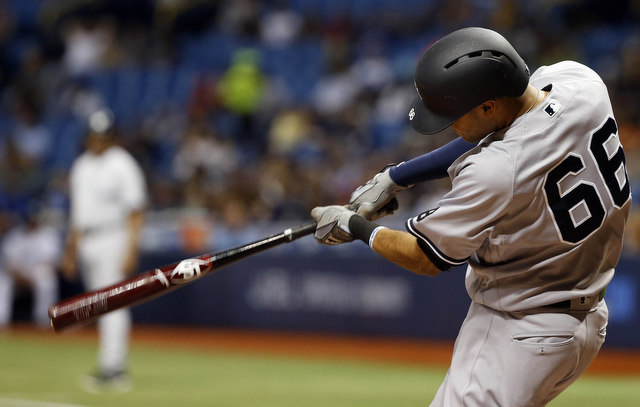 Last season was a breakout year for Gamel. It was maybe the most important year of Williams' career. Following years of poor play and insubordination, the proverbial light bulb went on, and Williams began to take his career more seriously. He tore up Double-A and Triple-A, and earned his first MLB call-up in May. His first taste of the show lasted eight games before a shoulder injury ended his season.
Williams, now 25, tore up his shoulder diving back into first base on a pickoff throw and needed season-ending surgery. His rehab carried over into 2016 and it wasn't until early July that he played in his first official minor league rehab game. Williams took the usual rookie ball to High-A to Triple-A rehab route, and in 47 total minor league games this summer, he hit .309/.327/.399 (106 wRC+) with ten doubles, two triples, and a homer.
When rosters expanded on September 1st, the Yankees did not call Williams up. Their plan was to leave him with the RailRiders through the Triple-A postseason so he could play everyday and make up for all the time he lost to injury. Plans changed when Judge tweaked his oblique and had to be shut down for the season. The Yankees needed another outfielder, so Williams got the call.
Mason appeared in only 12 games with the Yankees and five of them were as either a late-inning defensive replacement or at the end of a blowout. In his seven starts, Williams went 8-for-25 (.320) with three multi-hit games. His biggest moment came on September 25th, when he tied the game in the ninth inning with a single against Blue Jays closer Roberto Osuna.
All told, Williams put up a .296/.321/.333 (77 wRC+) batting line with a 41.4% strikeout rate in a mere 29 plate appearances after being called up. He also played some mean outfield defense. Those numbers don't really help us in any way. They don't tell us anything about Williams going forward. The most important thing is that the shoulder is healthy.
Depending how the offseason shakes out, Williams could come to Spring Training next year with a legitimate chance to win an Opening Day roster spot. Heck, if the Yankees trade Gardner, Williams might have a chance to win a starting outfield job. He does have a minor league option remaining for next season, which means at worst, he'll go back to Triple-A Scranton and be the first outfielder called up when the inevitable injury strikes.
The Designated Pinch-Runner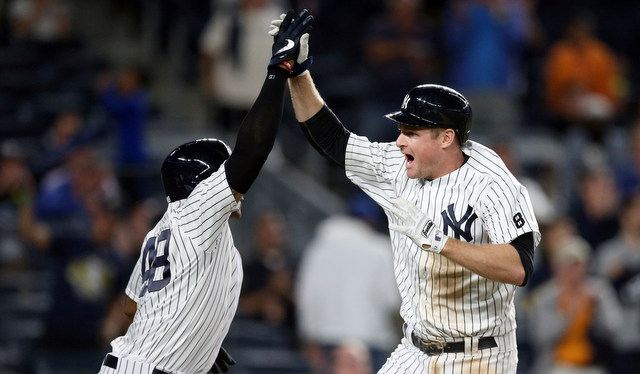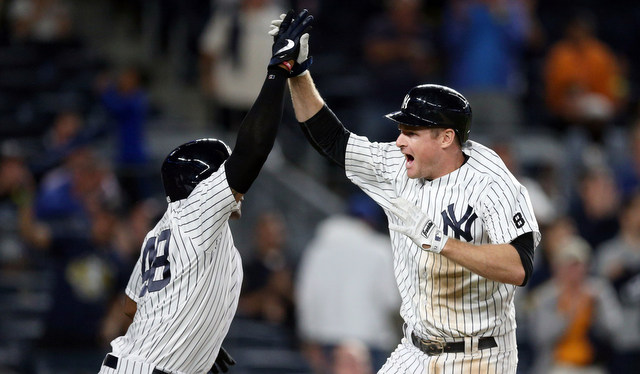 Not long after trading Gamel to the Mariners, the Yankees picked up Young in a cash trade with the Brewers. The veteran speedster was going to be the team's designated pinch-runner in September, the job Rico Noel held last year and Freddy Guzman held in September 2009. All Young had to do was run. That's it.
Turns out the Yankees didn't need Young all that much. The 31-year-old appeared in six games with the Yankees, and two of those appearances came in the late innings of blowouts, when Joe Girardi wanted to get the regulars off their feet. Young pinch-ran four times, and on two of those four occasions the next batter hit a home run, so he didn't even have to run.
In those six games Young stole one base, scored two runs, and went 0-for-1 at the plate. He also played five innings in the outfield. That's it. Some years the September pinch-runner has more impact than others. This was not one of those years. The Yankees outrighted Young off the 40-man roster after the season and he elected free agency. So it goes.