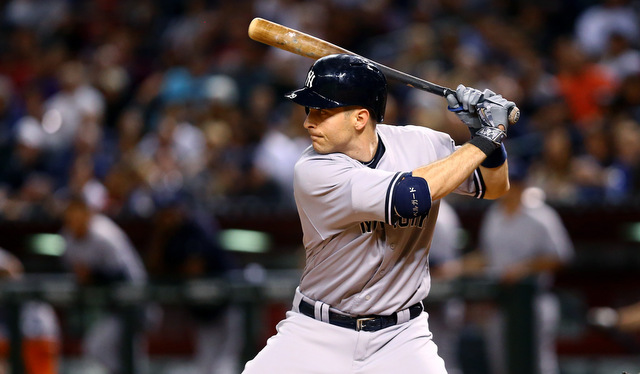 Building a quality bench is more difficult than it seems. Bench players are like relievers. Their performance can fluctuate wildly from year to year because they inherently work in small sample sizes, and weird stuff happens in small samples. A bench guy will hit .330 with a ton of clutch hits one year, then struggle to get off the interstate the next. Happens all the time. That's baseball.
The Yankees have spent the last few years building their bench through trades and from within. Signing free agent bench players is tough. Bench guys usually look for the most playing time when they hit free agency, and the Yankees rarely offer that. They tend to have a defined roster with set players at each position. This year, the Yankees cycled through a pair of bench players — one acquired via trade, the other developed from within — capable of playing first base, second base, and right field. Neither worked out too well.
The Good Fit Who Didn't Hit
Last year at the trade deadline the Yankees made just one small trade, acquiring Dustin Ackley from the Mariners for spare parts Ramon Flores and Jose Ramirez. Ackley, a former top prospect and No. 2 pick in the draft, seemed like a decent enough upside play. He's versatile, and the Mariners haven't had much success developing hitters over the years, so a change of scenery could have helped.
Ackley, now 28, had a nice little run with the Yankees after the trade, hitting .288/.333/.654 (162 wRC+) with four homers in 57 games. His spot on the 2016 bench was secure. Ackley had a very strong Spring Training, putting up a .298/.313/.404 batting line, and I remember wondering how the Yankees would get him in the lineup. They'd have to sit Mark Teixeira now and then, same with Starlin Castro and Carlos Beltran. And Alex Rodriguez.
Once the season started, Ackley rarely played, and when he did get a chance to play, he didn't perform. That seems to be how these things work. A guy appears to fit the roster well based on his positional versatility and bat, but he doesn't play. Call it the Curse of Garrett Jones™. Ackley appeared in nine of the Yankees' first 29 games and started only four of them. During that time he went 2-for-17 (.118) at the plate. Yeah.
Injuries to A-Rod, Teixeira, and Jacoby Ellsbury opened up some playing time in May, so at one point Ackley started 13 of 24 team games and appeared in six others. In those 24 team games, he went 7-for-44 (.159). On May 29th, Ackley's season came to an abrupt end when he managed to tear the labrum in his right shoulder diving back into first base on a pickoff throw.
Pretty much exactly what happened to Mason Williams last year. Dove back into first and tore up his shoulder. Sucks. Ackley actually remained in that game initially. He ran the bases and played another inning in the field before being removed. Tests after the game revealed the labrum tear. Ackley had his season-ending surgery five days later.
In 28 games and 70 plate appearances this season, Ackley hit .148/.243/.148 (11 wRC+) with six runs scored, four runs driven in, eight walks, and nine strikes. He did not have an extra-base hit or a multi-hit game. Ackley saw his most action at first base (85 innings), and he also saw time in right (54.1 innings) and at second base (one inning). Not to be forgotten is this great play at Camden Yards:
That's pretty much the only notable thing Ackley did this past season.
MLBTR
projects him to receive a $3.2M salary through arbitration next year, and while that represents no raise at all, it's too much for a fringe player coming off major shoulder surgery. Ackley was a non-tender candidate before the injury. The surgery made him a lock. The Yankees could bring him back on a minor league contract, but, as is often the case with these players, Ackley will look for the greatest opportunity, which figures to take him elsewhere.
The Utility Man in Training
Over the past two seasons the Yankees have made it pretty clear they believe Rob Refsnyder is most valuable in a utility role. They didn't give him a chance at second base last year whenever Stephen Drew slipped into one of his long stretches of nothingness, and when Refsnyder showed up to Spring Training this year, the Yankees pointed him towards third base and said get to work.
During Grapefruit League play Refsnyder saw most of his work at the hot corner, playing 54.1 innings at third compared to only 27 at second. He didn't see any time in the outfield. For the most part Refsnyder handled himself well. He made the routine plays and that was about it. He didn't look comfortable there, but he handled it well. At least until taking ground balls to the face on consecutive days at the end of March. Ouch.
The Yankees went with Ronald Torreyes for their backup infielder spot — fun fact: Torreyes is 17 months younger than Refsnyder — mostly because he can play shortstop and is a better all-around defender than Refsnyder. The Yankees sent Refsnyder to Triple-A Scranton and had him continue working out at third base. He also got reacquainted with right field. The team tried to make him as versatile as possible.
Refsnyder was called up for the first time in mid-May, after A-Rod landed on the DL with a hamstring injury. That stint in the show lasted one game. He started in right field on May 28th, when 1-for-3 with a double against the Athletics in Oakland, then was sent down five days later. Four days after that, he was called back up. Refsnyder returned after Ackley blew out his shoulder diving into first base.
The second stint with the Yankees was much longer than the first. Refsnyder remained with the big league team until mid-August, and during this stint the club gave him a crash course at first base to help cover during Teixeira's knee injury. Refsnyder had literally one afternoon session with infield coach Joe Espada before getting a start at first base. The Yankees threw him to the wolves.
As with third base in Spring Training, Refsnyder's early work at first base was fine. He made the plays he was supposed to make, though occasionally his inexperience showed. He'd wander too far off the base for a ball he should have let the second baseman take, that sort of thing. All things considered, Refsnyder handled the new position well on such short notice. He spent three weeks as the everyday first baseman while Teixeira was hurt too.
Once Teixeira returned, Refsnyder became a platoon player who was regularly in the lineup against righties, often hitting second. Usually he played right field, but he also saw action at first base, second base, and even some left field. Following a quick demotion to Triple-A in August — the Yankees were running thin on arms at the time and needed bullpen reinforcements — Refsnyder returned once rosters expanded in September and resumed his role as a platoon player.
Through three different call-ups, the 25-year-old Refsnyder hit .250/.328/.309 (72 wRC+) with good strikeout (17.1%) and walk (10.3%) rates in 175 plate appearances with the big league team. He also hit .274/.370/.355 (94 wRC+) against lefties. His at-bats were good, Refsnyder is a grinder at the plate, but he also hit for no power. Literally zero home runs despite calling Yankee Stadium home and watching balls fly out of the park all around the league all summer.
Refsnyder socked eight doubles in his first 83 at-bats with the Yankees, which is really good, especially considering he played sparingly. He then had one extra-base hit, a double, in his final 92 plate appearances of the season. Yikes. Here, look at Refsnyder's spray chart, via Baseball Savant: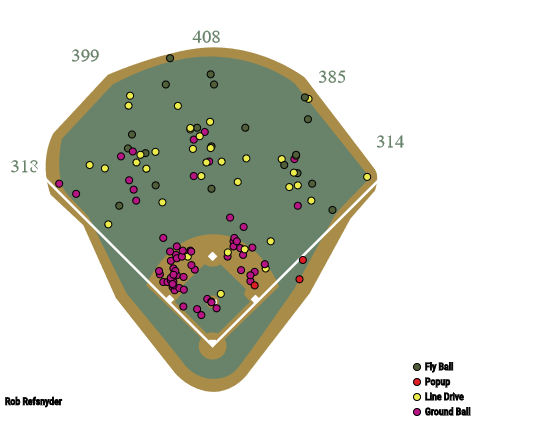 I count four balls hit to the warning track on the fly. In 175 plate appearances. Goodness. Refsnyder's average batted ball distance was a mere 197 feet. That's slap hitter territory. Chris Stewart (197 feet), Denard Span (196 feet), and Ichiro Suzuki (195 feet) reside there. Refsnyder, whose calling card is his bat, put the ball on the ground way too often (52.8%) and didn't generate enough hard contact (26.4% vs. 31.4% MLB average).
Give Refsnyder credit. He worked really hard to learn third base and then first base on the fly in an effort to make himself more valuable to the Yankees. And perhaps all the work he did on the defensive side of the ball took away from his offense. Refsnyder wouldn't be the first guy to go through that. Either way, he's a bat first player whose bat wasn't good enough in 2016. Quality at-bats are nice! But more production is needed going forward.
I really have no idea what the future holds for Refsnyder at this point. I could see him being an up-and-down bench guy next year. I could see him spending the entire season as a platoon bat. I could see him getting traded. There's a whole world of possibilities. Refsnyder has one more minor league option left for next year, so the Yankees have some time. He's a nice depth player to have. At some point though, Refsnyder's going to have to take an opportunity and run with with it.