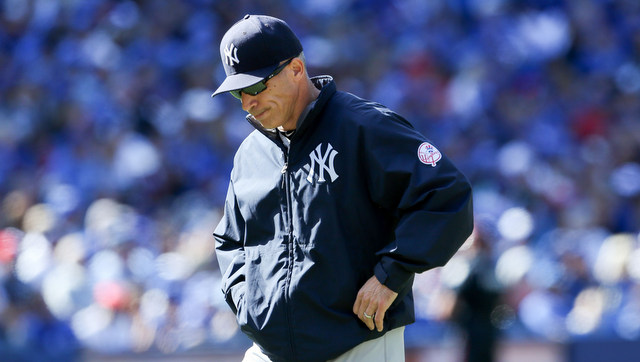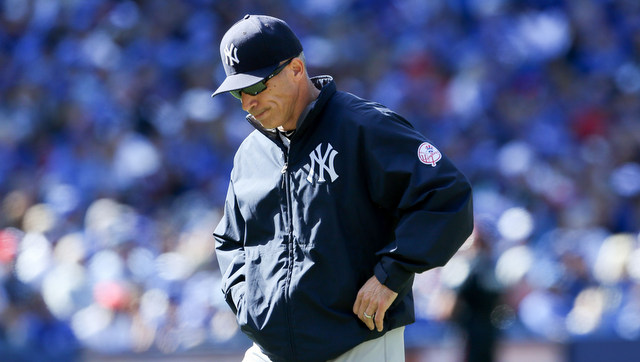 Joe Girardi's ninth season as manager of the Yankees — only Miller Huggins (1918-29), Joe McCarthy (1931-46), Casey Stengel (1949-60), and Joe Torre (1996-2007) had longer continuous stints managing the team — was unlike any of his previous eight seasons at the helm. From 2008-15, it was win win win, even when perhaps it shouldn't have been.
In 2016, the objective changed. The goal coming into this season was to win and the goal remained the same until the trade deadline, when the roster dynamic changed. The Yankees sold veterans for prospects at the trade deadline, and while they feigned contention in August and September, the transition had begun. Girardi's mission became developing the young players the Yankees added to the roster.
Evaluating a manager is basically impossible from where we sit as outsiders. It's not nearly as simple as comparing the team's actual record to their expected record based on run differential — the Yankees went 84-78 this year despite a 79-83 expected record based on their -22 run differential — for what I think are obvious reasons. There's randomness at play and the run differential/expected record theory isn't perfect.
Only so much of what the manager does is visible. He builds the lineup and makes pitching changes, and occasionally calls for a bunt and a hit-and-run, things like that. Most of the manager's work happens behind the scenes, where he has to manage and motivate 25+ alpha males for more than seven months a year. That happens in the clubhouse, on the team plane, at the hotel, on the phone, and at home.
Effort level has never really been an issue for the Yankees under Girardi, based on what I've seen. Every team looks lethargic when they have problems scoring runs and the Yankees are no different. That's not what I'm talking about. The players play hard deep into the season and the mental mistakes are generally kept a minimum. Believe me, there are a lot of teams out there that are completely checked out mentally come September.
When it comes to on-field decisions, Girardi is as predictable as it gets. He puts his players in specific roles and sticks with them until it's no longer possible. I'm sure the players appreciate that. They all like knowing their role. Let's attempt to break down Girardi's on-field decision making this past season.
Bullpen Usage
Girardi has a reputation for being a strong bullpen manager, and while I agree he is, that reputation has become a bit outsized in recent years. Dellin Betances has worn down the last few years, and Girardi's late-inning bullpen management is paint by numbers. Closer pitches the ninth inning. Eighth inning guy pitches the eighth inning. Seventh inning pitches the seventh inning. At least one 2016 Yankee thinks that approach is questionable.
"I know when (Aroldis) Chapman came back to us for the Yankees this year, Dellin and I were kind if up in the air about what order we would pitch," said Andrew Miller to Jon Heyman a few weeks ago. "And in some instances it created a mess because we were both warming up next to each other … I've been lucky to have (managers) that really handled the bullpen well. But you hate to have two guys warming up at the same time. It seems wasteful in a sense."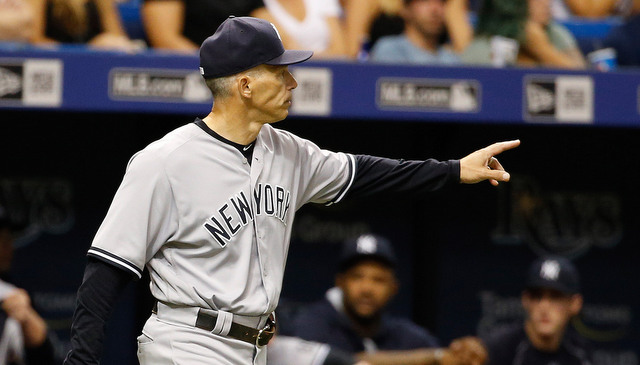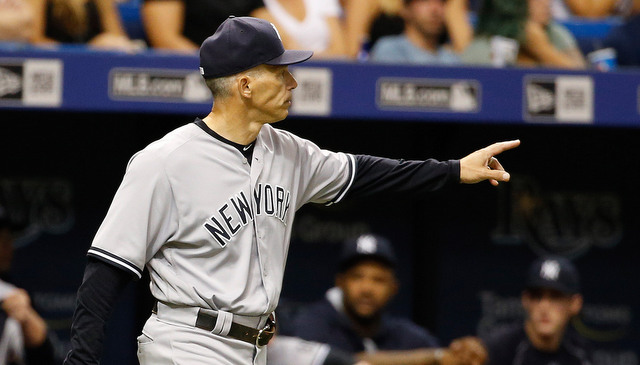 Once Chapman returned from his suspension, Girardi was like a kid on Christmas morning. He didn't know which toy to play with. There were multiple instances in which Betances would warm up in the seventh in case the starter got into trouble, but when he didn't, Dellin would sit down and Miller would pitch the eighth. Rather than use Betances in the eighth because he was already warm, Girardi ended up warming up two pitchers. Wasteful, as Miller said.
Friend of RAB Eno Sarris attempted to develop an analytical method to evaluate managers — almost like a manager version of WAR — and one of his components was bullpen optimization. His analysis found Girardi was 12th best among all managers in optimizing his bullpen in 2016 — his best relievers faced the other team's best hitters, etc. — but was also in the bottom third in rigidity, meaning he didn't deviate much from assigned innings.
It goes without saying this analysis is far from perfect — it doesn't account for all sorts of variables, like the days a reliever wasn't available because he was puking his brains out in the clubhouse — though as a big picture look, it passes the sniff test. The results make sense to me. Girardi is flexible enough to use Betances outside his assigned inning under certain circumstances. Otherwise everyone pitches in specific situations.
Platoon Advantage
The Yankees have consistently ranked among the best teams when it comes to getting the platoon advantage offensively. Here are the top three teams in percent of plate appearances with the platoon advantage in 2016:
Indians — 70%
Yankees — 68%
Mariners — 68%
No other team was over 64%. The Yankees were helped out by having a bunch of switch-hitters — Carlos Beltran, Chase Headley, Aaron Hicks, and Mark Teixeira combined for 1,715 plate appearances, or 28% of the team's total — but Girardi also does a good job with platoon bats. When Austin Romine started, it was usually against a lefty. When Rob Refsnyder found his way into the lineup, it was usually against a lefty.
There are times Girardi goes overboard — remember Brendan Ryan, Platoon Bat? — and sometimes he seems completely unable to anticipate the other team's move. There were a few instances in September when Girardi would pinch-hit Brian McCann for Billy Butler against a right reliever, only to have the other team counter with a lefty reliever. He'd choose McCann against a lefty over Butler against a righty even though the numbers said it was the wrong choice. Nitpicky? Yes. Doesn't make it any less true though.
Instant Replay
This was the third season of the instant replay system, and for the third straight year, the Yankees had one of the highest success rates in baseball. The call was overturned on 68% of their challenges. Only the Royals were better. They were at 69%. The Yankees had the highest success rate in 2014 (82%) and 2015 (75%) as well. Video review man Brett Weber is nails.
There's also this: the Yankees were dead last with only 28 challenges this year. Last year they had the ninth fewest challenges. The year before they had they fifth fewest. Once is a fluke, twice is a coincidence, three times is a trend. Girardi is conservative with his replay challenges. We have three years' worth of data telling us that. He only uses them for sure things. He's not one to roll the dice. Remember this?
That's a potential leadoff triple in the seventh inning of a game the Yankees were trailing by three runs. Replays sure made it look bang-bang. The throw was there but Headley kinda sorta swim-moved around it. And yet, no challenge. The Yankees challenged zero plays that game. Their replay challenge went unused that night, like the vast majority of them.
I said this the last two years and I'm sticking to it: I'd like to see Girardi be more aggressive with his challenges. So his success rate will take a hit. Who cares? They don't give out a trophy for that. I get the argument that if you blow your challenge early in the game, you might not have it later when you need it. That's the risk you take. Girardi challenges so few plays as it is. The odds of that happening are small.
I'm not saying the Yankees and Girardi should challenge every close play, but surely they can do better than 28 challenges in 162 games, right? Did really only that few blown calls go against the Yankees (for the third straight season)? No, of course not. Come on. Girardi's (and Weber's!) success rate is high. Consistently one of the best in baseball. It'd be nice if they were a little more liberal with the challenges rather than leaving so many unused.
The Farewell Tours
Girardi, who is fond of saying he's not here to manage farewell tours, had to manage two farewell tours this past season. First came Alex Rodriguez's in August, then came Teixeira's at the end of the season. Teixeira's went far smoother than A-Rod's. Girardi helped create some of the A-Rod awkwardness.
"If he wants to play in every game, I'll find a way," said the skipper after A-Rod's forced retirement was announced. Then, of course, Rodriguez didn't play. The Yankees were in Boston, where A-Rod played his first career game, and he was denied the opportunity to play.
"I came to the stadium really excited, hoping I would play all three games or maybe two out of three," said Alex after finding out he would ride the bench in the first game of the series. "He just said, 'We're trying to win games.' It was surprising and shocking."
"I'm aware of what my quotes were," said Girardi. "That there would be conversations and I would try to get him in every game, I said that. But what I'm saying is, I made a mistake. And I'm admitting that. And I'm admitting that to everyone who's watching because I have a responsibility and I'm trying to take care of my responsibility."
The Yankees had sold at the deadline the week prior, and while the goal should always be to win, Girardi's words sounded hollow. Especially since A-Rod sat for long stretches of time, but when he did play, he batted third or fourth. It made no sense. It was the Derek Jeter farewell tour but more convoluted.
Rodriguez's final night with the Yankees was incredible. His final week was not Girardi's finest moment. He said one thing and did another, and it just didn't come off well. He's in charge of the clubhouse and trust is important, yet he went back on his word with the most veteran and one of the most respected guys in the clubhouse. Eh.
Outlook for 2017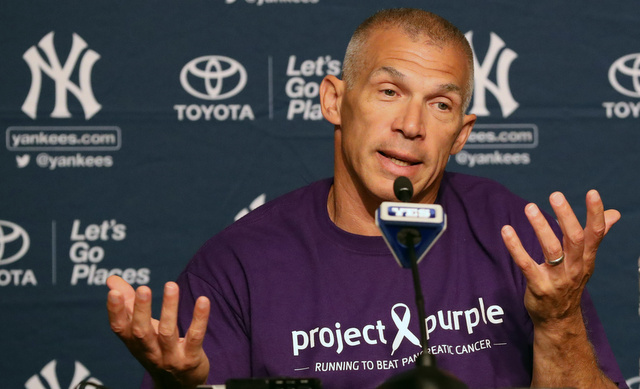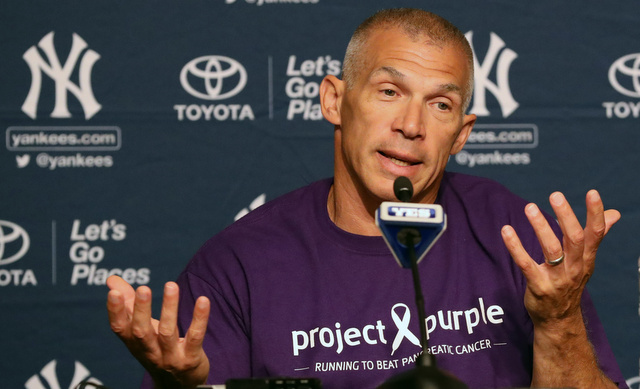 Given the direction of the franchise, the Yankees have to decide whether Girardi is the right manager to lead them through this rebuild transition. Managing a team designed to win right now is much different than managing a team built around a bunch of young players trying to find their footing in the show. Girardi had a team like that with the 2006 Marlins, so it's not a completely new experience, but it will be very different.
Girardi's contract expires after the 2017 season and it's important to note Brian Cashman and Hal Steinbrenner love him. If I had to bet right now, I'd bet on Girardi getting a new deal next winter. I also think the chances of a managerial change next year — as in after 2017, when his contract expires — are higher than they've ever been before. The Yankees haven't played a postseason series in a while and that will only be tolerated so long, even with the youth movement underway.
Personally, I think Girardi's a good but not a great manager in terms of on-field strategy. He's not going to do anything that revolutionizes the game. He's going to stick to the same approach because he's stuck to that approach since the day the arrived in New York. A-Rod's farewell tour notwithstanding, Girardi seems to do well in the clubhouse, and that's the most important part of his job.