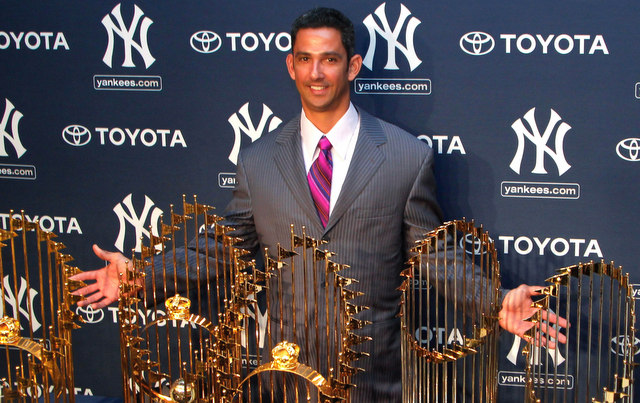 For the first time ever, a member of the Core Four (groan) is eligible for the Hall of Fame. Longtime Yankees catcher Jorge Posada is one of 19 newcomers on the 2017 Hall of Fame ballot. The BBWAA officially released the 34-player class of Cooperstown hopefuls earlier today. Here's the ballot.
Posada played his entire career with the Yankees and is one of the best hitting catchers in baseball history. He retired as a career .273/.374/.474 (121 OPS+) hitter with 275 home runs in parts of 17 seasons from 1995-2011. During his peak from 2000-07, Posada hit .283/.389/.492 (130 OPS+) and averaged 23 homers and 136 games caught per season. He won five World Series rings too, though he wasn't exactly an integral part of the 1996 team.
Among the other first time eligible players joining the Hall of Fame ballot this year are Manny Ramirez, Ivan Rodriguez, and Vlad Guerrero. Manny won't get in because he was suspended not once, but twice for performance-enhancing drugs as a player. Rodriguez never tested positive but there was plenty of suspicion. Vlad? With Vlad it's a question of whether his career warrants induction, not PEDs.
In addition to Posada and Rodriguez, other players on the ballot with ties to the Yankees are Roger Clemens, Mike Mussina, Tim Raines, Gary Sheffield, and Lee Smith. Fred McGriff is also on the ballot. He never played for the Yankees because they traded him as a minor leaguer, but they did draft him. Raines is on the ballot for the tenth and final time, so this is his last chance to get in.
My guess is Rodriguez, Raines, Jeff Bagwell, and Trevor Hoffman get in this year with Vlad falling just short. Raines, Bagwell, and Hoffman all came close to getting in last year and I expect them to get over the hump this time around. Posada's case is borderline, and while I don't think he'll get in, he'll no doubt receive enough votes to remain on the ballot going forward.
As a reminder, players need to receive 75% of the vote for induction and 5% to remain on the ballot another year. The Hall of Fame voters have to send in their ballots by the end of the year. The 2017 Hall of Fame class will be announced during a live MLB Network broadcast on Wednesday, January 18th.