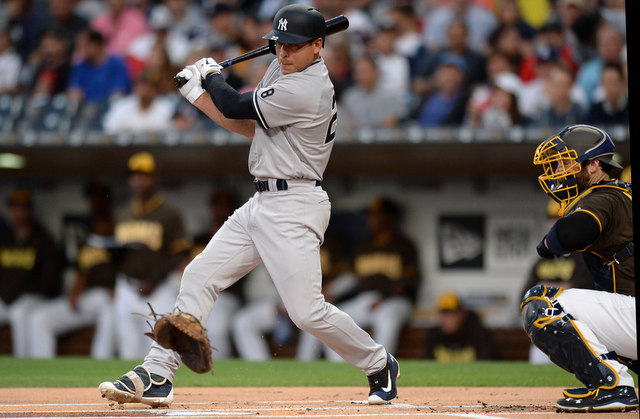 Last year Jacoby Ellsbury shattered the very obscure single-season catcher's interference record. He reached base 12 times (12 times!) because his swing hit the catcher's glove. The previous record was eight by Roberto Kelly with the 1992 Yankees. There were 39 instances of catcher's interference around the league last year and Ellsbury had nearly one-third of him. Hey, that's why they gave him all that money, to smash records.
Anyway, Ellsbury has always had a knack for catcher's interference — he has 26 in his career, second all-time to Pete Rose, who had 29 in 10,924 more plate appearances (!) — so it's not a complete surprise he set a new record last year. But going from two or three catcher's interferences a year to a dozen in one season is staggering. It's like averaging 10-15 homers a year and then suddenly having a 60-homer season.
The catcher's interferences were a fun running gag, and hey, any way Ellsbury can get on base helps the team. That said, they're a symptom of a larger problem. Ellsbury's swing is out of whack. He's swinging too deep in the strike zone and not making good contact out over the plate. Hitting coach Alan Cockrell discussed this last week and said they've been working on it this offseason. From Bryan Hoch:
"For me, the biggest thing with Jacoby is moving his contact out front a little bit more," Cockrell said. "I've never seen a guy hit the catcher's mitt like he did. I think when Ells' contact point was maybe three, four more inches more out front from where it is right now, he can stay on balls. We're not looking for power production, but he can be a very, very productive hitter."

…

"We looked at all the video from his really big year in Boston, and his contact point was probably three or four inches more," Cockrell said. "So we tailored his cage routine and his maintenance work to where we're moving contact — not a lot, not a foot and a half, but just three to four inches more in front of his body."
As far as I know there's no data on where the hitter makes contact within the zone. The point of contact is not something PitchFX records, and if Statcast has that data, I have no idea where to find it. Anecdotally this makes sense though. Ellsbury is not necessarily losing bat speed. His swing path is all screwed up. It's too long in the back.
In theory, moving Ellsbury's contact point up a few inches means there will be more leverage in his swing when the bat strikes the baseball, allowing him to better drive pitches. When he makes contact deep in the zone, there's not much swing behind it, so he's not impacting the baseball all that hard. At least that's what I think is happening here, anyway. Correct me if I'm wrong.
Cockrell mentioned they've been working on this since last year, so it's not a new development. They didn't review tape after the season and discover the flaw. They've known about it a while but haven't had much success fixing the problem. "It's one of those midseason things that feels awkward, and it's tough to go out and play every night and think about something like that. This is something that we'll talk about in Spring Training," said the hitting coach.
I'm not terribly optimistic Ellsbury will be an above-average hitter going forward. He's hit .264/.326/.382 (95 wRC+) in nearly 1,800 plate appearances with the Yankees and ZiPS projects a .269/.324/.383 (97 OPS+) batting line in 2017. That sounds about right to me. I don't think moving his contact point out a few inches will be a magic cure-all, and if Ellsbury can stay within 5% of league average next year offensively, I'll take it.
The catcher's interference record was a weirdly entertaining sidebar to the season, and while reaching base is a good thing, they were part of a much larger problem. Ellsbury is not anywhere close to the player the Yankees thought they were getting based on what they paid him, but if Cockrell can move his contact point up and turn some of those catcher's interferences into base hits, it'll help Ellsbury contribute more to the offense, and the Yankees could sure use it.