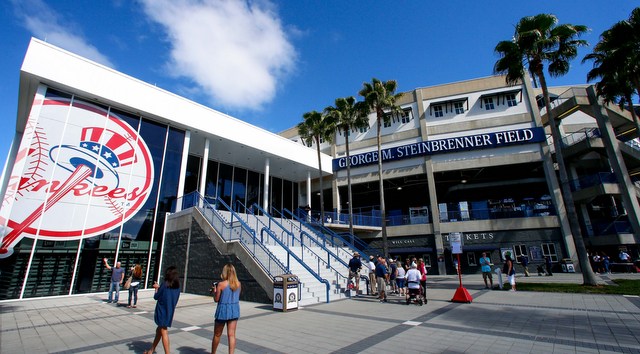 The first four Grapefruit Leagues games are in the books and the Yankees won three of them. They rallied to tie the game in the ninth inning in the one loss too. It's good to have baseball back, isn't it? Spring Training games are fun in their own way. Are you ready for some super small sample size reactions? Good. I have some thoughts.
1. Let's get to the bottom of this Aaron Judge leg kick business, shall we? We know Judge and hitting coach Alan Cockrell worked on something with his lower half this offseason. What exactly? No idea. At one point it appeared he eliminated his leg kick, but nope, that's not the case. My bad. Here is Judge last spring (left) and Judge this spring (right):
I wouldn't say Judge's leg kick is smaller this spring, but he is getting his foot down a little quicker. The GIFs are synced up at the moment he lifts his front foot, and you can see it touches down a tad earlier than last year. Last spring his foot kinda dangled out there for a second. This year it's up and down, and he's ready to hit. I have no idea whether this is what Judge and Cockrell worked on over the winter, but there's his leg kick last year and his leg kick this year. They look about the same size — Judge isn't picking his leg up any higher (or lower) — but this year his front foot gets down a tad bit sooner, ostensibly putting him in better position to hit. Intrigue!
2. Three quick observations about the kids. One, Gleyber Torres looks like a big leaguer. I don't mean he's ready to play in the big leagues right now, but the way he carries himself. He's calm at the plate and in the field. Gleyber's good and he knows it, though not in an arrogant way. It's a quiet confidence. Two, Clint Frazier has been on everything. He's gone 3-for-5 with a double and a triple, and even his two strikeouts were good at-bats with quality swings. It's easy to see what Brian Cashman meant when he said Frazier has "legendary bat speed." The kid gets the bat to the ball in a hurry. And three, Billy McKinney sure does have a pretty swing. I have no idea whether he'll actually hit and be a productive player long-term, but his swing is a sweet. However his career plays out, McKinney will look good doing it. These first few games have been more fun than I expected as far as the prospects are concerned.
3. Each of the five fourth and fifth starter candidates have already appeared in games, and each has thrown two scoreless innings. And that means nothing to me right now. The first weekend of Grapefruit League games was never going to give someone an edge in this race. I was happy to see Luis Severino throw some nice changeups Sunday, though I've been doing this long enough to know a handful of changeups against minor leaguers (look at at the lineup Severino faced) in late-February don't mean much of anything. The most encouraging thing I saw from the rotation candidates was probably Chad Green's velocity and overall health. His 2016 season ended early due to a sprained elbow ligament and strained flexor tendon, remember. That's a scary combination of words. Green ran his fastball up to 94 mph in yesterday's start and he was throwing free and easy. Hooray for that. The five rotation candidates got through their first appearances in one piece and that's good. Once they get some more innings against MLB caliber hitters under their belts, those last two rotation spots will start to sort themselves out.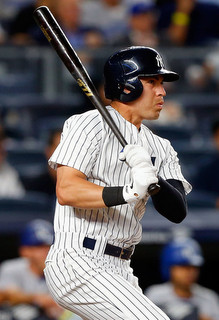 4. The Jacoby Ellsbury criticism has definitely been ratcheted up a notch this spring. I guess that's what happens when Alex Rodriguez and Mark Teixeira aren't here to kick around anymore. Both Cashman and Joe Girardi have been asked directly about Ellsbury's disappointing performance as a Yankee, Ellsbury himself has fielded questions about it, and the YES booth was on him Sunday as well. "We believe there's more in there, we've seen it. Our job is to get that out of him," said Girardi to George King, which is about as harsh as you'll hear him criticize a veteran player. Hopefully Ellsbury uses this as motivation and has a strong bounceback season. That would be cool. I still think it's unlikely he'll be moved down in the lineup when the season begins — maybe a few weeks into the season, but not Opening Day — but I'm starting to think there's a chance it will happen. Not a big chance, but a chance. I'd say it's 90/10 in favor of staying at the top of the lineup. Sound good?
5. I thought it was kinda interesting Brett Gardner played center field and Aaron Hicks played left field in the first Spring Training game last week. Girardi said last season he wanted to keep Gardner in left field and he did. Gardner started only two games in center field last year, both in September when Hicks was on the disabled list and Mason Williams was still in Triple-A. Ellsbury got those days off and Gardner was the only other center field option. In all likelihood this is nothing. The Yankees are giving Gardner some center field time in Spring Training just to keep him sharp out there in case he's needed. But maybe they consider him a better center fielder than Hicks at this point. By and large Hicks was really good in the field last year, though he took some funky routes at times, and stuff like that tends to stick in your memory. Hicks has played three games this spring, all in corner spots. His center field usage the rest of the spring is a #thingtowatch.