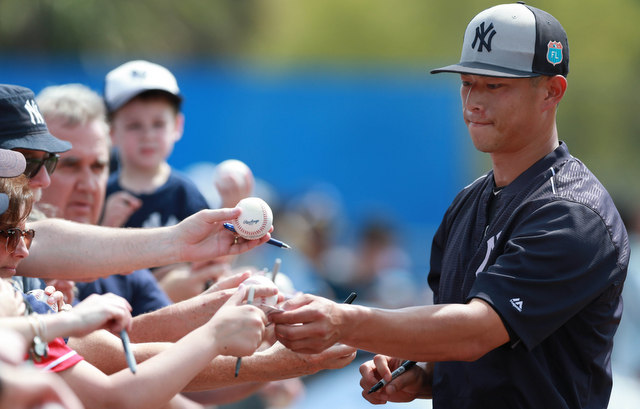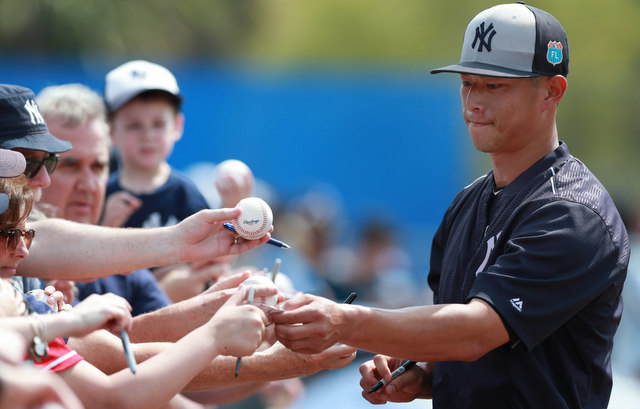 The Yankees suffered their first major injury of the year last week, when Tyler Austin fouled a pitch into his left foot during batting practice and suffered a fracture. He'll be out at least six weeks. His chances of making the Opening Day roster weren't great to begin with following the Chris Carter signing. Now Austin has no chance to break camp with the team.
The injury somewhat clarified the first base position battle, a position battle that includes both first base as well as one bench spot. Carter signed a guaranteed big league contract and was always going to be part of the Opening Day roster. Nothing changed there. Here's the rest of the pecking order for this position battle:
Greg Bird
Tyler Austin
Rob Refsnyder
Ji-Man Choi
Austin was next in line behind Bird. That seemed pretty clear. Refsnyder figures to be ahead of Choi simply because he's already on the 40-man roster, and also because he's a little more versatile. Choi has outfield experience, though he really should be limited to first base only. You can stick Refsnyder in right and he won't kill you defensively, plus he can handle second base in a pinch. That gives him an edge over Choi.
It's no secret the Yankees want Bird to take that first base job and run with it. Carter gives the club a viable platoon partner for all those tough AL East lefties (Chris Sale, David Price, etc.) and also some insurance in case Bird does need more time to get his swing back. That insurance is already proving useful thanks to Austin's injury. I told you these things have a way of working themselves out, right? Right.
Austin's injury opens the door for Refsnyder a little bit. He's now next in line for a call-up, whether that's due to an injury early in the season or even on Opening Day should the Yankees not deem Bird big league ready. Austin was first in line for any roster opening. Now it's Refsnyder, at least until Austin is healthy. (Mason Williams is out with an inflamed patella, which also works in Refsnyder's favor.)
I don't think Refsnyder's chances of making the Opening Day roster are all that good, not unless there's an injury, but now he could be the first call-up option when help is needed. Austin is going to miss at least six weeks, the Yankees say. It could be longer. And once he's healthy, he'll essentially have to go through Spring Training to get ready for the season. He won't pick up a bat and be ready to go.
Six weeks from the time of the injury is basically Opening Day. The Yankees are fortunate it happened at the very start of camp and not near the end. Austin could be healthy come the start of the season, and then after a few weeks of minor league at-bats to get game ready, he'll again be a big league option. With any luck, that will all happen in April. Until then, Refsnyder is Plan A among New York's minor league depth players.
I'm not quite sure where Refsnyder fits in the big picture long-term, and it's entirely possible he doesn't fit anywhere. This is his final minor league option year, so keeping him as depth is a no-brainer. The Yankees will be able to send him up and down as many times as they want. He offers a little versatility and, if nothing else, will grind out an at-bat offensively. Refsnyder may not have an inside track on an Opening Day roster spot, but the Austin injury does improve his chances of seeing the Bronx early in the season.