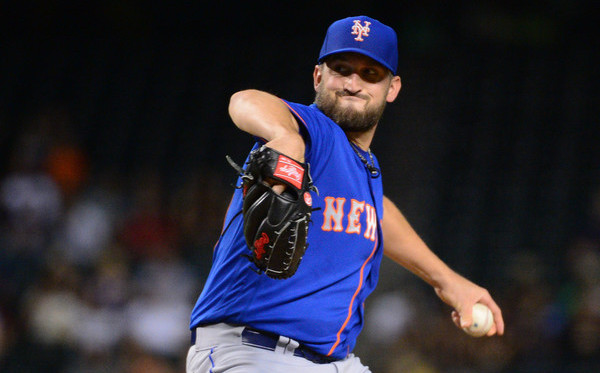 The Yankees made what will likely be their final free agent signing before Opening Day this weekend, inking veteran southpaw Jon Niese to a minor league contract. He pitched with a bad knee for much of last season and it showed in his numbers. A healthy Niese — he passed his physical yesterday, so he's healthy — could be a nice little pickup. The minor league deal means there's no risk anyway.
Niese, who is still only 30 and will spend the entire 2017 season at that age, has been a starting pitcher most of his career, though he's also pitched in relief. The Mets used him out of the bullpen during the 2015 postseason, and last year the Pirates moved him into a relief role because he pitched so poorly as a starter they had no other choice. Point is, Niese has experience as a starter and reliever, and versatility is always appreciated.
The Yankees, however, are looking at Niese strictly as a bullpen option in Spring Training, Joe Girardi confirmed yesterday. Despite the wide open fourth and fifth starter spots, the veteran Niese isn't a consideration for the rotation. That surprised me. Here's what Girardi said, via George King:
"(The bullpen is) how we envision using him,'' Girardi said. "He's one of those guys, if he's in the bullpen, he can do left on left or he can give you distance. As of right now, we aren't looking at him as a starter. We have the five guys vying for the two spots. We would look at him more long and short.''
On one hand, I'm glad the Yankees are sticking with the youth movement and prioritizing the young pitchers in the rotation race. On the other hand, why wouldn't you at least see what Niese looks like in Spring Training games before ruling him out for a starting job? What if he comes out firing BBs with a healthy knee and forces the issue? No one thought Bartolo Colon would throw well in Spring Training 2011, then his first pitch was 95 mph.
Ultimately, Girardi's words don't matter that much. They don't lock the Yankees into anything. If Niese comes out and looks fantastic in camp, the Yankees always have the option of re-evaluating things and looking at him as a starting pitcher. Plans change. For what it's worth, Niese is willing to do whatever. "I'm here to pitch to the best of my ability and make the team … Whatever the role, I want to make the ballclub," he said to King.
I'm excited to see the young pitchers this year — and let's be realistic, all those guys will get chances this season, that's the way the pitching cookie often crumbles — though I also think the Yankees should keep an open mind about using Niese as a starter. If he's healthy, he could be pretty useful in that role given his ground ball tendencies. Also, he is only 30, so if he has success as a starter, the Yankees could look to keep him around in 2018 (and beyond?).
Furthermore, the young guys are all going to be on some sort of workload limit. I don't know what the exact innings number will be — Luis Cessa let the kids with 147.1 innings in 2016 — but the number definitely exists. For all of them. The Yankees will have to monitor their workloads all summer, and not everyone will be able to follow the 2015 Luis Severino blueprint. Niese could help manage those workloads by making spot starts and whatnot.
My guess is Niese is going to be have to blow people away to get rotation duty at any point this year. If you're expecting him and the kids to give you similar production, the kids should be the priority. And they will be with the Yankees. I'm pretty sure about that. I do think the Yankees should keep an open mind about Niese as a starter this year, but for now, looking at him as a bullpen option is an okay move. Development of the young arms is more important long-term.