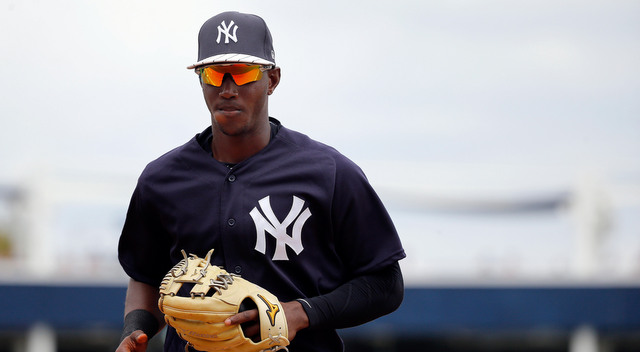 Jorge Mateo, the No. 7 prospect in the farm system, will begin playing center field a few days a week this coming season, farm system head Gary Denbo told Brendan Kuty. He'll also see time at shortstop, his natural position, as well as second base, another position he's played in the past. Center field is brand new though.
Denbo also confirmed Mateo will begin the regular season back at High-A Tampa, which doesn't surprise me. He hit .254/.306/.379 (99 wRC+) there last season, including .210/.255/.283 (56 wRC+) from June 1st through the end of the season. Yuck. The Yankees have held guys back for less. Here's more from Denbo, via Kuty:
"We feel like he still has adjustments to make offensively that we would like for him to start in the Florida State League this year and get off to a good start and see what happens, whether he's able to make it to the next level or higher," Denbo said. "But from all indications that we've got this spring, he's already in the process of making those adjustments."

…

"We don't take a lot of stock in Spring Training statistics. But what we do put stock in is when we see a player come back in better shape, bigger, stronger, his mindset is better, he's working harder and he's making adjustments offensively. The statistics don't always bear out how successful you are in Spring Training," Denbo said.
The center field move has been in the works for a while now. The Yankees had Mateo work out in center during Instructional League last fall as well as in Spring Training, though he's yet to play an actual game out there. Right now he's limited to taking fly balls and whatever else they do. Mateo is a good defensive shortstop, but with his speed, he might be a top of the line defensive center fielder.
I'm more interested in the offensive adjustments Denbo is talking about than the center field stuff. Mateo's position isn't going to matter much unless he starts bringing more to the table offensively. His biggest issue is a lack of plate discipline, which leads to a lot of chasing out of the zone and soft contact. Mateo's fast, but he's not going to make a career out of swinging at bad pitches and beating out infield singles.
The good news is the offensive ability is in there. Mateo is a freak athlete who showed more power last season than ever before — he went from two homers in 2015, one of which was an inside-the-parker, to eight homers in 2016 — plus his .278/.345/.392 (114 wRC+) line as a 20-year-old in Low-A and High-A in 2015 is pretty impressive. Mateo is not lacking physical ability. Not at all. He just needs to refine his game a bit.
This is a what have you done for me lately world, and when you have a poor season and get suspended like Mateo did last year, folks are going to be down on you. That's the way it goes. It's important to remember this is a 21-year-old kid though. A 21-year-old kid with an 80 tool (speed) and the athleticism to be a two-way threat regardless of whether he's at shortstop or center field. With any luck, Mateo will learn from last season and break out this year.