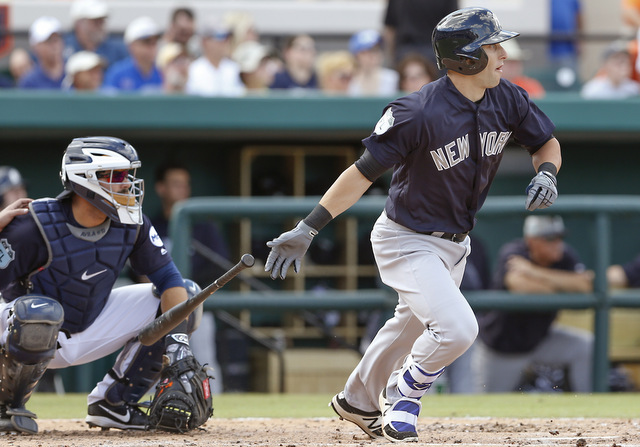 Ever since last year's trade deadline, nearly every conversation about the Yankees has focused on their farm system. It's unquestionably one of the best in baseball, and we've seen much of that young talent this spring. The big names like Gleyber Torres and Aaron Judge have been excellent. Others like Billy McKinney have opened eyes too. It's been a fun spring so far.
Outfielder Dustin Fowler has also been a standout this spring, going 7-for-23 (.304) with two triples and two steals. He's also played a very nice center field aside from one hilarious miscue two weeks ago — the ball deflected off his glove and bonked Clint Frazier in the head — which had more to do with a lack of communication than some sort of skill deficiency. The young talent has been exciting in Spring Training and Fowler is one of the guys making it happen.
"He's swung the bat well, he's played good defense, he's run the bases well," said Joe Girardi to Bryan Hoch. "You kind of see a young man growing up in front of you. He had a tremendous year last year, for the age that he was in Double-A. That's not always the easiest place to hit, the first couple months of the year, with the weather. It's not really a hitter's ballpark. He's made some big, big strides."
Fowler, who turned 22 in December, would receive more attention in a farm system not quite as deep as New York's. The Yankees have a ton of prospects and it's easy to overlook players as a result. Fowler was a three-sport guy in high school (baseball, football, wrestling) and he's really blossomed since being the club's 18th round pick in 2013. His ability is breaking through now that he is focusing on baseball full-time. And he's had some help, of course.
"(Double-A Trenton hitting coach P.J. Pilittere) really changed my career from a hitting aspect," said Fowler to Mike Mazzeo. "I was always a guy with my hands above my head, so he shortened me up, which allowed me to put the barrel on the ball more. Last year, my power numbers went up and my average went up a bit, so he's helped me out getting shorter and making contact more."
There is, however, one glaring deficiency in Fowler's game. I mean, it's tough to knock a left-handed batter who can get the bat on the ball (15.0 K% in Double-A in 2016), has some pop (.177 ISO), can run (25 steals), and can play above-average center field defense. But, in Fowler's case, he just doesn't walk. He had a 3.8% walk rate in a full season at Double-A last year, and in his career, it's a 4.4% walk rate in nearly 1,500 plate appearances.
Minor league walk rates are fickle and not very predictive — there are so many pitchers in the minors who have no idea where the ball is going, plus most talented hitters drive something in the zone before taking four balls — but in Fowler's case, the walk rate is emblematic of his approach. He's a free swinger. Not a wild hacker who swings and misses a lot, but someone who swings at anything he can reach and puts it in play. From MLB.com's scouting report:
Fowler makes repeated hard contact with a short, quick left-handed stroke. His bat speed, strength and plus speed give him 20-20 upside, though he's still learning to be an efficient basestealer. To reach his offensive ceiling, he'll need to get more selective at the plate because he walks infrequently and puts too many early-count pitches in play rather than waiting for one to drive.
The lack of walks and plate discipline hurts Fowler in two ways. One, it drags his OBP down. Duh. The guy hit .281 with a .311 OBP last year. It's .279 and .313 for his career. Yeesh. Nice AVG, yucky OBP. And two, Fowler doesn't get himself into as many hitter's counts as you'd like. It's possible he'd show even more pop with a few more 2-0 and 3-1 counts. Fortunately, Fowler recognizes this and is working on his plate discipline this this year.
"Get the walk rate up little bit, trying to figure out the zone a little bit better," said Fowler to George King and Ken Davidoff when asked what he's working on this spring. "It's going to help me in the long run. It will help everything. Strikeout rate will be better, squared-up contact will be better … I've always been an aggressive hitter. Just picking pitches that are in the zone that (I should) probably take, get to the next pitch, get a little deeper."
So far this spring Fowler has drawn three walks in 26 plate appearances. Yay? I guess. I wouldn't read much into that. Unfortunately there is no PitchFX data for the Grapefruit League nor is there reliable swing rate data for Double-A, so we can't look at Fowler's approach more in-depth. It's entirely possible he is showing more patience this spring and getting himself into better hitter's counts — Fowler is hitting .304/.385/.478 in those 26 plate appearances, after all — but we need more information.
Fortunately, there is some evidence a player Fowler's age (22) will see his walk rate improve as he gets into his mid-to-late-20s. Is it guaranteed to happen? Of course not. Being a free-swinger is in your DNA and it's a difficult thing to change. It's not impossible though. Here is a walk rate aging curve via Jeff Zimmerman: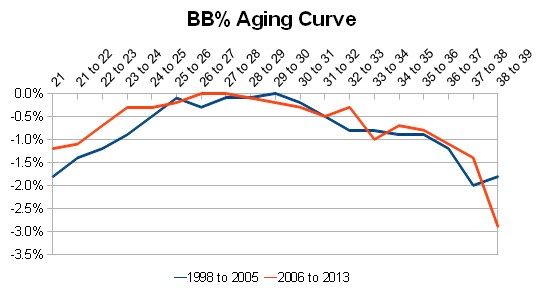 Keep in mind that aging curve is from 2014, so it could use an update. Point is, plate discipline is clearly something Fowler can improve, and it's the kind of skill that could allow him to make the jump from good prospect to great prospect. The ability to drive the ball is there, as is the speed and defense, which makes for an exciting package of tools. Only plate discipline is lacking.
"(Baseball is) something I always loved and something I was really talented at … I believe in my abilities," added Fowler while talking to Mazzeo. "I don't really get into the hype and everything. I try to stay away from that as much as possible, but I believe in my abilities and I do everything I can on and off the field to help my career. Hopefully I can keep it going, stay healthy and get better and better."
The Yankees, even with Jacoby Ellsbury under contract for all eternity (through 2020, to be exact), are going to need a new full-time center fielder fairly soon. Ellsbury will turn 34 this summer and not too many players that age man center full-time. Perhaps he'll be an exception. If not, Fowler is the obvious candidate to get the first crack at being the new full-time center fielder given his career to date, and the fact he'll begin 2017 in Triple-A. He's on the cusp of the show.
The raw tools are there for Fowler to be an impact two-way player. He makes contact and will surprise you with his power, plus he can cover center field gap to gap. His ability to improve his plate discipline could very well determine whether he's a nice bottom of the order player, or someone who could legitimately hit first or second for a contending team, and Fowler seems to be aware of that. Working the count and refining his approach seems to be a priority for him this year.