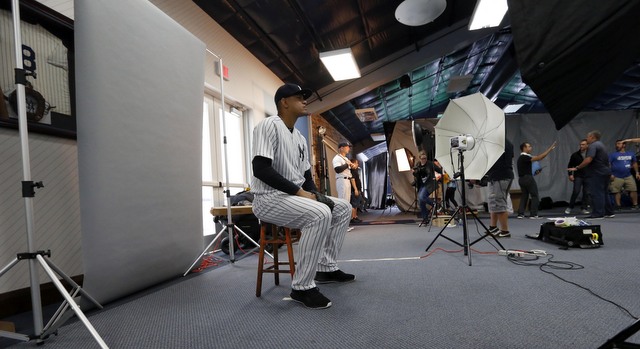 For the first time this year, the Yankees are playing a game under the lights. Tonight is their first night game of Grapefruit League play — they have another night game tomorrow — though at least they didn't have to travel anywhere. This is a home game in Tampa against the Braves.
Dellin Betances, who is due to leave for the World Baseball Classic in the coming days, will make his spring debut tonight. He said the plan is two or three (likely two) appearances with the Yankees before heading to Miami to meet up with the Dominican Republic team. Here's the lineup the Braves sent down from Disney, and here are the players the Yankees will use tonight:
LF Brett Gardner
CF Jacoby Ellsbury
2B Starlin Castro
DH Matt Holliday
1B Chris Carter
3B Chase Headley
C Austin Romine
RF Aaron Judge
SS Ronald Torreyes
RHP Bryan Mitchell
Available Pitchers: RHP Dellin Betances, LHP Jordan Montgomery, RHP J.P. Feyereisen, LHP Nestor Cortes, and RHP Travis Hissong are all scheduled to pitch after Mitchell. LHP Daniel Camarena, LHP Dietrich Enns, RHP J.R. Graham, LHP Joe Mantiply, RHP Eric Ruth, and LHP Evan Rutckyj are also available, if needed. Cortes, Hissong, and Ruth are up from minor league camp for the day.
Available Position Players: C Jorge Saez, 1B Ji-Man Choi, 2B Pete Kozma, SS Gleyber Torres, 3B Donovan Solano, LF Tyler Wade, CF Dustin Fowler, RF Billy McKinney, and DH Francisco Diaz will be the second string off the bench. C Kellin Deglan, C Kyle Higashioka, SS Jorge Mateo, 3B Miguel Andujar, OF Clint Frazier, and UTIL Wilkin Castillo have to hang around for the game even though they're not scheduled to play.
The internet tells me there is no rain in the forecast for Tampa tonight, so that's good. It's supposed to be hot and sticky though. Yuck. Hate humidity, you guys. Tonight's game will begin at 6:35pm ET and you can watch live on YES locally and MLB.tv nationally. There's also the FOX Sports Go app. Enjoy.