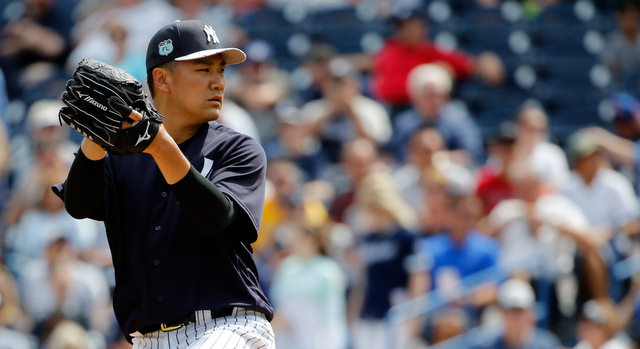 Spring Training continues this afternoon with Masahiro Tanaka's fourth Grapefruit League start. He looked excellent the first three times out, striking out 13 with no walks and three hits allowed in nine scoreless innings. Last year at this time Tanaka was coming back from surgery to remove a bone spur from his elbow. There are no such concerns this year. He's looked really good so far.
In other news, the Yankees are set to play their top two prospects (Gleyber Torres and Clint Frazier) in today's game, plus their most MLB ready starting pitcher prospect (Jordan Montgomery) will come out of the bullpen as well. Roster cuts are being made by the day. Enjoy watching these guys while you can, folks. We won't get to see them too many more times before they're sent across the street to minor league camp. Here is the Tigers' lineup and here is the Yankees' lineup:
LF Brett Gardner
CF Jacoby Ellsbury
C Gary Sanchez
DH Matt Holliday
1B Greg Bird
3B Chase Headley
RF Rob Refsnyder
2B Ronald Torreyes
SS Gleyber Torres
RHP Masahiro Tanaka
Available Pitchers: LHP Jordan Montgomery, LHP Chasen Shreve, LHP Jason Gurka, and RHP Jonathan Holder are all scheduled to pitch today. RHP Matt Wotherspoon, RHP Dillon McNamara, RHP Eric Ruth, and LHP Caleb Frare are all up from minor league camp to serve as the extra arms.
Available Position Players: C Kyle Higashioka, 1B Ji-Man Choi, 2B Donovan Solano, SS Pete Kozma, 3B Ruben Tejada, LF Clint Frazier, CF Tyler Wade, and RF Billy McKinney will be the second string off the bench. C Radley Haddad, IF Abi Avelino, OF Dustin Fowler, and UTIL Wilkin Castillo are the extra players. Haddad and Avelino are up from minor league camp for the day.
The Yankees made the 45-minute trip inland to Lakeland for this afternoon's game. The weather report tells me there won't be a cloud in the sky for this afternoon's game. It will be a tad chilly, however. This afternoon's game will begin shortly after 1pm ET. If you're in the Tigers' home market, you can watch on FOX Sports Detroit. If not, you can watch on MLB Network and MLB.tv, even in the New York market. Enjoy the game.