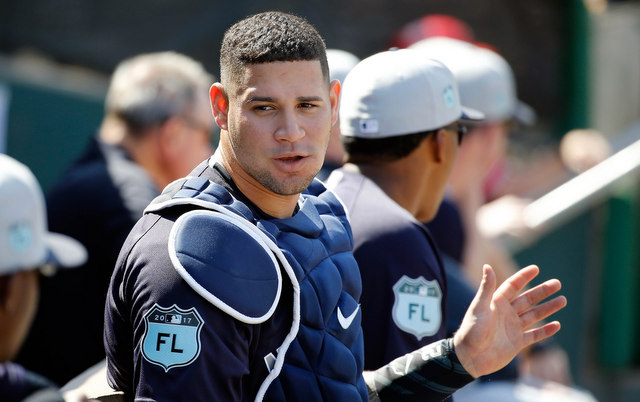 February and March make up extension season in baseball. Most pre-arbitration and arbitration-eligible players hammer out their contracts for the upcoming season this time of year, and inevitably some strike long-term deals with their teams. In recent weeks Tim Anderson, Rougned Odor, Jose Ramirez (the hitter, not the pitcher), Kevin Kiermaier, and Carlos Martinez all signed extensions. The team gets cost certainty and the player gets rich. Everyone wins.
The Yankees have a lot of up-and-coming young talent, so it stands to reason they'll start thinking about long-term extensions soon. Much of that talent is in the minors though. Aaron Judge has fewer than 100 big league plate appearances and Greg Bird just missed an entire season with shoulder surgery. Luis Severino was pretty bad as a starter last season. You can understand why the Yankees may wait to approach those guys about extensions.
Then there's Gary Sanchez, who was so incredibly awesome late last year he finished second in the Rookie of the Year voting despite playing only one-third of the season. The timing of Sanchez's call-ups these last two years mean he has only 86 days of service time. That's it. Not only do the Yankees still have Sanchez for six more seasons, but he won't he even qualify as a Super Two. He'll make something close to the league minimum from 2017-19 before going through arbitration from 2020-22.
Unlike Judge, Sanchez has shown he can thrive against big league pitching. And unlike Bird, Sanchez plays a premium position. There are many reasons the Yankees should look to extend their young cornerstone backstop and his position is one of them. Quality catchers are hard to find. When you get one who can hit and throw like Sanchez, you lock him up. The history of the Yankees is littered with ultra-productive catchers (Bill Dickey, Yogi Berra, Elston Howard, Thurman Munson, Jorge Posada) and Sanchez looks to be next in line. That's exciting.
Working out a long-term extension isn't easy, of course. For starters, Sanchez has to be willing to sign away his maximum earning potential for the guaranteed payday. He received a $3M signing bonus as an amateur and may not be desperate for a huge contract right now. Also, Sanchez seems pretty committed to his #brand, so his goal may to be make as much money as possible. I couldn't blame him one bit. There's a few other factors to consider too.
1. There is very little precedent for an extension this early. Like I said, Sanchez has only 86 days of service time, and in the world of baseball 172 days equals a full year. Very few long-term deals are struck this early in a player's career, though it should be noted the White Sox just extended Anderson with 115 days of service time. Here's the list of players who signed long-term before reaching one year of service time over the last decade:
Tim Anderson, White Sox: Six years, $25M with two options in March 2017.
Jon Singleton, Astros: Five years, $10M with three options in June 2014.
Chris Archer, Rays: Six years, $20M with two options in April 2014.
Salvador Perez, Royals: Five years, $7M with three options in February 2012.
Matt Moore, Rays: Five years, $14M with three options in December 2011.
Evan Longoria, Rays: Six years, $17.5M with three options in April 2008.
That's it. Six players over the last ten years, three of whom played for the Rays, a team that aggressively locks up its young talent because that's the only way they can remain competitive. I'm certain the Yankees would give Sanchez the Perez extension right now, but yeah, no way that's happening. Perez was a small amateur bonus guy ($65,000) who very much wanted the guaranteed millions, so he jumped at the contract. (Perez and the Royals tore that contract up and renegotiated a new $52.5M deal last year.)
The Anderson contract does set something of a benchmark for the Yankees and Sanchez, though I'm sure Sanchez's agent would say "my guy is a lot better than that guy" and demand more. I know I would. The thing to keep in mind is the Yankees have Sanchez for the next six years at below-market salaries no matter what. They also have the ability to non-tender him and walk away should he stop hitting or suffer a catastrophic injury. So unless a long-term deal buys out some free agent years — meaning cover at least seven years — at a reasonable price, there's little reason for the Yankees to agree to a contract extension.
2. Sanchez's leverage may never be greater than it is right now. Sanchez could spend 15 years in the big leagues and make a bunch of All-Star teams, and it's still very possible he will never have another two-month stretch like the one he had last season. Signing Sanchez right now could mean locking him up when his value is at its absolute peak, when everyone thinks he might be a Miguel Cabrera caliber hitter and an Ivan Rodriguez caliber defender.
For the Yankees, the smart move could be waiting until next offseason, when they have a chance to see how Sanchez performs over the course of a full season. Chances are he won't match last year's pace. At that point everyone will have a chance to get their head out of the clouds and evaluate this situation a little more rationally and with some more information. And you know what? If Sanchez is willing to sign a team friendly contract tomorrow, the Yankees could still pounce. For now it sure feels like Gary is holding all the cards.
3. An extension would make it more difficult to get under the luxury tax threshold in 2018. The Yankees have made it very clear they want to get under the luxury tax threshold soon, and next season is the perfect time. Several huge contracts will be off the books (Alex Rodriguez, CC Sabathia, maybe Masahiro Tanaka too) and the club has some cheap young talent to fill out the roster. Next season will be, by far, their best chance to get under the threshold.
As it stands Sanchez is slated to make six figures during the 2018 season. Somewhere around $600,000, probably a little less. For luxury tax purposes, he'll be a bargain. Should Sanchez sign an extension though, his luxury tax hit would be equal to the average annual value of the contract. Let's say he signed Anderson's deal, six years and $25M guaranteed. That's a $4.167M average annual value. So, rather than counting at ~$600,000 against the luxury tax next year, Sanchez would count as $4.167M even though his actual salary figures to be less than that.
Now, the extra $3.6M or so may not sound like much in the grand scheme of things, but when you're trying to get under a hard payroll number, every dollar counts. That's $3.6M the Yankees wouldn't be able to use on an extra reliever, or a cheap depth starter. It's real money that would be no longer available to the Yankees. In the long-term, signing Sanchez to an extension figures to save the Yankees millions. In the short-term, it will hurt their chances to get under the luxury tax.
4. Contract extensions tend to get more expensive the longer you wait. This sorta runs counter to point No. 2. Sanchez's leverage may be sky high right now given his performance, but history shows the longer you want to extend a player, the more it'll cost. Go look at that list of players who signed extensions with less than one year of service time again. See how cheap those deals are? Now here are the last five players to sign extensions with 1-2 years of service time:
Odubel Herrera, Phillies: Five years, $30.5M with two options in December 2016.
Gregory Polanco, Pirates: Five years, $35M with two options in April 2016.
Yordano Ventura, Royals: Five years, $23M with two options in April 2015.
Juan Lagares, Mets: Four years, $23M with one option in April 2015.
Christian Yelich, Marlins: Seven years, $49.75M with one option in March 2015.
Removing that ridiculous Perez contract, the extensions for players with less than one full year of service time averaged 5.6 years and $17.3M with 2.6 options. The average contract for those five players with 1-2 years of service time is 5.2 years and $32.25M with 1.6 options. More money across fewer years with fewer options. The sooner you lock them up, the cheaper they are.
With Sanchez, the Yankees would have to weigh potential long-term savings against making it a little more difficult to get under the luxury tax threshold in 2018.
* * *
Based on Anderson's recent extension with the White Sox, I'm thinking it would take something like six years and $30M just to get Sanchez and his agent to listen. Anderson, a former top 100 prospect himself, had a nice year in 2016, hitting .283/.306/.432 (95 wRC+) with +2.4 fWAR and +2.8 bWAR in 99 games. Sanchez was a one-man wrecking crew though, and that performance combined with his Rookie of the Year finish — Anderson received only two third place votes and finished seventh in the voting — means he could demand more money despite fewer games played.
I see both sides of this argument, signing Sanchez now and waiting. Sign him now and it means you've got a cornerstone player locked up long-term and are very likely to save millions down the road, even if it means having a few million bucks less to spend in 2018. At the same time, Sanchez's leverage is through the roof right now, and waiting a year for things to calm down could lead to a more reasonable contract in the grand scheme of things.
The Yankees aren't the most aggressive team when it comes to locking up their young talent — to be fair, they haven't had many young players worth signing long-term in recent years — but it's something they will definitely have to consider soon. Young big leaguers like Sanchez and Bird, as well as high-end prospects like Gleyber Torres and Clint Frazier, are players the Yankees want to build around going forward. Signing them to long-term extensions creates cost certainty going forward, and it also figures to give the team more flexibility to sign free agents down the road.