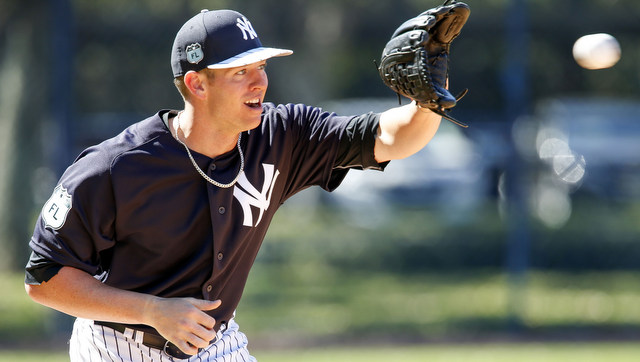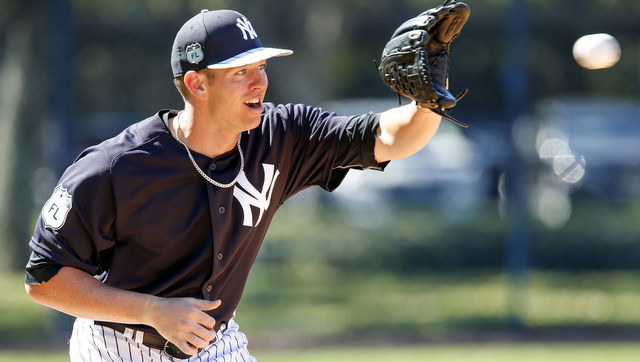 Ah ha! I knew I was on to something. Right-hander Johnny Barbato recently told DJ Eberle the Yankees are preparing him for a potential starting pitcher role with Triple-A Scranton this season. The decision to make him a starter isn't final yet, but Barbato is getting stretched out and has thrown multiple innings in each appearance this spring.
The Yankees optioned Barbato out and sent him to minor league camp earlier this month, so he's been working out across at the street the last week or two. Here's what Barbato and Triple-A Scranton manager Al Pedrique told Eberle:
"I think my spring's been really good," Barbato said. "They're going to try to put me into the rotation and all of that stuff, so I'm trying to make sure I command all of those pitches to try to get into the fifth (or) sixth instead of going just one inning."

…

"If everything works out, I'm assuming that he's going to be in the rotation to start the season and go from there," the Triple-A manager said. "I think he's such a strong guy. For me, if he can manage the changeup and the breaking ball with the velocity that he has, I don't see why he cannot be solid starter."
Barbato, who came over from the Padres in the Shawn Kelley trade two years ago, made the Opening Day roster last season and had a 7.62 ERA (4.45 FIP) with 26.3% strikeouts in 13 relief innings with the Yankees. His first few outingz went well before the wheels came off. The 24-year-old had a 2.61 ERA (3.44 FIP) with 24.1% strikeouts in 48.1 innings with the RailRiders last year.
The Yankees didn't give Barbato a September call-up last season, and that combined with the team's depth and his good but not great Triple-A performance had me thinking Barbato was on the 40-man chopping block this offseason. Instead, the Yankees are looking at him as a possible starting pitcher. Go figure. Ken Davidoff spoke to farm system head Gary Denbo about Chance Adams recently and this quote stuck out to me:
"We got together as a group and decided that we're going to take our best arms and put them in the starting rotation," Denbo said. "We saw that Chance had three pitches that had a chance to be average or plus."
That applies to Barbato as well, who has quality stuff and is held back by command more than anything. His fastball averaged 95.1 mph during his brief big league cameo last season, and he throws both a slider and a curveball. This spring Barbato has said he's been working on a splitter, which would give him an offspeed pitch to combat left-handers.
Obviously Adams is the big success story, but he's not the only reliever the Yankees have tried as a starter in recent years. Jonathan Holder started all season in 2015 before the team decided he was better suited for relief. Last year they intended to try both Nick Rumbelow and Tyler Webb as starters too. Rumbelow got hurt in his first outing of the season, but Webb made a handful of starts and extended relief outings in Triple-A.
Barbato's command might not be good enough to start — his only real starting experience is a handful of starts in rookie ball and High-A back from 2011-13 — but there's no real reason not to trying him in that role in Triple-A. If it works, great. If not, then they'll put him back in the bullpen and try to get value out of him that way.