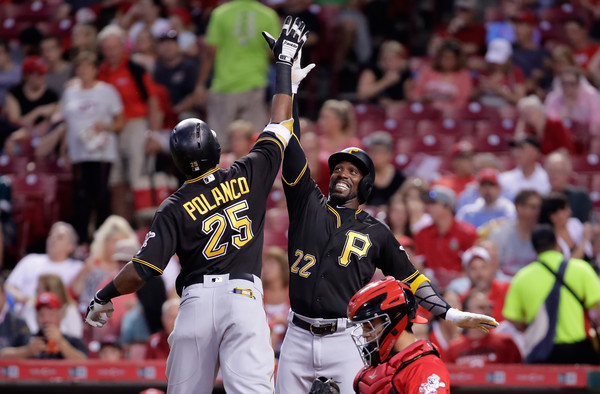 It would be difficult to call the Yankees first homestand anything less than a riveting success, considering their 8-1 record, strong offense, and terrific all-around pitching. They'll take the show back on the road for the next six games, beginning with a three-game set against the Pirates in what might just be the nicest ballpark in Major League Baseball.
The Last Time They Met
The Yankees hosted the Pirates for three games back in May of 2014, and took two out of three. They played a double-header that weekend, too, as the Friday night game was postponed due to inclement weather. A few points of interest:
Carlos Beltran had been placed on the disabled list the night before the series began, so Zoilo Almonte started all three games – he went 2-for-9 with a home run.
Eight of the pitchers who appeared for the Yankees are no longer with the team; that number is seven for the Pirates.
In the second game of the double-header, the Yankees played thirteen position players and four pitchers – only two (Brett Gardner and Jacoby Ellsbury) are still with the team.
The Yankees as a team were a strong 5-for-13 with runners in scoring position in the series, and scored three runs with two outs.
Injury Report
The Pirates are one of two teams (the Cubs are the other) that do not have any players on the disabled list. That being said, they will be without CF Starling Marte until July 18 at the earliest, as the 28-year-old was suspended for 80 games after testing positive for an anabolic steroid. While Marte had been in a bit of a slump to start the season, this is nevertheless a huge loss as he averaged 4-plus fWAR over the last four seasons; it will be interesting to see how they handle his absence going forward (their top prospect, CF Austin Meadows, is just a phone call away at Triple-A).
IF Jung Ho has yet to make his 2017 debut, as he is currently awaiting an appeal of his drunk driving conviction in South Korea, and has been unable to get his work visa as a result. The hearing isn't until May 25 either, so his timetable to return is complete up in the air.
Their Story So Far
Marte's suspension immediately became the story of the Pirates season, as he had already been placed firmly in the spotlight for taking over center-field duties from face-of-the-franchise Andrew McCutchen. They were viewed as a long shot to return to the playoffs in 2017 to begin with, and losing Marte is a serious blow to an offense that is already struggling immensely (80 wRC+, 3.3 runs per game).
Well that, and Ivan Nova somehow sporting a 2.25 ERA and 2.90 FIP despite striking out just 3.60 per 9 thus far (small sample size or not, that's at least a little funny).
The Lineup We Might See
Prior to his suspension, Marte hit first or second in every Pirates game. In the games that he has not led off, Clint Hurdle has deployed three different hitters – and that has been his modus operandi, given that McCutchen is the only hitter that has not been moved around the lineup, batting third in every game. With that in mind, the Yankees will probably see a lineup that looks something like this:
Adam Frazier, RF
Josh Harrison, 2B
Andrew McCutchen, CF
Gregory Polanco, LF
David Freese, 3B
Francisco Cervelli, C
Josh Bell, 1B
Jordy Mercer, SS
The Pitchers We Will See
Friday (7:05 PM EST): LHP CC Sabathia vs. RHP Tyler Glasnow
Glasnow was a consensus top-25 prospect heading into 2017, and it isn't difficult to see why. The 6'8″ righty struck out 31% of the batters he faced between Double-A and Triple-A last year, on the strength of a fastball that sits in the mid-90s and a big breaking curveball that sits around 80 MPH. Both pitches have been graded as plus to plus-plus, and his change-up shows some promise, as well. As is to be expected from a gigantic pitcher with tremendous stuff, though, Glasnow has struggled with his mechanics and control, resulting in poor walk rates in the minors and even worse totals in the majors. If you look at his stuff, size, and numbers and think of Dellin Betances, I don't think anyone would hold it against you.
Last Outing (vs. CHC on 4/15) – 5 IP, 6 H, 6 R, 2 BB, 7 K
Saturday (4:05 PM EST): RHP Michael Pineda vs. RHP Jameson Taillon
It almost feels like a miracle that Taillon is in the majors right now. The 25-year-old missed all of 2014 and 2015 as a result of Tommy John Surgery, complications from said surgery, and a hernia during recovery, and there were rumblings that his stuff would never fully recover. He earned a surprising call-up in June of last year, after making just ten starts in the minors, and proved that he belonged almost immediately. All told, he pitched to the following line as a rookie – 104 IP, 20.3 K%, 4.1 BB%, 52.4 GB%, 3.38 ERA, 3.71 FIP. That is a terrific line for most anyone, let alone a pitcher that barely touched a baseball the two previous seasons.
Taillon's bread and butter is his two-seamer, which sits just under 95 MPH. He pounds the bottom of the strik.ezone with it, and commands it incredibly well. He also throws a mid-90s four-seamer, a low-80s curve, and a mid-80s change-up; that last pitch is inconsistent, which has led to some issues against left-handed hitters, who have hit .261/.306/.401 against Taillon.
Last Outing (vs. CHC on 4/16) – 7 IP, 7 H, 1 R, 3 BB, 6 K
Sunday (1:35 PM EST): LHP Jordan Montgomery vs. RHP Ivan Nova
Nova has made 14 starts with the Pirates, and has posted borderline absurd numbers. In addition to his 2.87 ERA (144 ERA+), Nova has a minuscule 0.8% walk rate (and staggering 20 K/BB), as he has walked just 3 batters in 84.2 IP. As per PITCHf/x, his pitch selection hasn't changed all that much overall (though he has thrown more fastballs overall this year, it's only three starts), nor has his velocity – so we'll just have to chalk this one up to Ray Searage's black magic.
The stuff is essentially the same as when we last saw Nova in pinstripes – a couple of low-90s fastballs, a low-80s curve, a mid-80s change-up, and a rarely used mid-80s slider. It's his suddenly stellar command that has made all the difference in the world.
The Bullpen
The Pirates bullpen looks quite different this season, as three of their top-five most utilized relievers in 2016 (Mark Melancon, Jared Hughes, and Neftali Feliz) are no longer with the team. Longtime Pirate Tony Watson has taken over as the closer, with Daniel Hudson and Felipe Rivero handling the seventh and eight innings. The group currently has a 4.47 ERA, but that is heavily skewed by Antonio Bastardo's 20.25 ERA.
Yankees Connection
Would it be hyperbole to call the Pirates Brian Cashman's favorite trading partner? The two teams have completed five trades since 2012, when the Yankees sent A.J. Burnett packing in exchange for Exicardo Cayones and Diego Moreno. Most recently, Johnny Barbato was sent to Pittsburgh in exchange for cash or a player to be named later. Beyond that, we have:
Francisco Cervelli, now in his third season as the Pirates starting catcher;
Chris Stewart, now in his third season backing up Cervelli (and his fourth season with the team);
The aforementioned Nova;
Gerrit Cole, who was drafted by the Yankees in the first round of the 2008 draft, but chose to attend UCLA instead.
Who (Or What) to Watch
The prospect lover in me is stoked to see Tyler Glasnow on Friday night, and you should be, too. He's wild at times, but his stuff is simply incredible, and he's one of the few prospects/rookies with a semi-legitimate claim at a top-of-the-rotation ceiling. It isn't always pretty – but he'll pop the radar gun, and buckle some knees.